"What goes with pasta as a side dish?"
Since pasta is quick to make, I myself prefer to choose something that is not only able to highlight the main dish's flavors but also quick and easy to cook. If you're like me, then the list below is very worth a look at.
I compiled the 7 best side dishes that take no longer than 15 minutes to cook. Now, scroll down and read.
Garlic Ciabatta Bread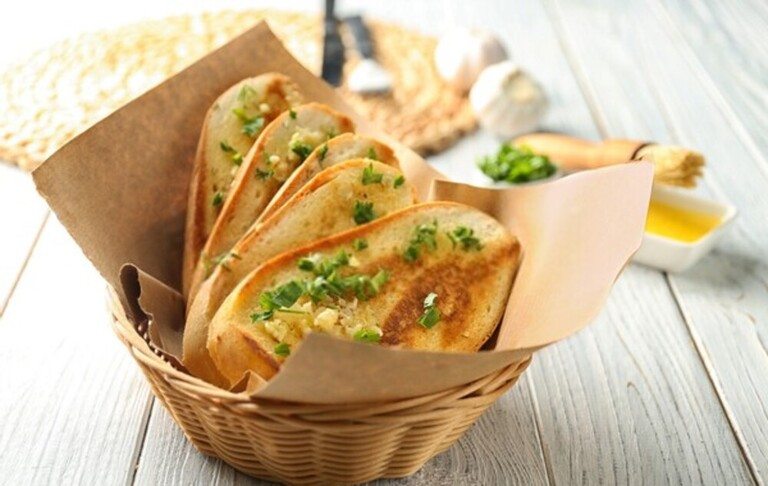 To me, a pasta dish can't be complete with no bread. But if you're fed up with dinner bread or typical roll bread, try this 6-serving recipe.
Preparation:
2 tsp. fresh thyme
2 garlic cloves, minced
1 stick butter, softened
1 store-bought ciabatta loaf
½ cup grated parmesan cheese
½ tsp. sea salt
¼ cup fresh parsley, finely chopped
1/8 tsp. black pepper
Instructions:
Preheat an oven to 350F. Slice the bread loaf without cutting through the bottom, then cut along the length of the bread loaf once without cutting through the bottom.
Except for ciabatta, add all ingredients into a bowl and use a fork to smash them to combine. Paste the mixture to the bread, then wrap it with food-grade tin foil, and bake for five minutes.
Unwrap the loaf and bake for five more minutes. Ready to serve.
Vegetable Cream Cheese Pizza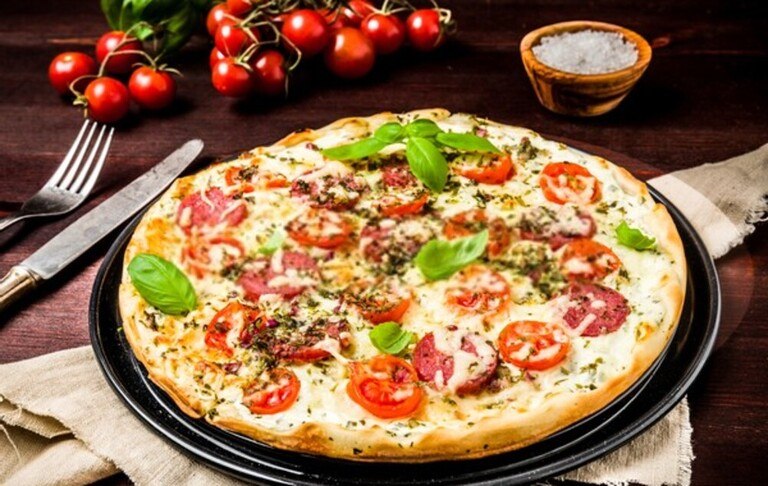 This side dish is perfect for those who love eating pasta with something fresh yet healthy. The pizza can be served at room temperature or chilled due to your liking.
Preparation:
½ cup cherry tomatoes, chopped
½ cup diced carrots
½ cup broccoli florets, chopped
¼ cup plain full-fat Greek yogurt
1 tsp. garlic powder
1 tsp. chopped fresh dill
1 package crescent dough
4 ounces' Greek yogurt cream cheese
Instructions:
Preheat an oven to 350F, then bake the dough for 10 to 12 minutes. Remove it and let cool.
Mix garlic powder, dill, Greek yogurt, and cream cheese in a mixing bowl. Paste the mixture over the dough, add toppings (chopped tomatoes, diced carrots, and chopped broccoli), then add salt. Ready to serve.
Kale Salad With Lemon Dressing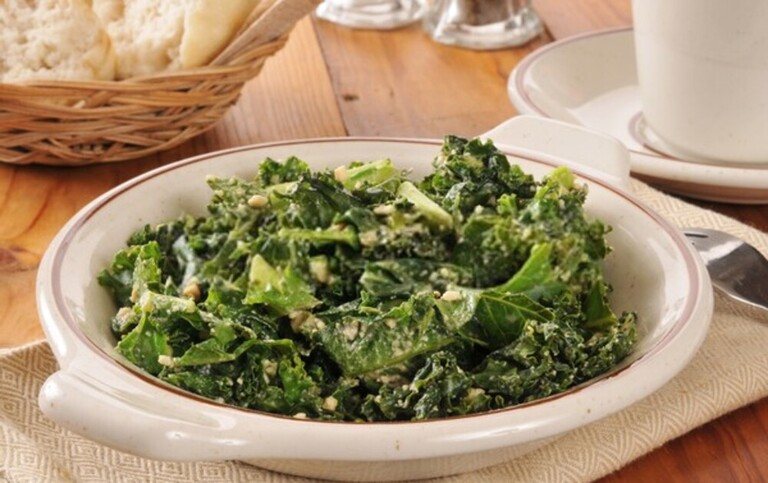 If your pasta is enough to satisfy your carbohydrate craving and you just want to combine it with vegetables only, then this option is great. It is healthy, tasteful, and no cooking required.
Preparation:
¼ tsp. kosher salt
½ cup finely grated parmesan
¼ cup fresh lemon juice
1/3 cup extra virgin olive oil
4 garlic cloves, minced
10 ounces' raw kale
Pepper
Instructions:
Add all the ingredients (except pepper) into a mixing bowl, then give it a good mix and massage until kale reduces down to 1/2 of the original fluffiness, usually for 3 to 4 minutes.
Season the mixture with pepper and salt to your liking. Keep massaging for 30-60 seconds and ready to serve.
Lemon Pine Nut Arugula Salad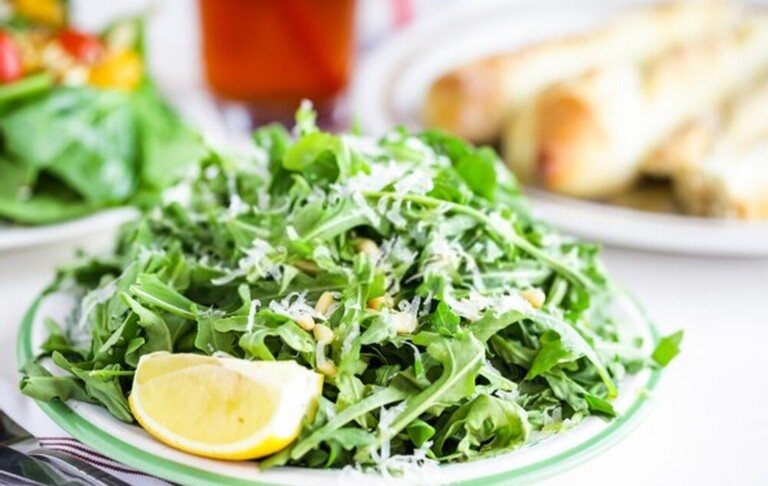 Sweet, peppery, and cheesy - those are three keywords to describe this healthy and quick-to-make side dish.
Ingredients
2 tablespoons of olive oil
1 cup water
1 cup garbanzo bean flour (or chickpea flour)
Salt and pepper
Instructions
Add water and chickpea flour to a mixing bowl, the ratio of them based on the manufacturer's instructions. Add some salt and pepper to your liking.
Heat the grill section of an oven and heat 1 tablespoon of olive oil. Then, pour 1/2 of the batter into the pan, spread it, and wait for 6 -8 minutes before flipping. Keep waiting for 6-8 minutes more or until both sides of the batter turn golden brown.
Remove it from the heat, let it cool, and add toppings or slices for dipping.
Mediterranean Chopped Salad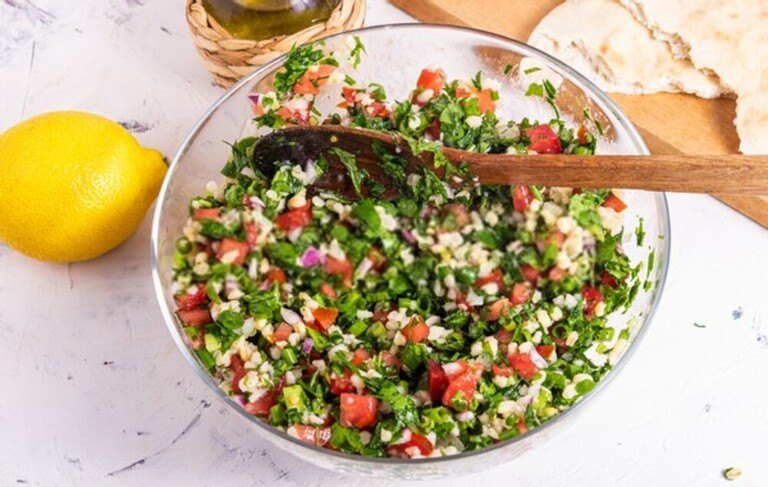 Make it a hearty meal when combining your pasta with this side dish.
Preparation
For the dressing
1 tsp. Italian seasoning
3 tbsp. red wine vinegar
3 tbsp. olive oil
Salt and pepper
For the salad
1 tbsp. chopped walnuts
4 cups of chopped romaine lettuce
1 cup chopped cherry tomatoes
1/3 cup chopped fresh parsley
¼ cup crumbled feta cheese
¼ cup diced red onion
1 15-ounce chickpea can drained and rinsed
1 big cucumber, seeded and chopped
Instructions
In a colander, add tomatoes and cucumber, then sprinkle with some salt and wait to drain out.
In a mixing bowl, add parsley, chickpeas, and red onion, and give it a good mix. Add drained tomatoes and cucumber to the bowl. Add walnuts, feta, and romaine.
Mix olive oil, vinegar, Italian seasoning, salt, and pepper to make the dressing, then drizzle them little by little to the bowl and toss it.
Sauteed Green Beans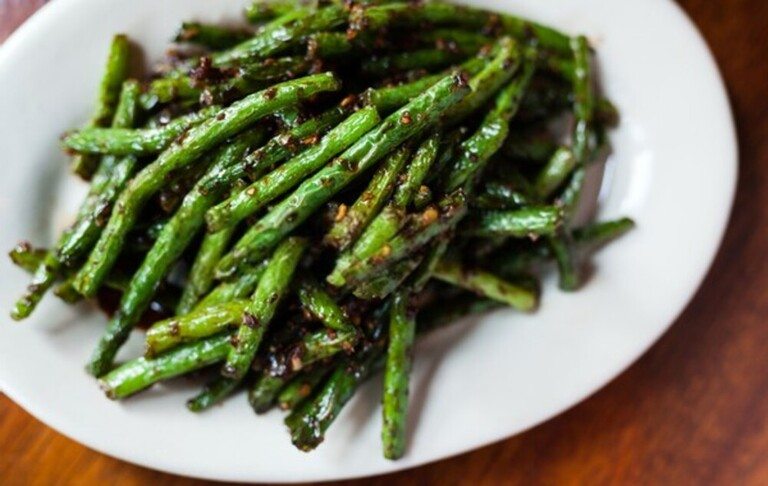 Another tasteful way to eat more vegetables, this side dish combines fragrant toasted almonds and tender green beans, which is easy to make.
Preparation
½ lemon
¼ cup slivered almonds
1 tbsp. olive oil
1 pound of green beans, washed and trimmed
Salt and pepper
Instructions
Heat 1 tablespoon of olive oil over medium heat in a large skillet. Add and cook green beans for three minutes, then add almonds. Cook for 2 to 3 minutes more. Season to your liking and add lemon juice. Ready to serve.
Wild Mushroom Bruschetta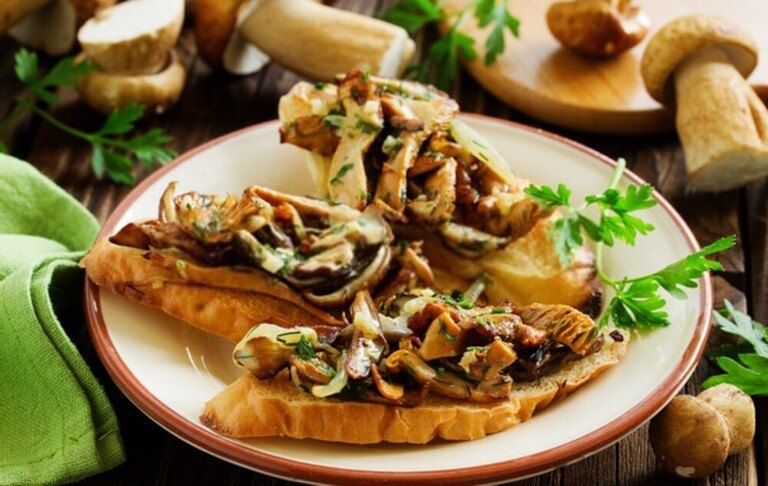 This side dish is versatile and can be served at room temperature, reheated, or chilled.
Preparation
2 oz. shaved parmigiano-reggiano cheese
½ oz. sliced bread
1 tsp. olive oil
2 tbsp. finely chopped flat-leaf parsley
2-1/2 cups chanterelle mushrooms, finely chopped
3 cups oyster mushroom caps, finely chopped
6-1/2 cups cremini mushrooms, finely chopped
3 garlic cloves, (two finely minced and one cut halved lengthwise)
Salt and pepper
Cooking spray
Instructions
Preheat a large skillet over medium-high heat. Add olive oil, parsley, and garlic, and stir until fragrant. Add finely chopped mushroom and cook for six minutes, then remove from heat.
Season it with salt and pepper to your liking.
Preheat a pan over medium-high heat. Coat the bread with cooking spray, then add 1/2 of it to the pan, cook for one minute on each side.
Scrub one side of each bread slice with cut sides of the garlic clove, then paste mushroom mixture over each slice, top with cheese. Ready to serve.
Conclusion
Don't worry! I'll keep updating this list in the future, after trying more and more recipes. But at the current time, they are the best options to go with pasta as a side dish. I hope you like this compiled list and thanks for reading!