\Wine lovers rejoice! It's not that hard to turn your kitchen into a wine lover's dream. We have compiled a list of 13 simple kitchen design ideas for wine lovers. From base cabinet to ice bar counter, keep reading for all the details!
13 Simple Kitchen Design Ideas For Wine Lovers
Base Cabinets With Wine Storage
A base cabinet wine storage unit is the perfect way to keep your wine bottles organized and out of the way.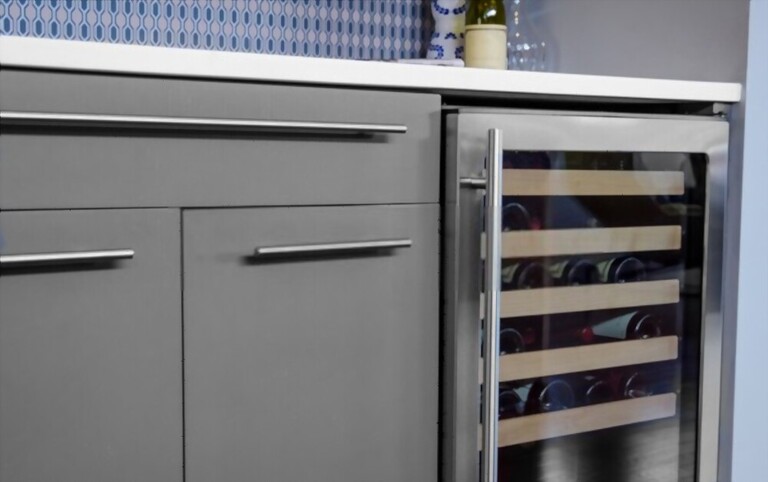 Besides, you can easily see all of your options and choose the right bottle for any occasion.
There are many different styles of base cabinet wine storage units available on the market. You can find units that hold just a few bottles, or ones that hold hundreds of bottles.
No matter how much space you have available, there is a base cabinet wine storage unit that will fit your needs.
Scalloped Cabinets
Wine lovers know that a good wine collection is worth investing in.
But where do you store all those bottles?
With so many different types and sizes of wine, it can be tricky to find the right storage solution. That's where scalloped cabinets come in.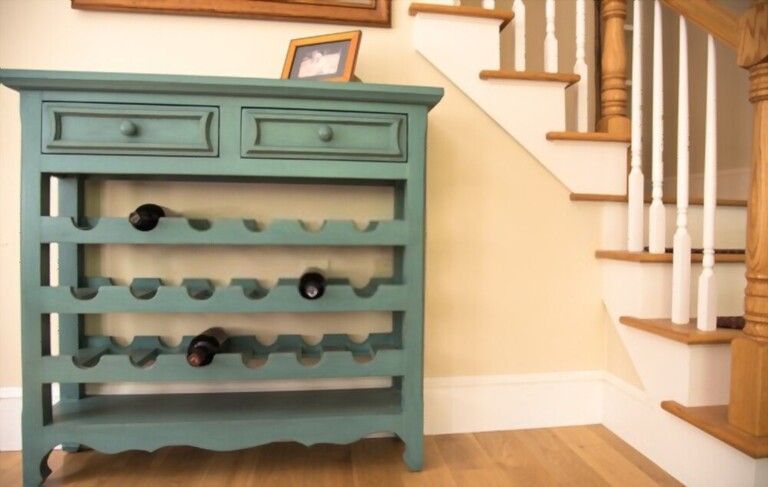 They have plenty of room for all different sizes of bottles, and the adjustable shelves make it easy to customize the storage to your specific needs.
The unique scalloped design, besides, adds a touch of elegance to your kitchen.
Lattice Cabinets
A lattice cabinet is a great option for securing your wine bottles and keeping them organized.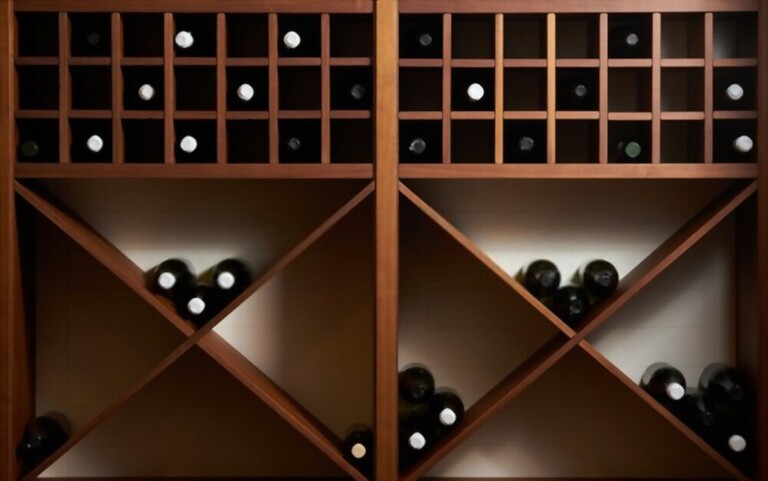 When choosing a lattice cabinet for your kitchen, keep in mind these factors:
Size - Make sure to choose a cabinet that is large enough to accommodate all of your wine bottles.
Material - Sturdy materials are recommended as they will protect your bottles from breakage.
Design – The lattice cabinet you're about to choose should have a design that complements the rest of your kitchen décor.
Wall-Mounted Wine Racks
If you don't have the space for a standalone wine rack, use a simple wine rack attachment instead.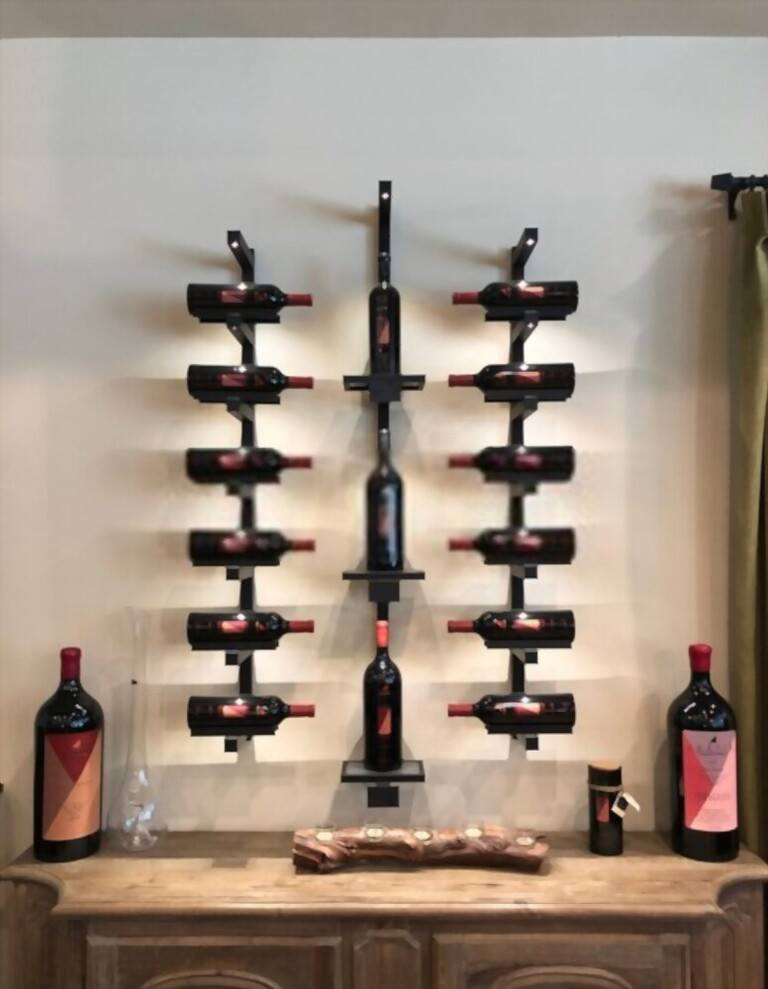 Because this style of wine racks is built to be attached to the wall, they take up very little space.
Wine rack attachments are also very easy to install.
Beverage Bar with Stem Holder and Wine Rack
This item not only keeps your wine collection organized and within reach but also makes entertaining guests a breeze.
Whether you're serving up a casual meal or hosting a formal dinner party, it'll come in handy.
Extended Peninsula with Refrigerator and Wine Rack
A versatile choice!
An extended peninsula that includes a refrigerator and wine rack offers:
Plenty of space to store wine bottles
A place to keep your wine chilled
A dedicated area for serving wine and cheese.
Full Size Wine Fridge
A full size wine fridge is a must for any wine lover.
Not only does it keep your wines at the perfect temperature, but it also protects your investment from heat and light damage.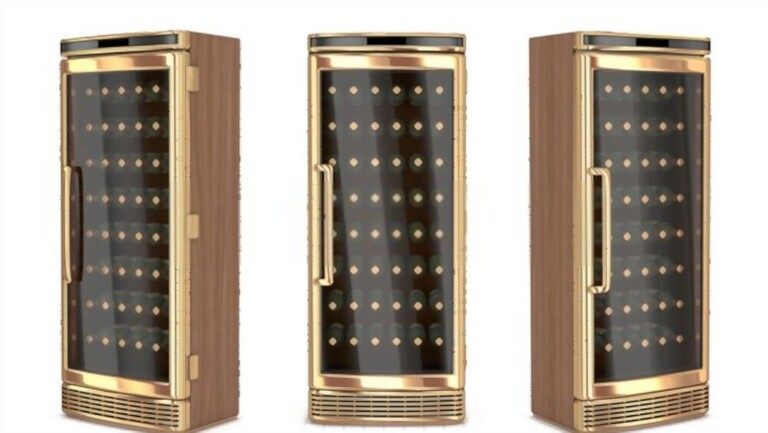 When shopping for a full size wine fridge, be sure to compare features and prices to find the best deal. Also, choose one that fits your needs and taste.
And don't forget to measure the space in your kitchen before making your purchase!
Kitchen Island with Wine Fridge
Want to free up valuable counter space?
Try incorporating a wine fridge into your kitchen island.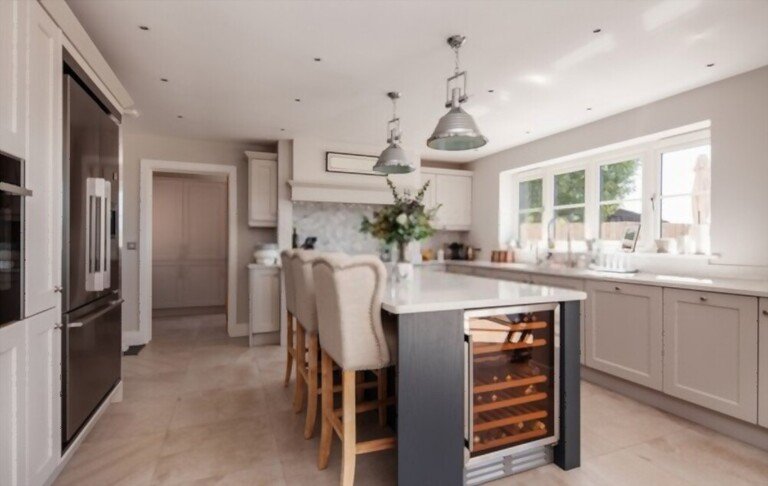 Having a dedicated spot for your wine collection will make entertaining guests that much easier.
Wine Chiller
A wine chiller will help keep your wines at the perfect temperature, whether you're storing them long-term or serving them chilled.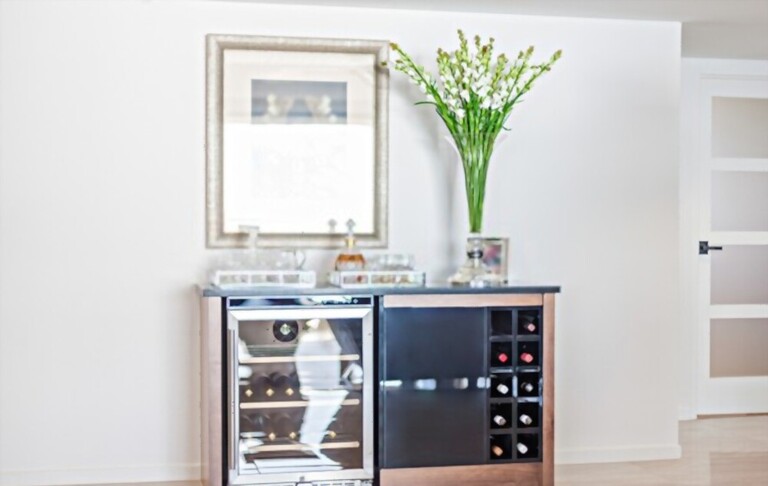 Create a Dedicated Space
If you have the space, create a dedicated area in your kitchen for enjoying your wines.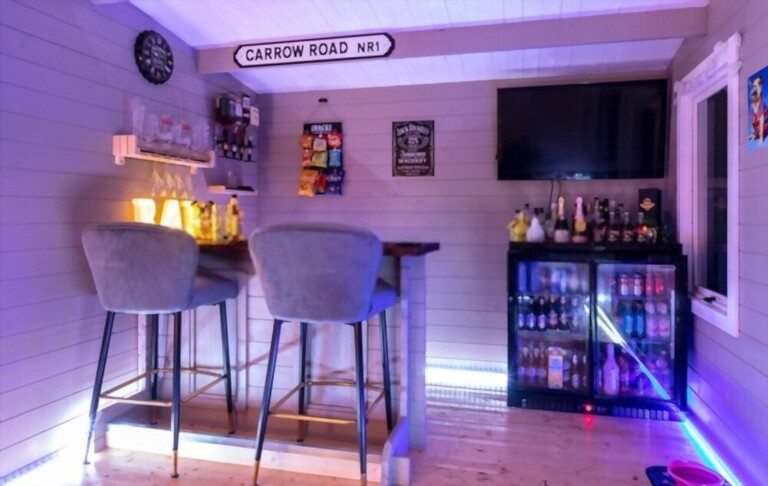 This could be something as simple as setting up a small table and chairs with bold strip lights where you can enjoy the perfect bar vibe while you sip on your favorite tipple.
Side Table with Wine Bottle Holders
A stylish side table with wine bottle holders helps keep your wine bottles within easy reach and make for a great conversation piece when entertaining guests.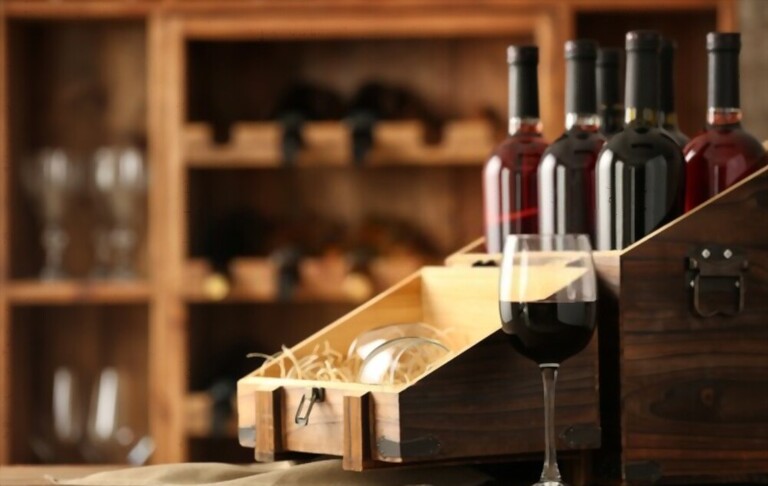 Plus, it's a great way to show off your collection!
Corner Kitchen Shelf
A corner kitchen shelf is the perfect solution for small kitchens.
This type of shelf is easy to install, takes up minimal space, and can display your wine bottles and glasses.
Ice Bar Counter
An ice bar counter is a great addition to keep your wines chilled and ready to drink.
It's also a stylish way to show off your wine collection.
Ice bar counters come in all shapes and sizes. They can be built-in or freestanding.
Some ice bar counters even come with features like wine racks or storage shelves, so you can keep all your wine accessories close at hand.
Conclusion
And above are the 13 simple kitchen design ideas for wine lovers.
With just a few small changes, you can transform your kitchen into a stylish and functional space that's perfect for entertaining guests or simply enjoying a glass of wine with your loved ones.
So what are you waiting for? Get started on your wine-themed kitchen today!