Disclaimer: I would say that there's no universal recipe on how to butter-baste steaks, chops, and fish that can wow everyone as the taste of each individual is different.
The recipe below is the result that I myself had experimented with many times based on some recipes of master chefs, along with adjustments to meet my liking.
I've also concluded with some golden tips and tricks from my cooking experience, which is also included here. Hope that they are helpful to you. Now, let's get started!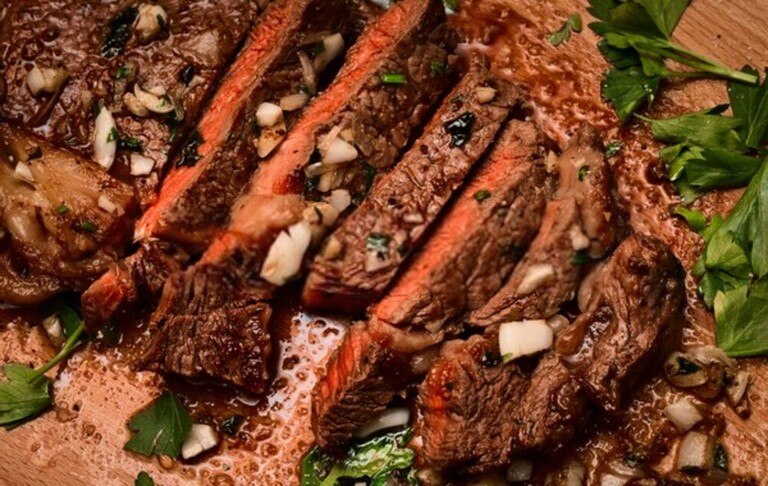 How to Butter-Baste Steaks, Chops, and Fish
Preparation
Steak/Chop/Fish
2 sprigs of fresh rosemary
2 sprigs of fresh thyme or sage
1 to 3 peeled whole garlic cloves (depending on your preference)
1-2 tablespoons of butter
Salt
Some nice large grains of pepper
A cast-iron or carbon steel skillet
Cooking oil
A pair of tongs
A large spoon
An instant-read thermometer (optional)
Extra tips:
Cultured or European butter is my favorite as they have a moderately greasy mouthfeel and flavor.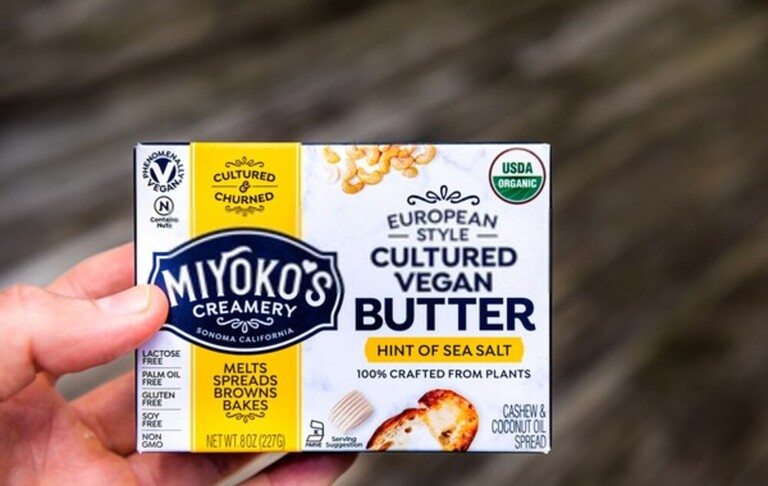 But if these two types of butter are hard to find in your area, use unsalted butter instead.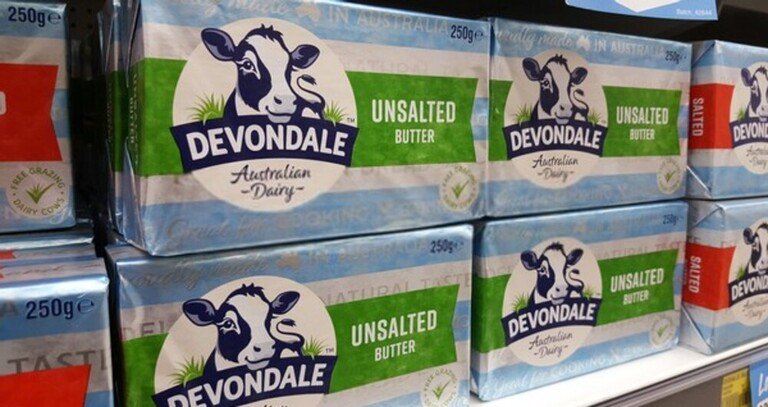 If you don't have a carbon steel or cast-iron skillet, a stainless-steel one is still acceptable as long as it can withstand high temperatures and retain the heat consistently.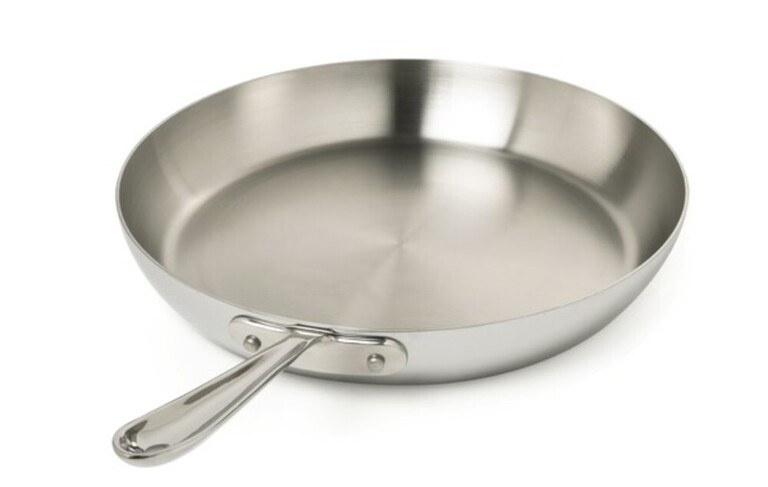 Meat plays a huge role in the flavor of the dish, therefore, you should select it carefully:
Choose ribeye steak if you intend to make butter-based steaks.
Choose whether venison, veal, pork, or another meat if you intend to make butter-based chops.
Choose mild, lean, flaky fish (such as snapper, haddock, or cod) if you intend to make butter-based fish.
The thickness of the meat/flesh should be at least 1.5".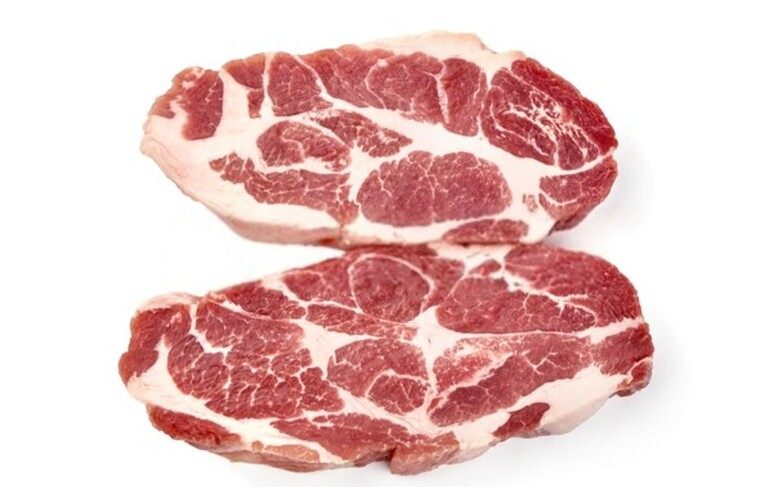 About cooking oil, I'd like to suggest canola or olive oil.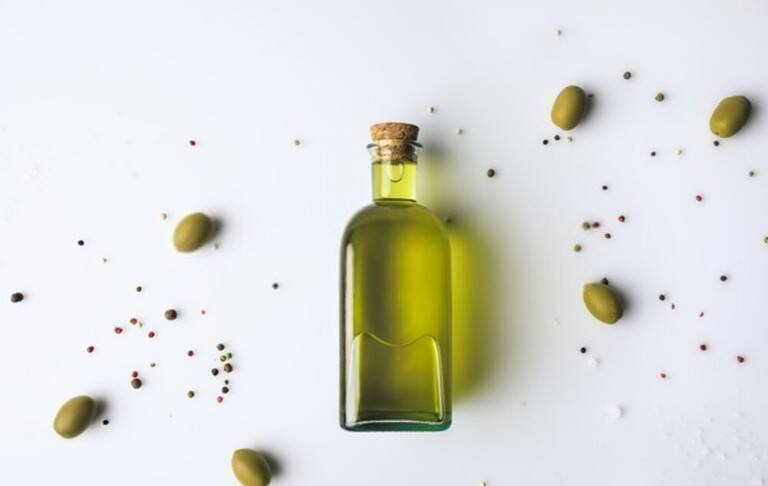 Instructions
How to butter-baste steaks and chops
The whole cooking process includes five steps as below:
1. Season the meat
2. Sear the meat over high temperature on both sides
3. Add butter and herbs
4. Baste
5. Let the meat rest
Now, let's get started!
Season The Meat
Pad dry the meat with kitchen towels or tissue, then place it on a flat surface plate, a cutting board, or a wire rack. Season it with about ¾ to 1 teaspoon of salt per pound and some large grains of pepper, applying on both top and bottom.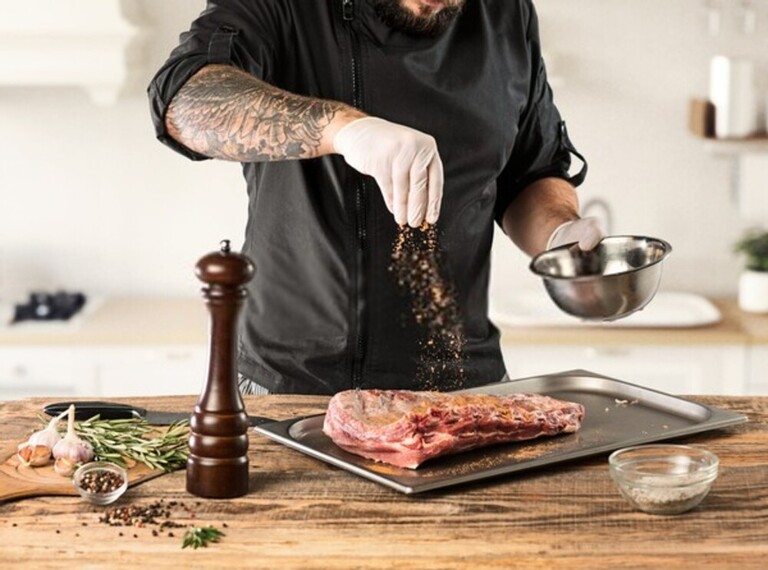 If you have time, let it sit at least 40 minutes before starting to sear.
But if you don't, season it right before cooking, under 3 minutes. The time interval between 3 and 40 is the worst to season the meat, according to my real-life testing.
Sear The Meat
Pad dry the meat one more time if you still find some excess moisture on the surface (optional!).
Heat a small amount of cooking oil (about two teaspoons) on a skillet as hot as it can flirt with the smoke point, then place the meat onto the skillet.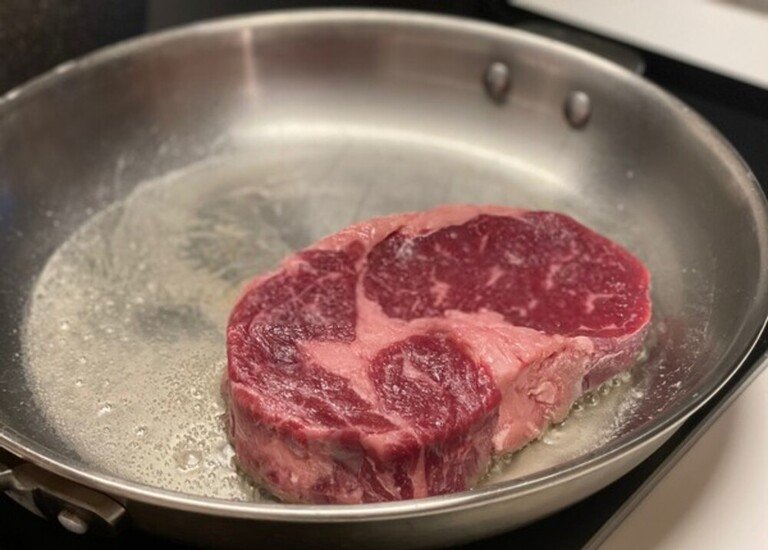 Flip it frequently every 15 to 20 seconds using a pair of tongs. The more you flip it, the more even the doneness in the center and the more the crust on the meat.
For the old advice that only flips the meat once, I did test it, which failed.
Add Butter And Herbs
Explanation: The reason I don't add butter, in the beginning, is that butter contains water and milk solids while I want to get a really good browning on the meat.
If adding the butter too soon, the water content in the butter will decrease the pan temperature and the meat won't get that desired brown coat. The milk solids, meanwhile, are prone to get burnt if staying long in the pan.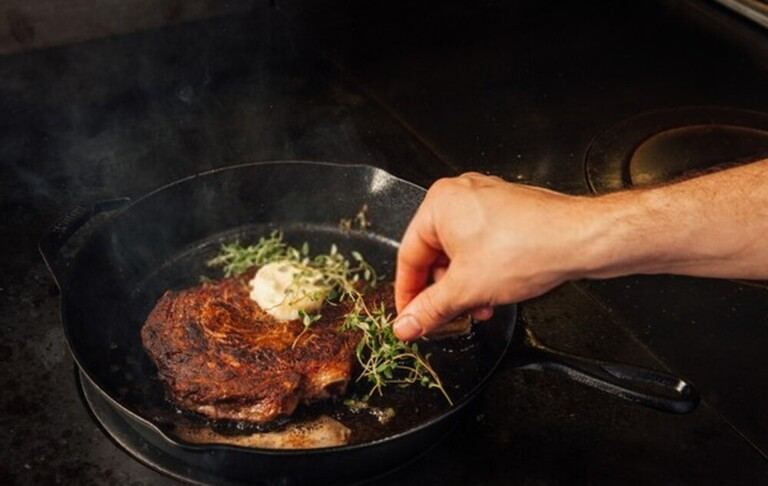 Now, after seeing a good initial sear on top and bottom of the meat (about 3-4 minutes), lower the heat to medium, add butter and herbs simultaneously to the skillet.
Baste
While butter is getting melted, tip the skillet so that the fat can pool to the bottom, and use a large spoon to scoop that liquid up, then douse it over the meat. Repeat in 2-3 minutes whilst keeping flipping the meat every 20-30 seconds.
Remember to check the temperature when you're basting and flipping the meat.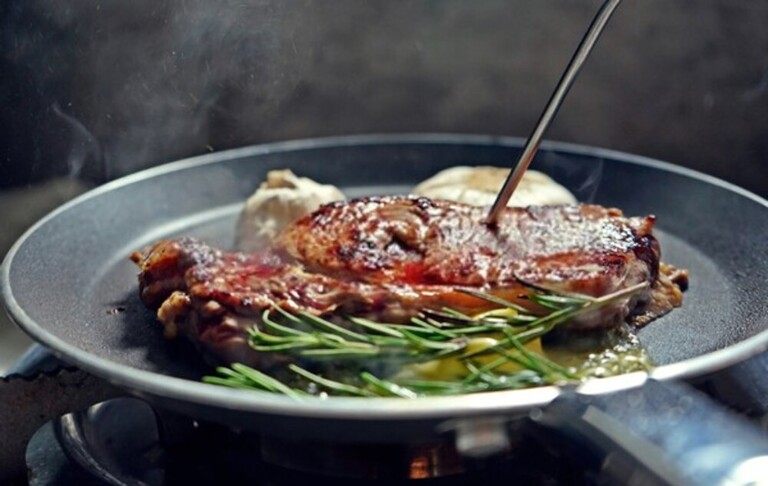 Use a thermometer and check the temperature in the center of the meat:
>140F gives you well-done meat
140F is medium meat
130F is medium-rare meat
120F is rare meat
Let The Meat Rest
Prior to the meat reaching its target doneness temperature, take it off the stove and let it rest. Depending on the meat size, the resting period can be 10 minutes or more.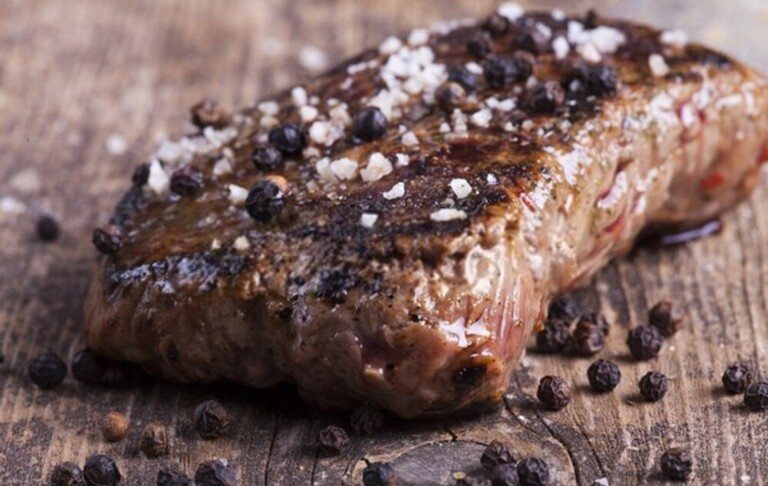 Finally, ready to serve.
How to butter-baste fish
If you use a 1.5" thick (or more) fillet, then the cooking process is quite similar to the above guide, except that you don't need to flip it.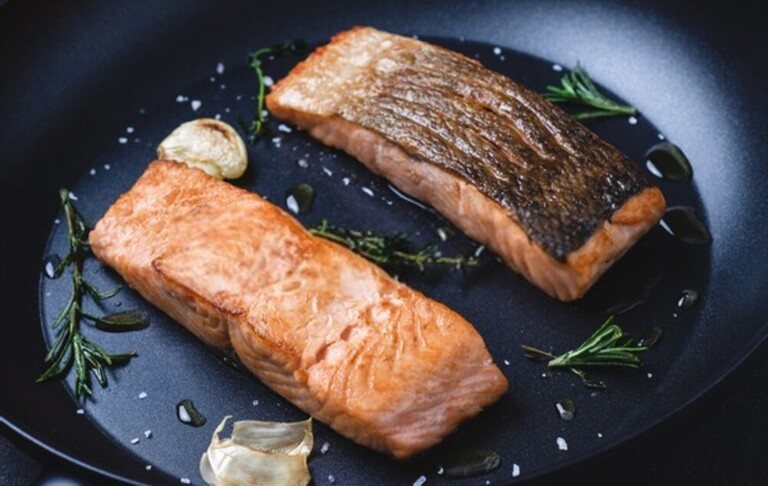 In the beginning, sear the skin side of the fillet on high heat until it gets a slightly golden brown (about 4-5 minutes), then add butter and aromatics. When you baste the flesh, the upper side will be gently cooked to be juicy and tender.
Conclusion
That's my guide on how to butter-baste steaks, chops, and fish. I hope that the information was helpful to you. Finally, here are some last reminders for you:
Moisture is the top enemy of good browning! Make sure the meat is completely dried before starting to sear it.
Have everything well-prepped and set out before cooking.
That's all! Thanks for reading!