The kitchen is like the soul of one's home.
If you're planning to make this area look more luxurious just because it's your preference or because you are trying to sell your home, consult our tips. Below are the 9 best ways to add instant luxury to your kitchen. Read on!
Give Your Kitchen Cabinet Doors A New Coat
Kitchen cabinet doors will become worn and dull over time, which more or less affects the appearance of a kitchen.
If you want to take this opportunity to give them a new look and make your cooking space look more luxurious, replace these kitchen cabinet doors with glass or high-gloss ones.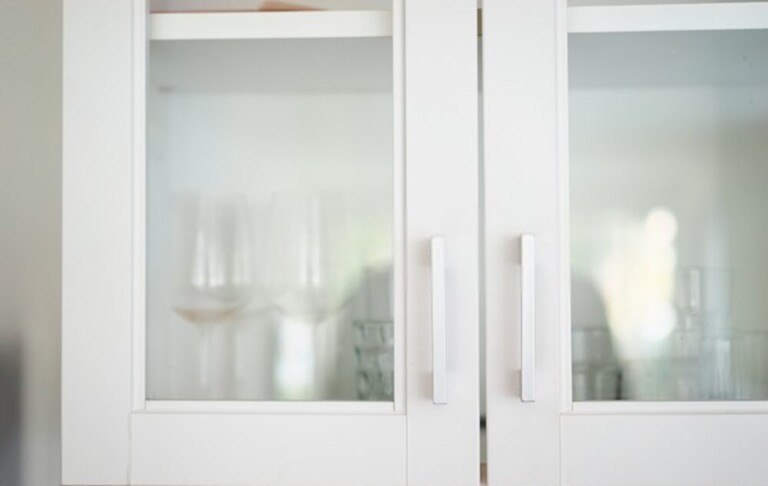 With a little creativity, you can remove the cabinet doors in a few compartments and create open shelves to display the best corners and your most beautiful kitchen tools.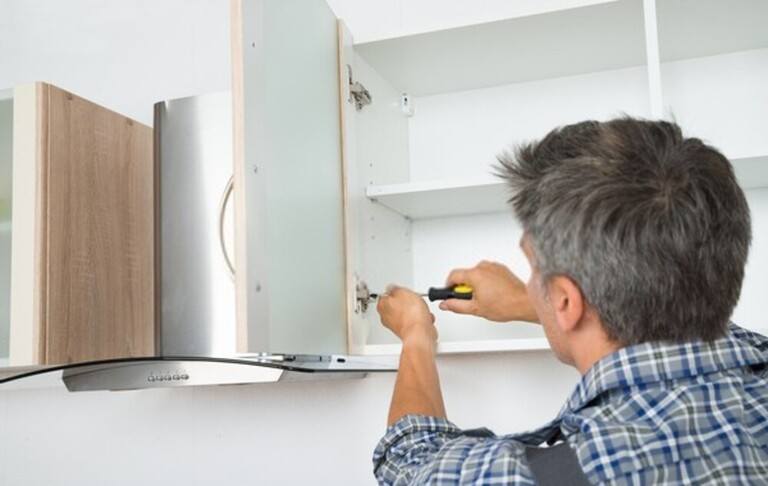 Pay Attention To The Light
For a luxurious kitchen, lighting is an essential feature. It also ensures safety, creates a good atmosphere, as well as brings flexibility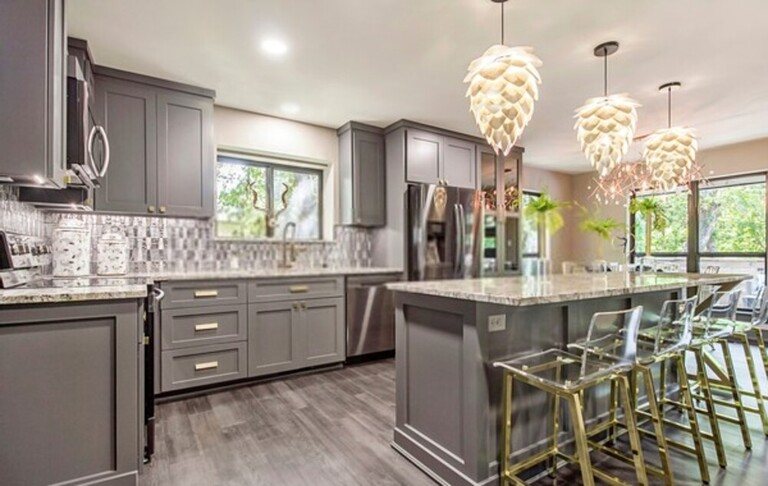 Aside from standard task lights, add some decorative lights – such as pendants and chandeliers – with warm color temperature to create coziness and to avoid the feeling of a shadow during the cooking process.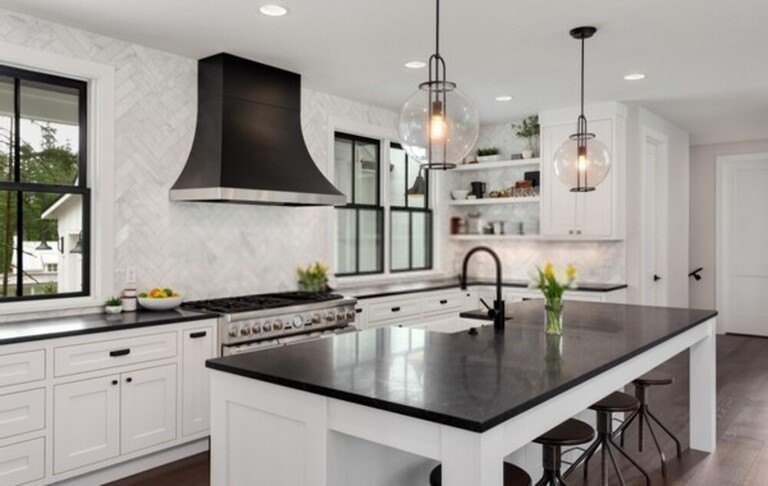 If you are paying a large expense for lighting, then find and replace the current light sources with modern ones.
Consider installing a dimmer switch for flexible adjustments due to different needs and moods, such as for entertaining, cooking, or just relaxing for a midnight snack!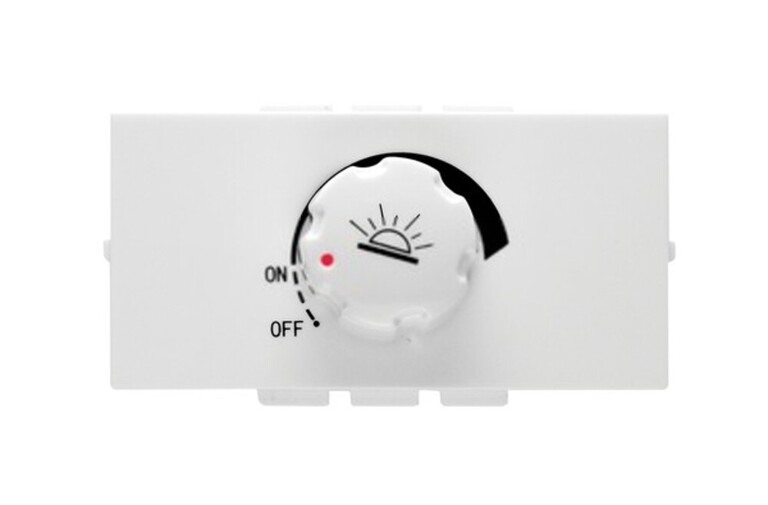 If possible, arrange your kitchen windows facing a garden.
Use Brighter Paint Colors
The kitchen accumulates a lot of hot and humid air, therefore, it's highly recommended to choose bright paint colors when designing this area. Bright colors bring many benefits, such as:
Balance your mood when cooking
Reflect the light better to make your cooking space brighter and feel more spacious
Cover-up defects such as dents on old kitchen cabinets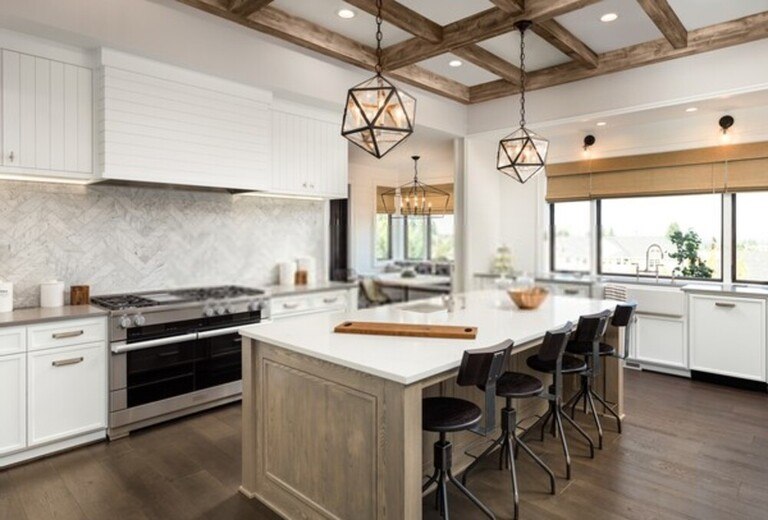 You should note that the paint color for your kitchen should match with other spaces in the house.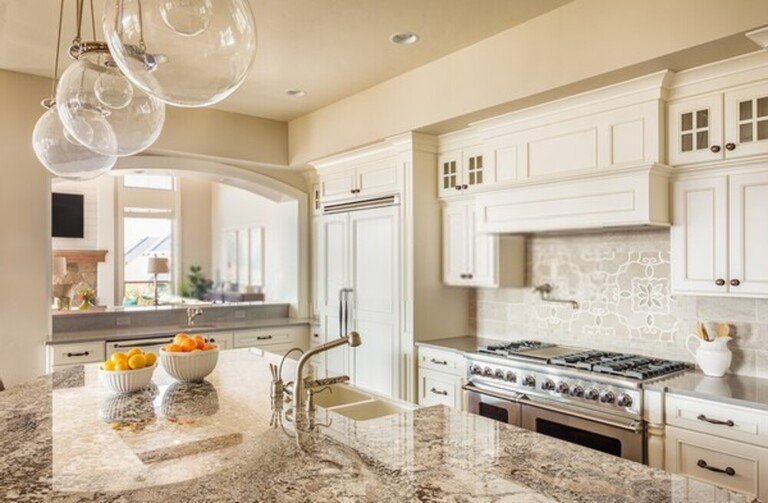 To make this area more prominent, try adding some of your favorite colors through the floor tiles or cooking utensils.
Add Decorative Ornaments
Many people have never thought about decorating your kitchen with ornaments or pieces of art.
But in fact, this is a great place for this. It speaks to your tastes and living style.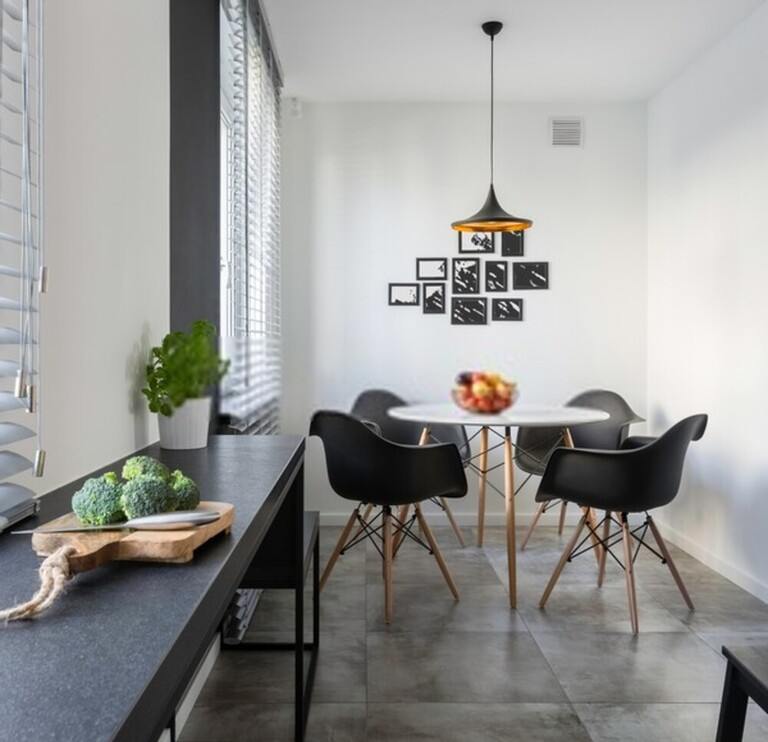 For many homeowners, the space above the cabinet is the area for hanging small sculptures, artwork, and other decorative items. The space in the middle of your kitchen is perfect for putting a small shelf for your favorite kitchen souvenirs and cookbooks.
Add a vase of flowers or a fresh bowl of fruits for a splash of color and bring your touch to your luxurious kitchen.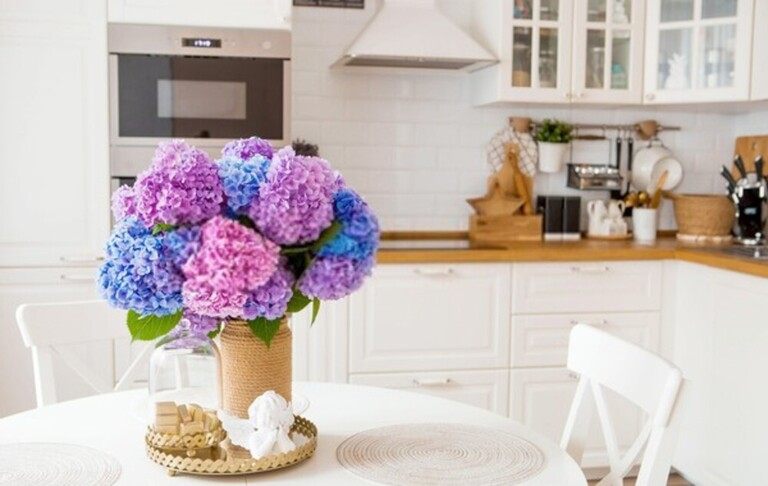 Incorporate Modern Seating Inside Your Kitchen
The kitchen is most likely the busiest area of one's living space. It's where the family gathers for meals - the center of any house.
Optimize and modernize this area by bringing the dining room into it.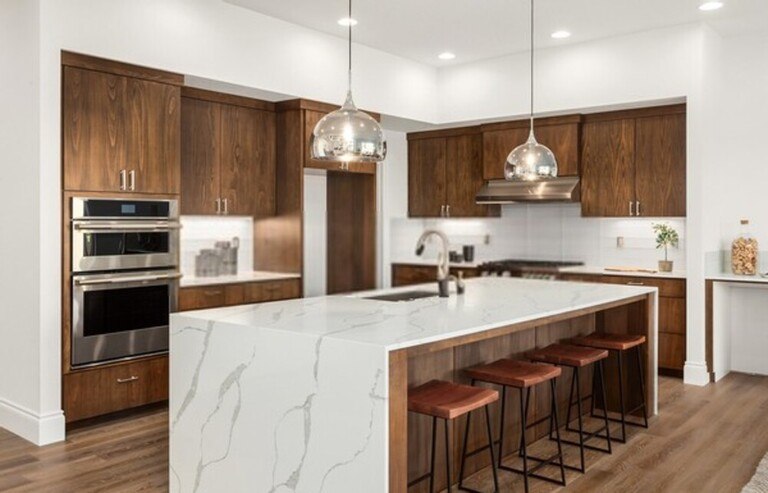 Whether you choose stools and seating at the kitchen island or opt for a banquette at the table by the window, seating can give your kitchen a completely new appearance – more modern and luxurious.
Your kitchen can even become a multi-functional space, such as a temporary working space for you, a place for your kids to study, or a perfect area to entertain your friends.
Replace Old Floors With Wood Or Resilient Materials
Flooring is one of those often-overlooked parts in a kitchen, however, it brings up a noticeable change to the entire look.
The cost for changing from a traditional kitchen with vinyl or linoleum flooring to resilient materials like wood, tile, or stone isn't as high as many people would think.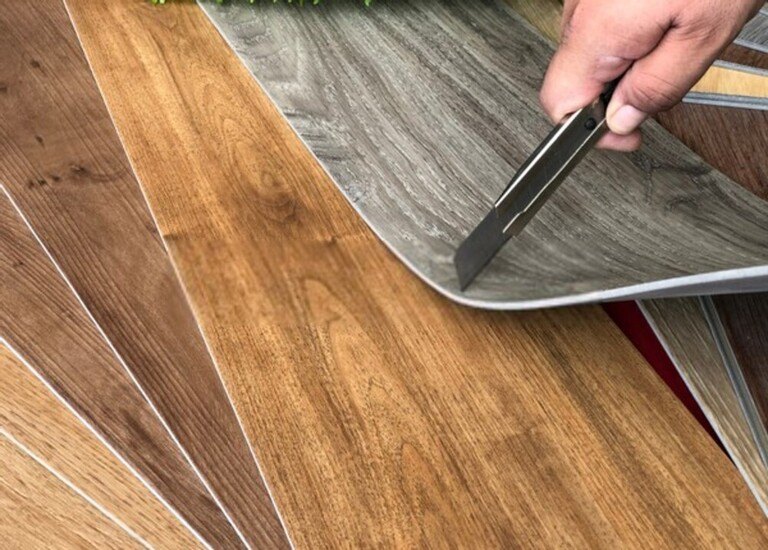 But in comparison, these materials last a lot longer than their counterparts while increasing the house value significantly.
In recent years, wood-look ceramic tiles have become popular as well as limestone and slate.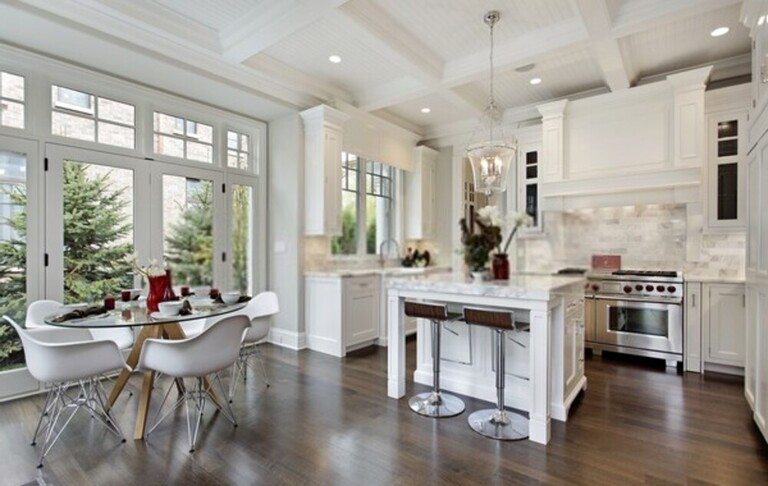 Arrange Kitchen Furniture Properly
If you intend to add a piece of kitchen furniture or replace all of them, pay close attention to each one; make sure they all harmonize together to create a consistent look.
Choose vertical shelves and place them close to the wall for space-saving. Prioritize stylish dining tables.
With those small items such as dishes, pots, and pans, buy in a set or make sure the new and the old ones are in the same style.
The refrigerator should have a minimalist design, with many convenient compartments inside while the kitchen cabinet system should be designed in a U-shape.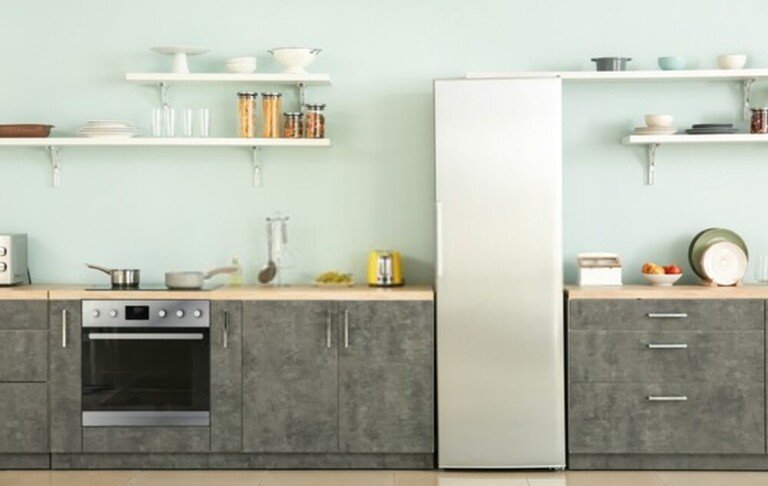 And, leave just enough space for the aisle.
Instead of installing cabinets all over the walls - making your kitchen feel cramped and heavy, consider using wall shelves to help the space look more elegant and spacious.
Clean the kitchen every day and keep the furniture neatly.
Hide Your Kitchen Stuff
If there's a free space between the upper cabinets and the ceiling, you may end up trying to put a lot of stuff there.
This is actually not a bad thing, as any space should be utilized to the fullest. But if you store all that stuff in a box or basket, then place them on the shelf, your kitchen will be less cluttered and even easier for you to keep the space organized.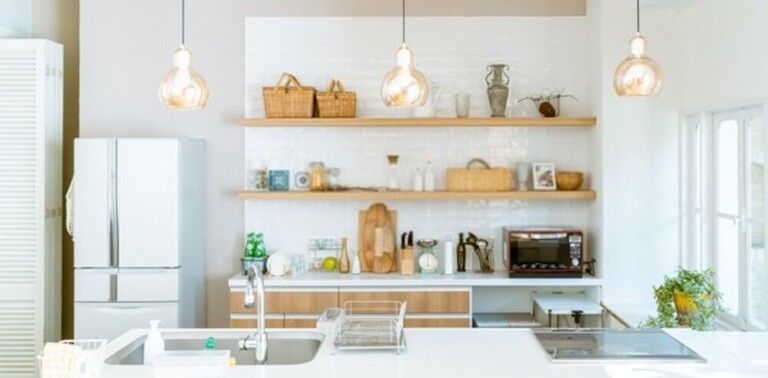 In addition, storing items in enclosure boxes will also protect kitchen utensils from getting dirty.
Replace With Sockets Of The Same Color As The Wall
Sockets that do not match the kitchen interior in terms of style and color will ruin its elegance as well as the overall impression.
It'd be better to select sockets of the same color as the kitchen wall or wall tiles. The best solution is choosing hidden sockets.
Conclusion
Get ideas for your kitchen right now!
You don't have to follow all of the advice listed above. Consider your current kitchen and determine what it needs to change the most. Hopefully, our post on "Best ways to add instant luxury to your kitchen" was helpful. Thanks for reading!