Most bathrooms these days are painted white completely, which is both easy and difficult to decorate.
"Easy" because white is neutral, meaning that it can easily combine with any other colors. "Difficult" because there are too many options that might make a beginner feel overwhelmed to make the right decision.
If you're wondering "what can I do to warm up an all-white bath?", then this post is the best answer.
Potted Plants
Placing potted plants in your bathroom not only helps warm up the entire space but also gives a fresh, impressive look and eliminates bad smells.
Because of high humidity levels, bathrooms are prone to encourage bad odors and mold growth if not frequently cleaned. Meanwhile, there are many bathroom plants that can take in Ammoniac, giving back fresh, pleasant air.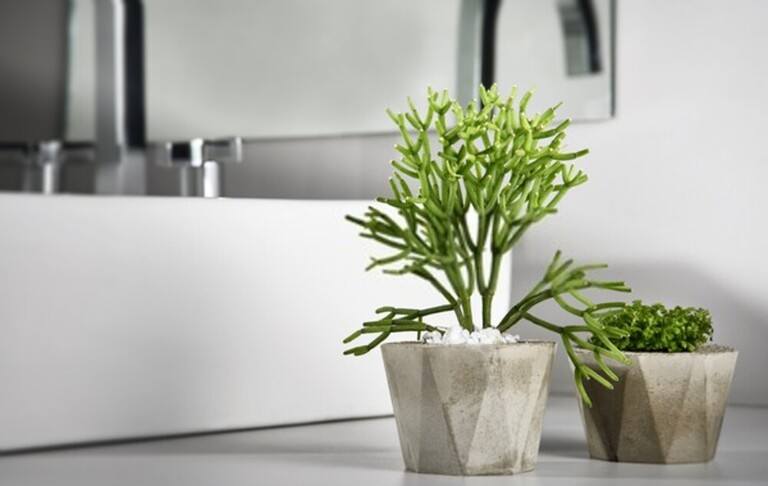 Note that not all plants can grow well in high humidity, shady conditions like bathrooms, make sure you pick the right ones. Here are some shining candidates for beginners:
Golden pothos
Ivy
Aloe
Mint
Spider plant
Snake plant
Some maintenance tips for bathroom plants:
Make sure they are not waterlogged and the soil is dried. Regularly care for and prune them. Once a week, bring them to a sunny place for photosynthesis.
Bathroom plants are commonly placed above the hand wash basin, windows, shelves, or corners.
A Flower Vase
Adding to your all-white bathroom some vibrant flowers is a great idea to add a sense of coziness, aside from a classy and luxurious feeling.
For sure, you'll notice a big change once trying it.
Not to say that fresh flowers leave a comfortable, natural fragrance. Don't worry if you have little free time to change the flowers frequently; there are lots of flowers that last long, such as orchids and hydrangeas.
Depending on each season of the year, there are a variety of flowers to choose from. For example, tulips are one of the most popular spring flowers.
Before adding a flower vase to your bathroom, make sure its size is suitable for the room as well as where to place it for the least chance that you accidentally bump it.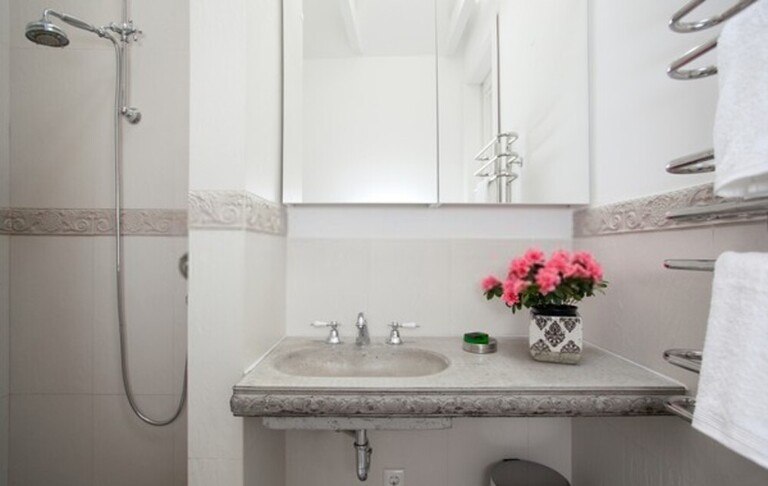 Pay attention to the fragrance as well; it should be light and comfortable.
Bathroom Lighting
While bathroom task lighting is mostly in a cool white tone, consider adding a few accent light bulbs to make the space look warmer.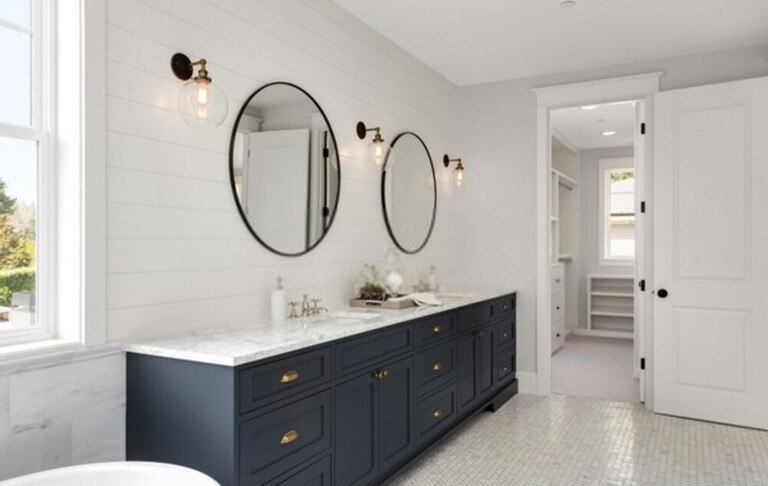 Mount or attach a pair of small warm white lights on both sides of the mirror, which is a popular solution for narrow bathrooms. If yours is larger, installing a horizontal light above the mirror will help diffuse warm lighting throughout the space.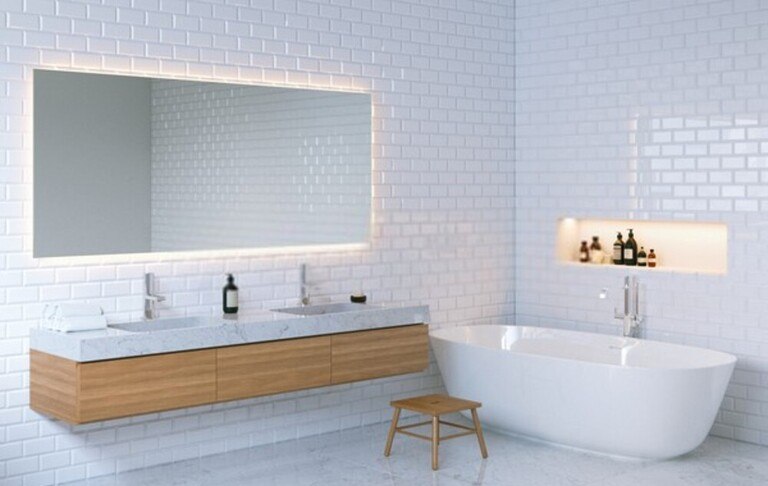 Some other options are chandeliers or vertically-hung light bulbs, which bring a luxurious and modern look.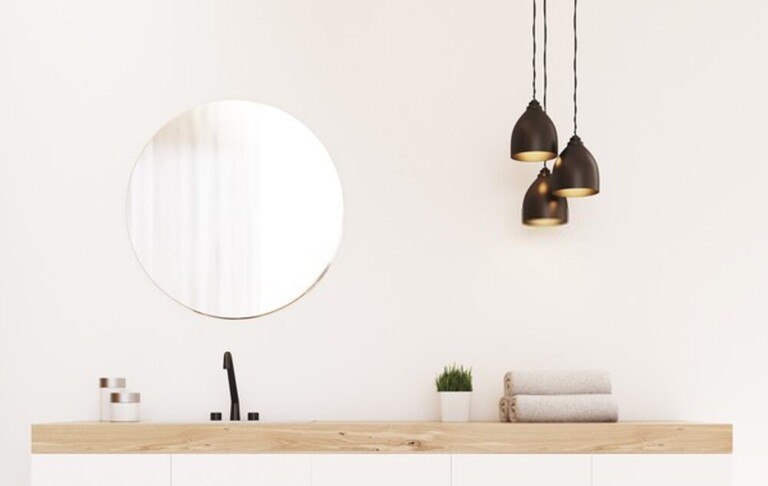 Extras:
Some naturally scented candles are another great option to warm up your all-white bathroom, especially if you also want a relaxing place to chill or for romantic couple bath times.
Add A Warm-Tone Bathroom Cabinet Or Shelves
Brown wood tones are the most popular choice for a classical look; vibrant reds, yellows, and oranges bold the homeowner's characteristics; while pastel pinks deliver a modern and lovely feel.
According to the 60-30-10 rule in selecting color schemes, white is the main color in this case and it accounts for 60% of the space.
The secondary color that you intend to add should account for 30% of the space, such as bathroom cabinets, shelves, and racks. You can choose one color tone for all of them or try mixing different tones for softer color effects.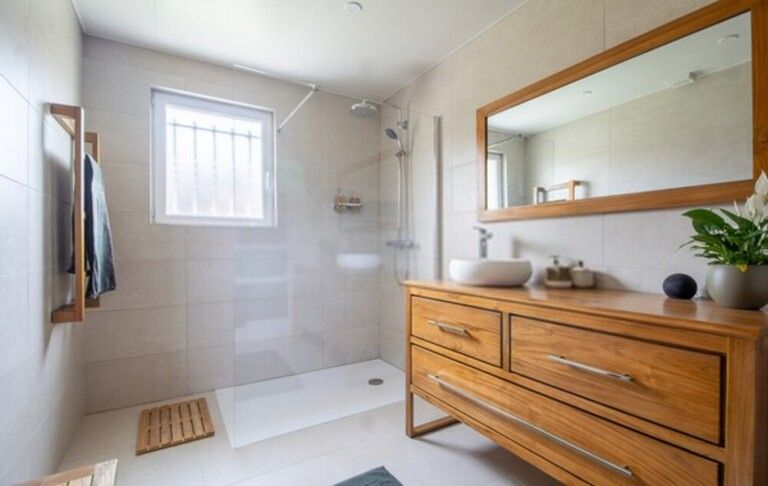 If you intend to choose a wood cabinet or shelf, make sure the material is moisture-resistant and low-maintenance.
Add Warm-Tone, Patterned Wall Tiles
One of the most effective ways to warm up an all-white bathroom is to fill up a wall with warm-tone, patterned wall tiles.
Aside from considering the right colors of tiles, pay attention to their patterns.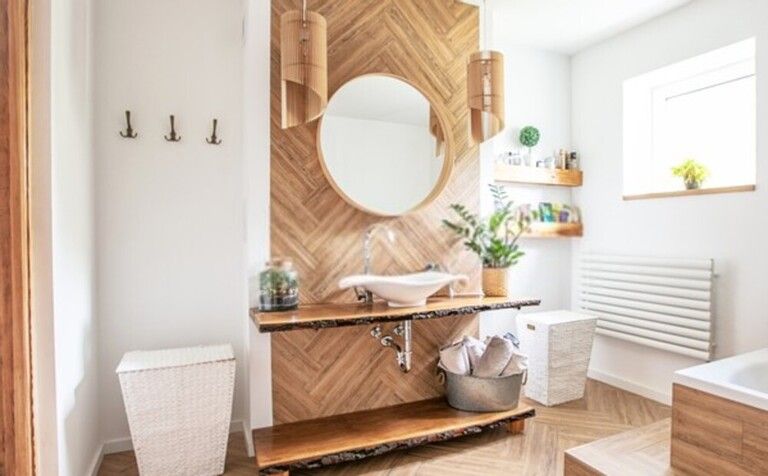 Our design experts advise going for hexagonal or block patterned options to bring an illusion of larger space. Aside from bringing a cozy look, these tiles are an effectively protective way for your bathroom walls.
To maintain their beauty, remember to clean them at least once per month.
Bathroom Wallpapers
If you're living in a rental home and it's a bit inconvenient to try the above idea, consider using warm-tone wallpapers for your bathroom.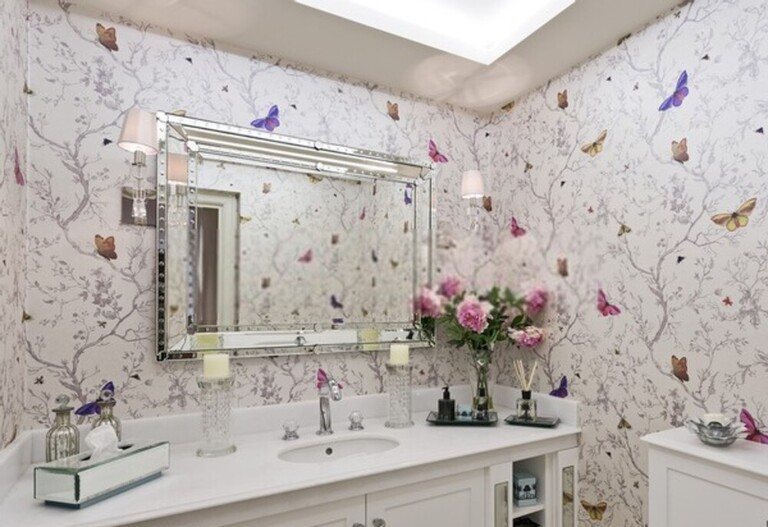 They're budget-friendly, easy to remove, and popular to be found at any home décor shops.
There is also a variety of colors, sizes, and pattern options to consider. Make sure these elements match with the current bathroom décor or the desired style.
Pay Attention To Details
For example, faucets, doorknobs, mirror brims, and light bulb covers.
If you're on a tight budget or do not prefer to change much in the bathroom, consider replacing these details with silver or brass color ones. Then, mix with some small potted plants, if you like.
Conclusion
In a nutshell, there is a wide range of decorating options to give a new coat to an all-white bathroom, depending on one's preference, budget, and taste. A basic rule of thumb is the more complicated the project, the more careful you should be to not waste time, money, and effort.
Here is the end of this post. We hope that you have already had your best answers for "what can I do to warm up an all-white bath?".
Thanks a lot for reading!