A dark bathroom brings a gloomy and moody feeling while this is where you recover your energy after a hard-working day. It should be cozy and inviting!
If your bathroom currently looks too dark (maybe because of limited natural light or improper lighting arrangement), keep reading this post. Below are our tips for making your dark bathroom brighter.
Wall Paint
If you're renovating your bathroom, this is a great chance to re-paint all the walls and ceilings of this area.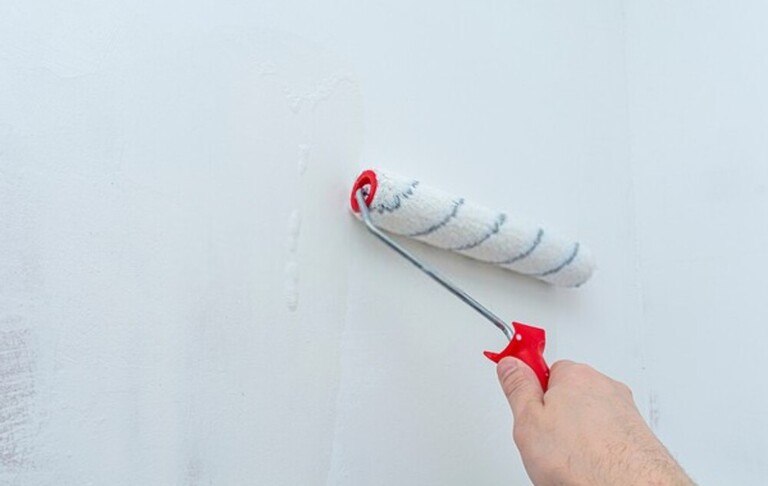 To make it more vibrant, white is the best color. However, we don't recommend using it for all the walls because that looks tedious and boring. It would be more attractive if using white paint for the ceiling and neutral colors for the balance wall areas.
Talking about neutral colors, there are a lot of choices to consider. They each bring a specific style to your bathroom.
It's important to determine which décor style you'd prefer for this space.
Here are some hints for you:
Gray pastel – for a nice vintage look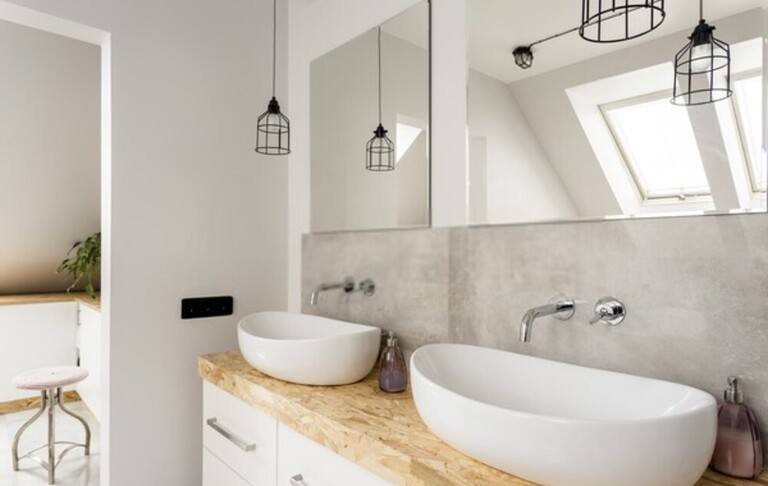 Taupe – for a neat and bossy vibe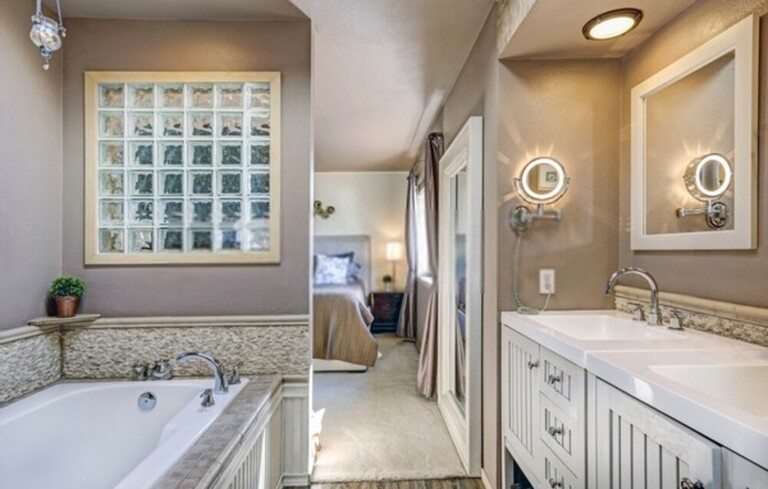 Ivory or beige – for a gentle and sophisticated ambiance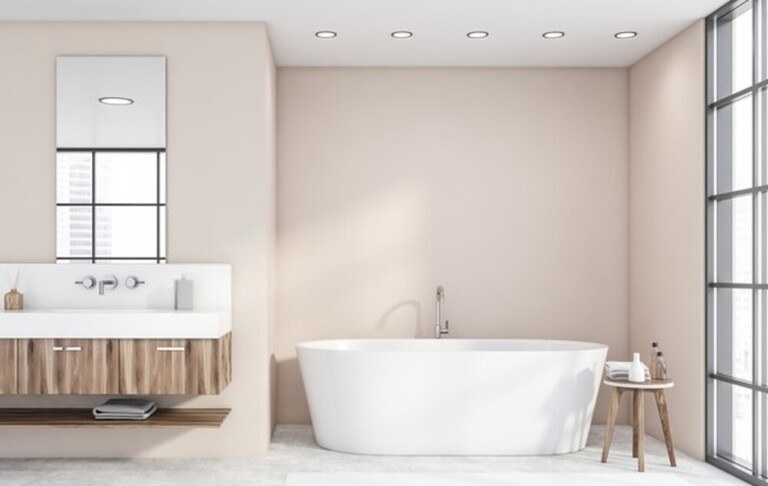 Blue-gray – for a relaxing spa-like atmosphere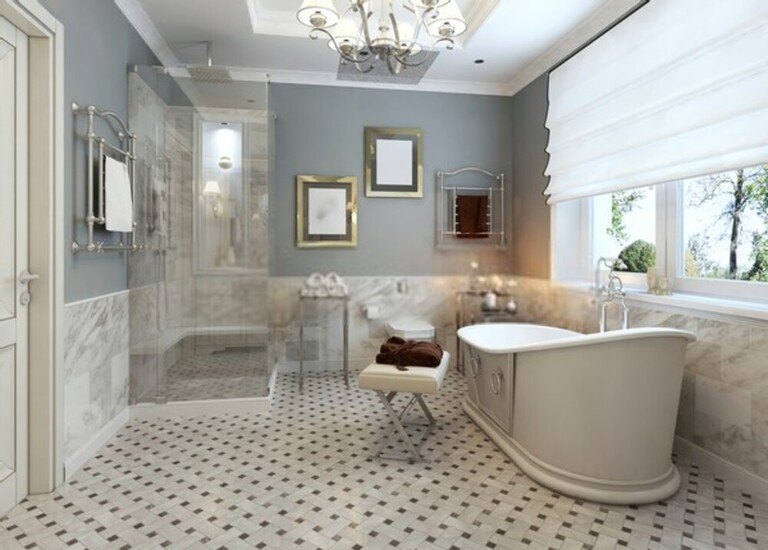 Light blue – for soft, gentle feeling as if you were floating between the sky and the sea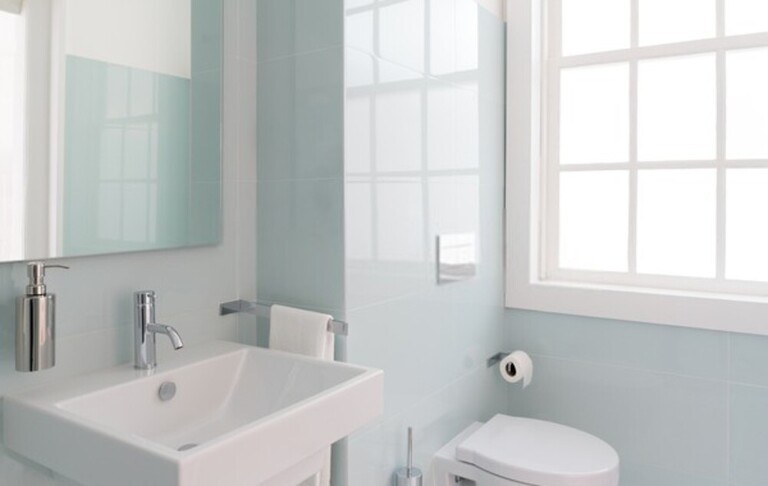 Bathroom Tile
By Colors
To help a dark bathroom look brighter and more harmonious, it is necessary to ensure that the color of tiles, wall paints, and the main furniture has a certain similarity.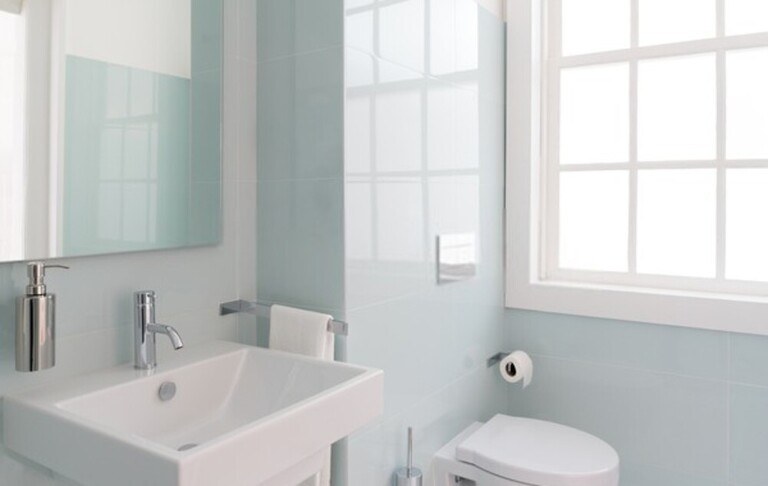 Same as choosing wall paints, you should opt for bright tile colors.
White and neutral colors are the two best choices.
By Patterns
Choosing the pattern of floor tiles is something that many people feel really overwhelmed by because of the variety and abundance of options. According to our search, the most popular these days are wood grain tiles, stone grain tiles, and antique imitation tiles.
The choice depends on the homeowner's preferences and tastes.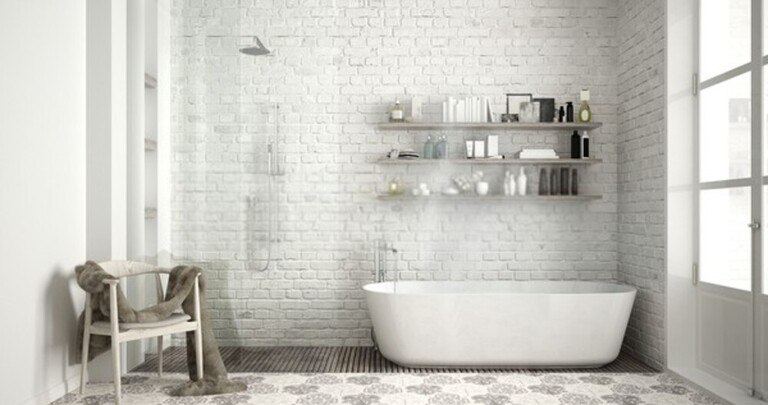 However, to make a dark bathroom brighter and feel more spacious, it is recommended to use simple textures with bright tones.
Lighting
Lighting plays a huge role in the brightness levels of a bathroom, especially at night. There are three big concerns when it comes to bathroom lighting:
Types of lighting
Color temperature
Light arrangement
Type Of Lighting
Bathroom lighting is classified into three main groups depending on their purpose of use:
Main lighting – used for illuminating the whole bathroom and usually installed in the middle or along the edges of the ceiling. Pay attention to the light's brightness levels and durability when considering this type. Ceiling lights or chandeliers are the two most popular choices.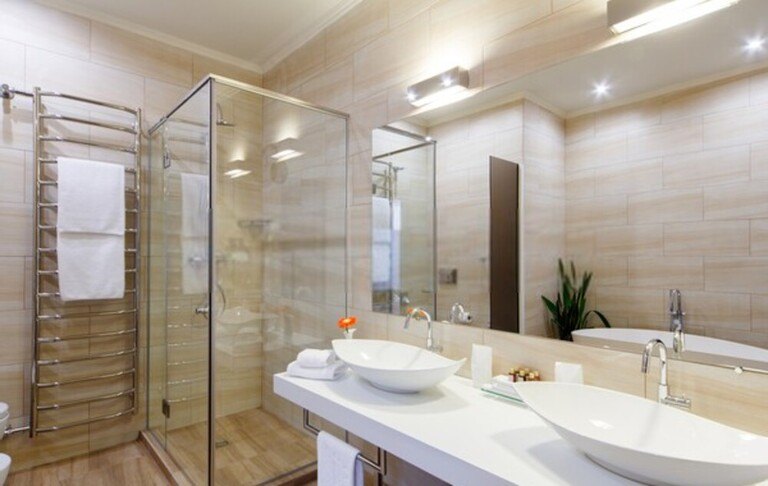 Task lighting – used for common tasks in the bathroom, such as make-up, changing clothes, shaving, brushing teeth, etc. Mirror lights are the most chosen.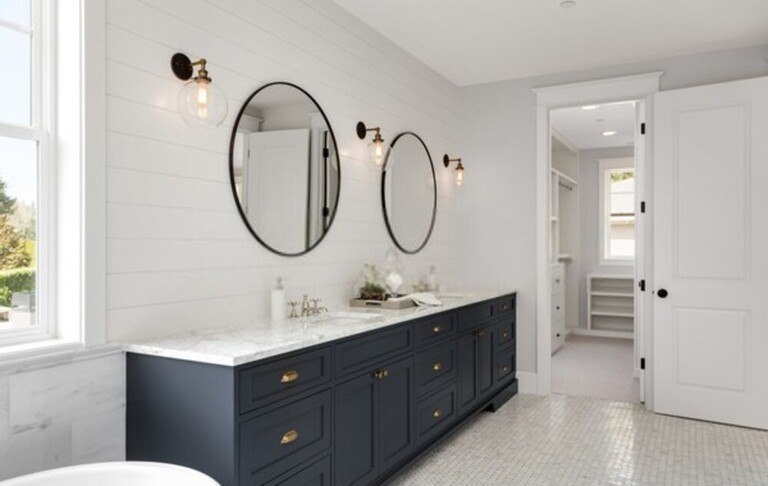 Decoration lighting – used for creating a mood or highlighting decorative ornaments, like art, sink, or tiles. Try installing small LED lights in the corner of the wall, the corner of the potted plant, or the corner of the bathtub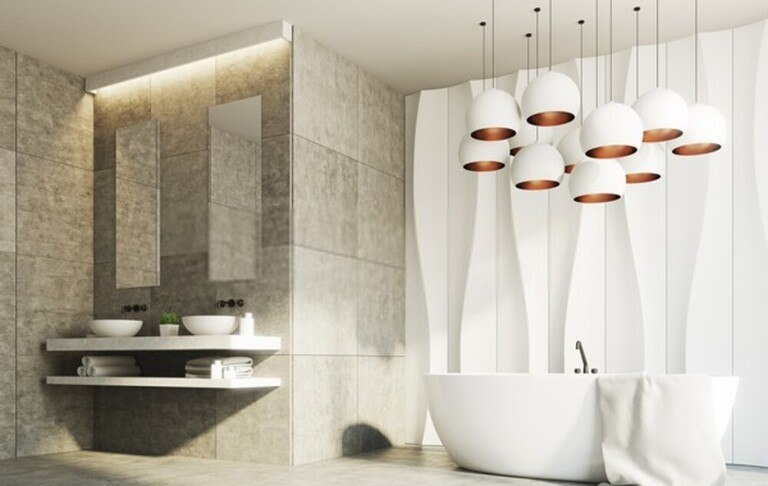 Color Temperature
You must pay attention to how to choose the color temperature for each lighting type installed in your bathroom.
Warm color temperature brings a gentler and more calming atmosphere but it gives a sense of dimmer look than cool color temperature.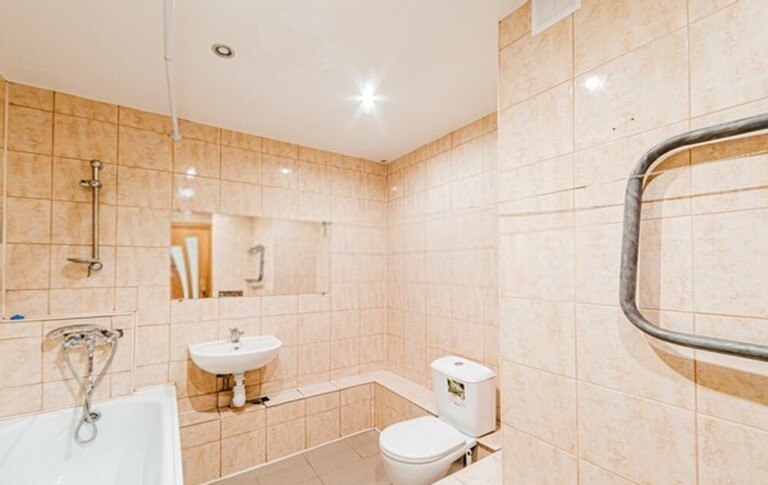 We suggest choosing a cool color temperature for general lighting and a warm color temperature for decorative lighting.
For task lighting, the choices are up to your preference.
If you light a calming glow that is still bright enough for common tasks, choose lights with warm color temperature and high lumens (Lm). If your needs are more about lighting function, choose cool color temperature.
Light Arrangement
You should determine the number of lights needed for the space (according to its area), arrange them reasonably, and combine different types of lighting in a harmonious way.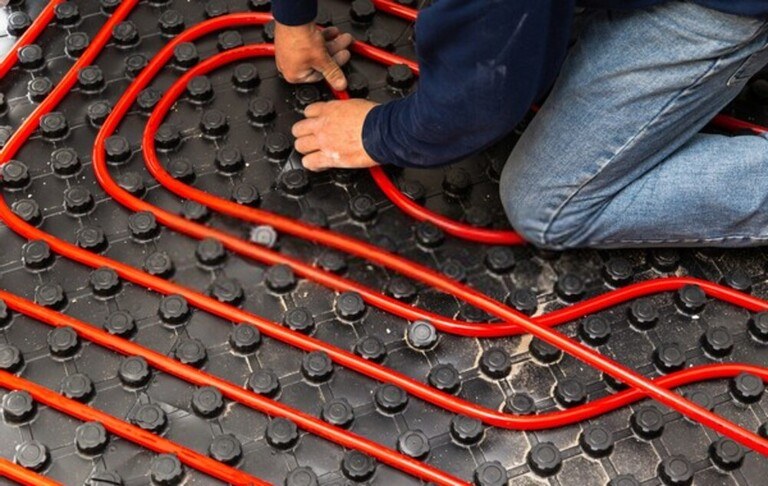 By using multiple layers of light in different zones and different color temperature ranges, as well as carefully paying attention to detail, you can certainly achieve a bathroom design that is both beautiful and bright.
Mirrors
A mirror - if chosen an appropriate size and placed in a reasonable position - can help reflect the light source across the space, which instantly makes a dark bathroom instantly brighter.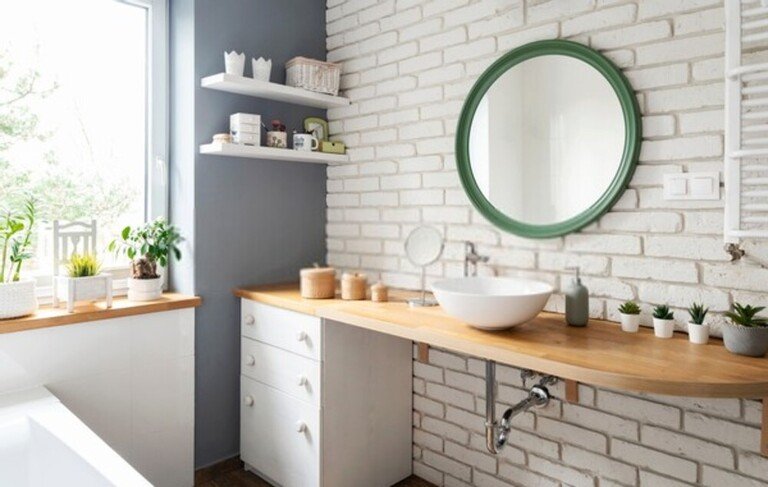 The best place for them is opposite the bathroom window, which helps to catch natural lighting in daylight. You can opt for one full-length mirror or two, due to the area of your bathroom. But avoid facing two mirrors together because it creates multiple reflections in each one.
Reflective Surfaces
Another creative way to reflect light across your bathroom and make it brighter is using shimmering and reflective metallic surfaces, such as mirror frames, light fixtures, and sanitary fixtures with chrome or brass coating.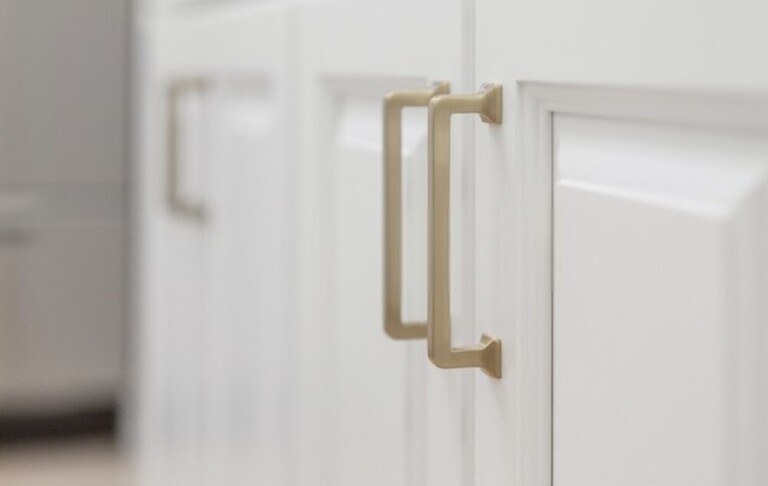 Gloss finish wall tiles bring the same benefits. But don't apply it for the floor tile because it is very slippery.
Conclusion
We have just shared to you the five tips for making your dark bathroom brighter. Have you tried any of them? Which idea is your most favorite? Please let us know. If you have any interesting tips to share with us, don't hesitate!
Hope you like our post and thanks for reading!