Have you ever wondered that, or asked yourself how to decorate this space to look like appealing Pinterest home décor pictures?
If yes, then this article is for you. Below are the 9 practical, budget-friendly, and beautiful ideas to easily makeover an entryway.
Make It As A Mudroom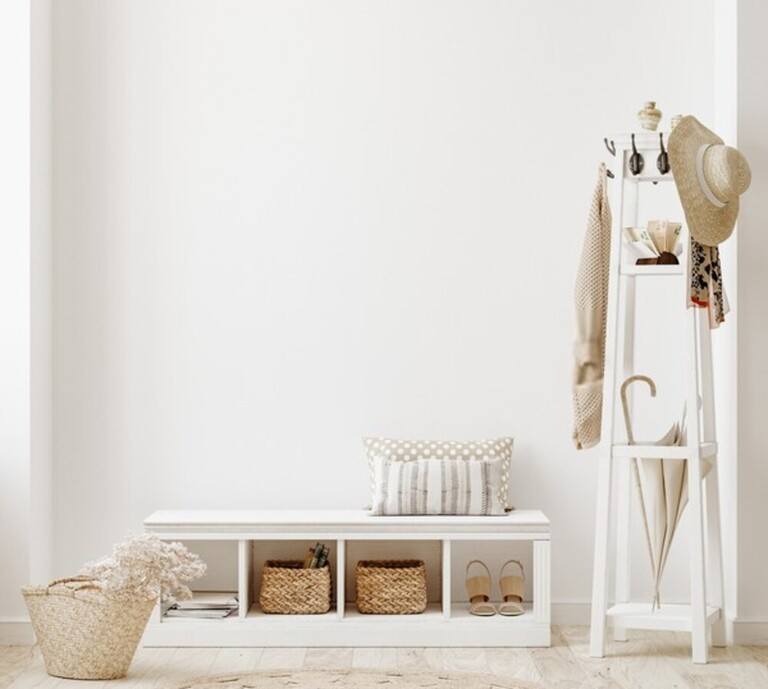 It is very difficult to keep your house clean and neat if the transition between the outdoors and indoors is immediate. You usually end up with a huge mess dumped around the entrance, consisting of coats, hats, and wet and dirty shoes.
If you desire to make the entryway both welcoming and practical, transform it into a mudroom – which is a foyer or porch performing that function.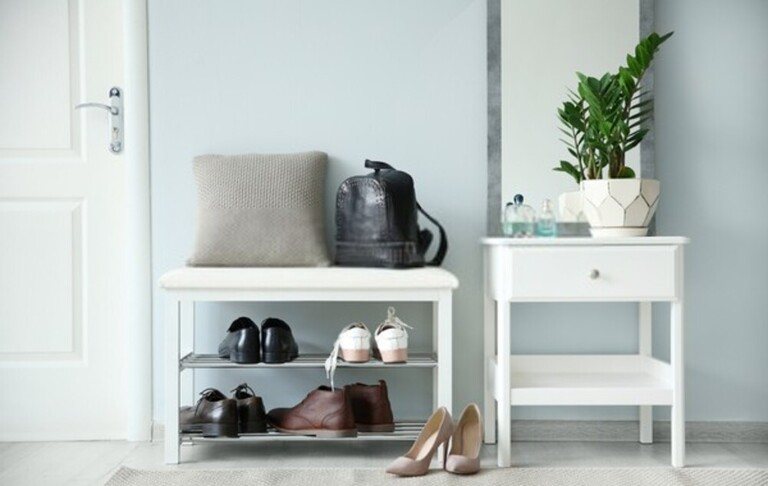 While thinking of ways to help your family keep your outdoor stuff organized here, make it bright and appealing.
Some hints for you:
Color-based baskets
Coat hangers
Shoe racks
A small bench or stool where you can sit on to wear/put off your shoes
Console table with drawers
A dresser
Wallpaper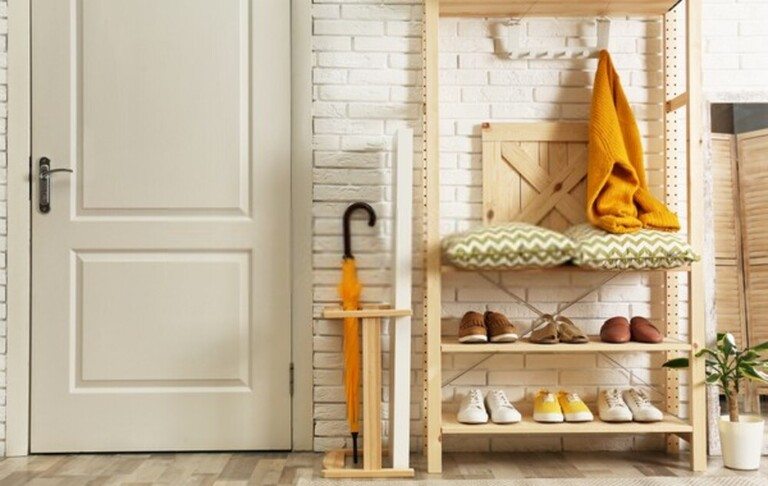 Instead of repainting the walls of this area every few short years – which is quite costly and time-taking, not saying that it's not a suitable rental house, using wallpaper seems to be a more cost-effective way.
Wallpapers come in a variety of colors, patterns, and styles available on the market, so you will surely find the one matching your tastes and needs.
To make your house entryway welcoming, I recommend choosing bright, neutral colors if you have not determined which one to buy yet. Colors like pastel, beige, light yellow, mint green, sky blue, and brown are some good options.
About the pattern, the size of wallpaper patterns should be based on the entryway area. The smaller the space, the smaller the patterns (to avoid making it feel busy and narrower).
Lighting
Aside from the main lighting – which should be bright white, consider adding accent light features with a yellow glow to make this space feel cozy and inviting whether you are about to go out or get home.
A stylized desk lamp is one of the most popular choices because they are flexible and diverse in shapes or colors.
Using light strings is a budget-friendlier choice while the mood-creating effects are still excellent.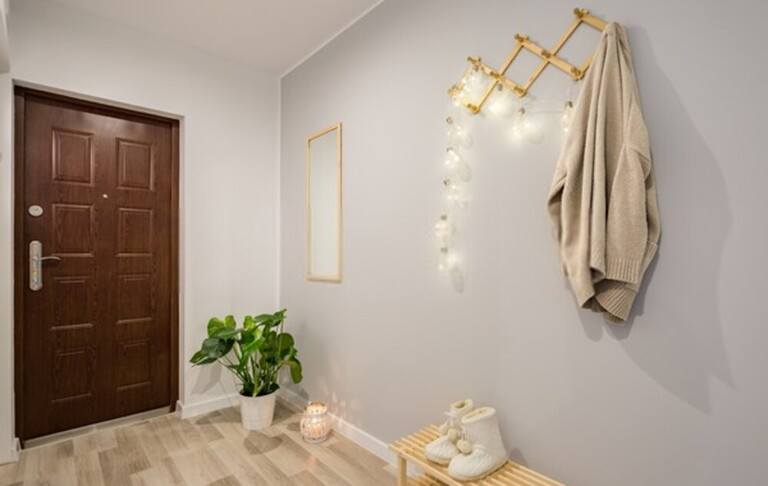 A Mirror
Mounting or placing a mirror along a house entryway is multifunctional.
It helps you check your hair or clothes before going outdoors, reflects lights to make the space look brighter, and gives an illusion of spaciousness.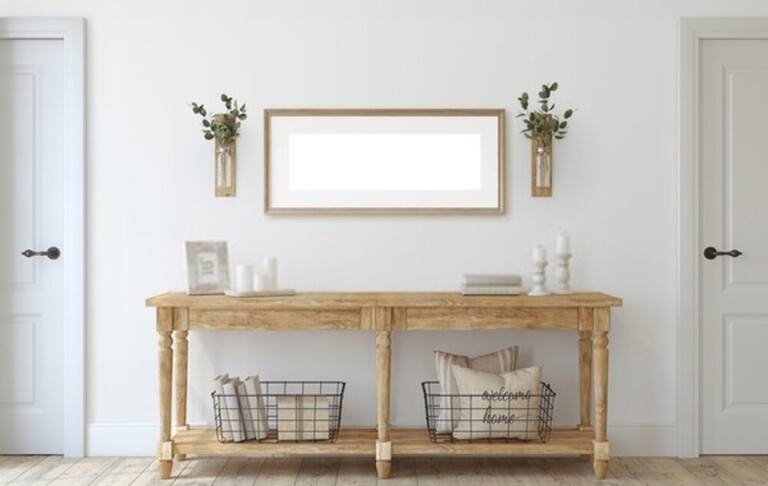 When considering a mirror for your entryway, think about the space area, your budget, and your needs. For a narrow entryway, I recommend picking a wall-mounted mirror, instead of a freestanding one.
Indoor Plants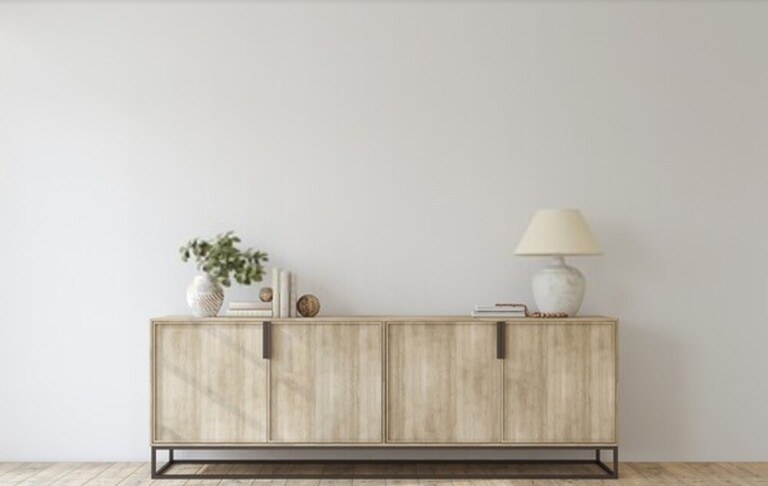 Whether the potted plant is small or huge, whether it is a real plant or artificial, this addition will immediately change the atmosphere of your entryway in a positive way.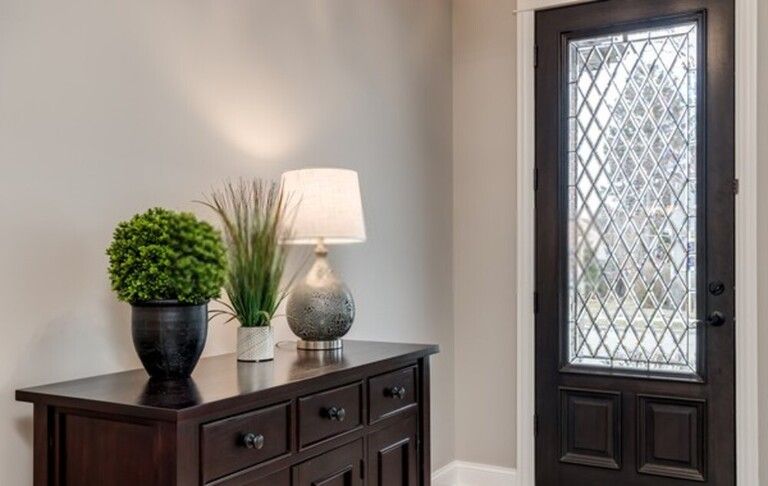 If you intend to opt for real plants, choose indoor plants that can thrive well in the lighting conditions that the space has.
For busy homeowners, choose low-maintenance pots. Want it to be a natural indoor air purifier? Consider these options:
Spider Plant
Pot Mum
Dragon Tree
Chinese Evergreen
Bamboo Palm
English Ivy
An Area Rug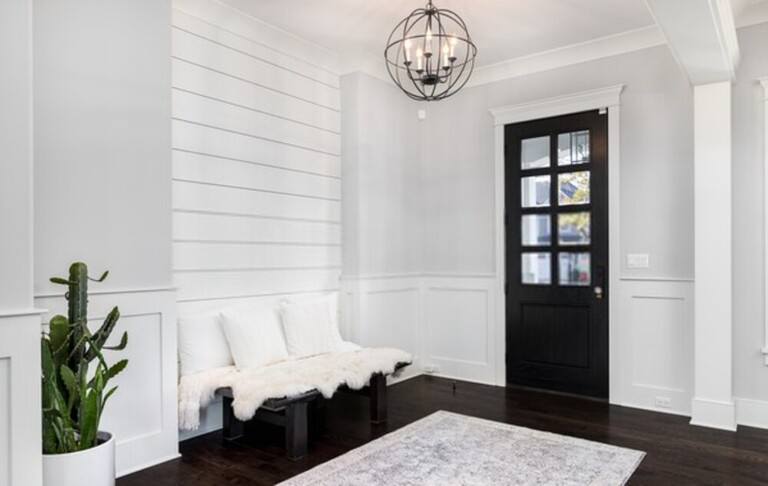 Adding an appropriate area rug to your house entryway brings a lot of benefits.
Not only does it clean the outsole of your shoes off mud, dirt, and dust but it also adds aesthetics and shows the homeowner's characteristics.
The rug for the entryway is a bit different from other area rugs, it should be rougher, water-resistant, and easy to clean.
Art Pieces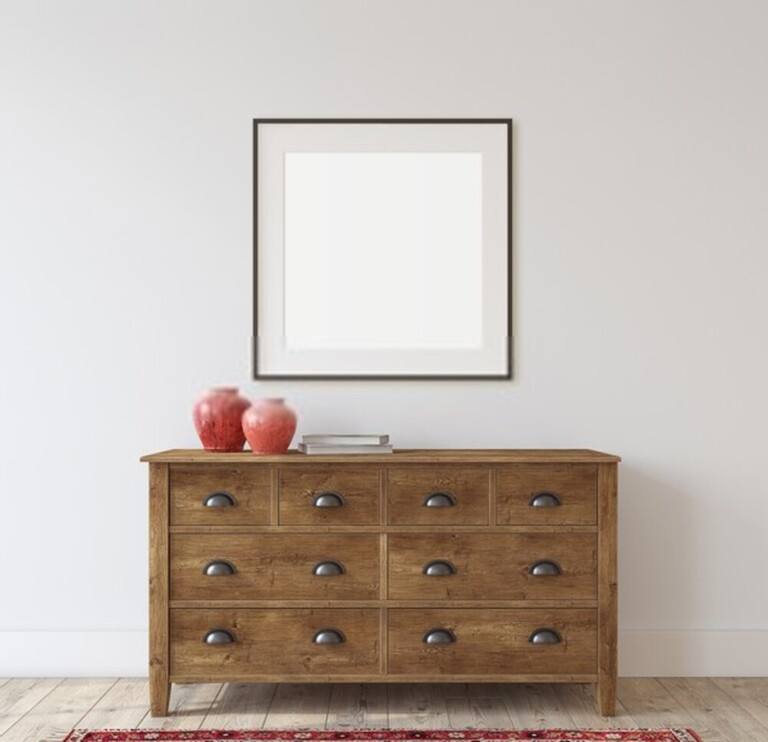 Art pieces are a good way to express the tastes and characteristics of the homeowner.
Depending on your preference, art pieces can be placed on the floor along the entryway or hung/mounted on the wall. Go for a piece or a set of art, based on your budget, the space area, and your preference.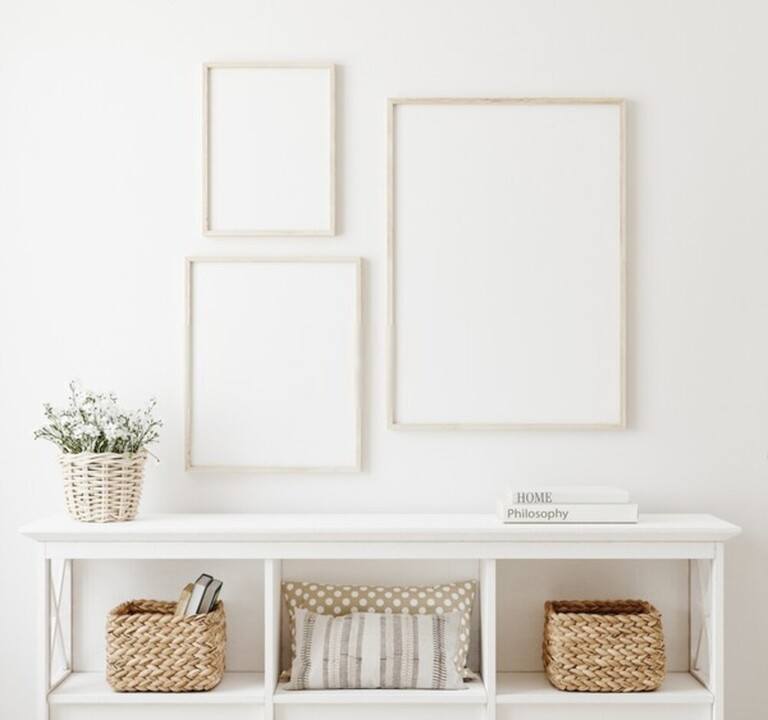 If you intend to choose a set of art pieces, make sure they match the main home décor style and are not too big to feel overwhelming.
Home Sign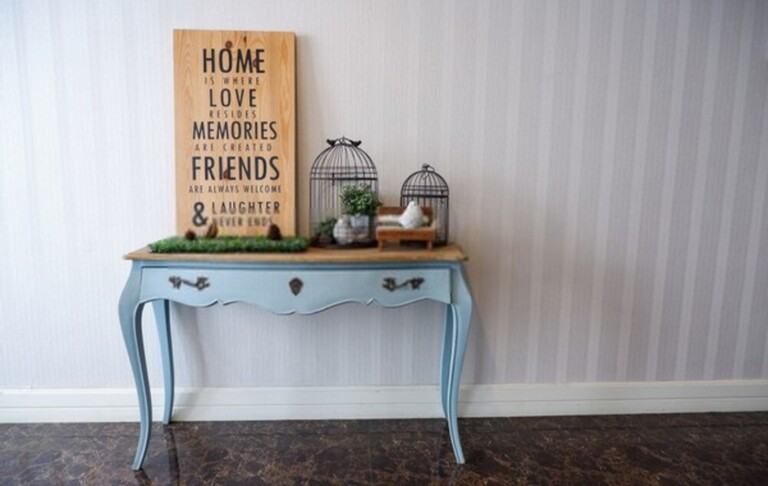 An inexpensive way to significantly make an entryway welcoming is to add a home sign.
This item is most suitable for rustic-style or countryside-style houses due to their material – wood. In most cases, home signs are placed on the top of a drawer, tabletop, or table.
Family Photos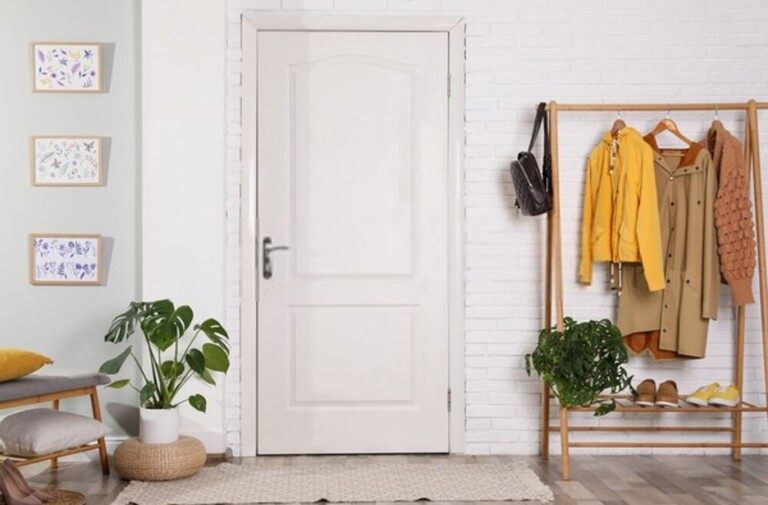 If you don't like art pieces or home signs, fill up a blank wall of the entryway with your family photos or pictures taken during your trips.
It is very easy and budget-friendly to DIY some photo frames, then hang/mount them on the wall.
Conclusion
Whichever of the ideas listed above that you intend to try, make sure to consider if it fits your entryway area and matches the house décor style. Hopefully, the article helped you find out the best answers for "how do you make an entryway welcoming?".
If you have any other interesting ideas, please share them with us and other readers. I'd really like to hear from you more. Thanks for reading!