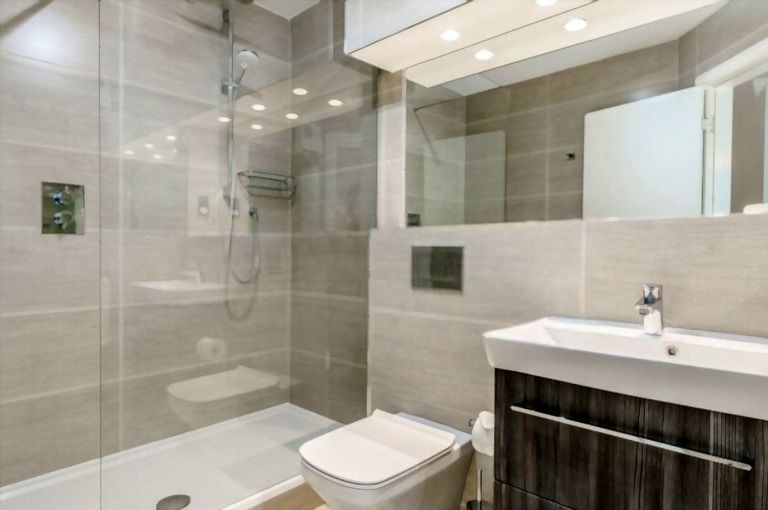 To transform your bathroom into a 5-star hotel room service might require a bit time and effort, but believe me, this makeover doesn't cost you a fortune.
If you own a small bathroom, that is probably a plus point in this transformation project.
In this article, I'm going to share my favorite tricks and how to make a small bathroom look luxurious.
Change The Showerhead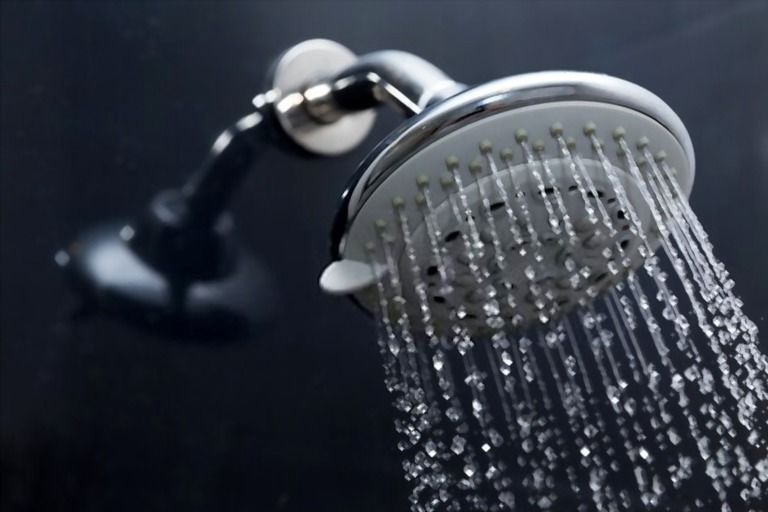 Start with the hardware – your shower head!
Some research lets me know that almost 5-star hotels prefer to install a rainfall shower for the bathrooms because of its classy-styled design. Besides, the biggest purpose of this showerhead type is to give you a relaxing feeling of water flowing from head to the rest of your body.
With the largest coverage spun, you just need to stand still without having to adjust your position while showering.
It would be more wonderful if the showerhead has a waterfall option. This will make you feel like showering in a rainforest.
Last but not least, choose a model with filtered construction to ensure the clearest water. No scale, chlorine, sulfur, or any other nasties.
Replace Your Bathmat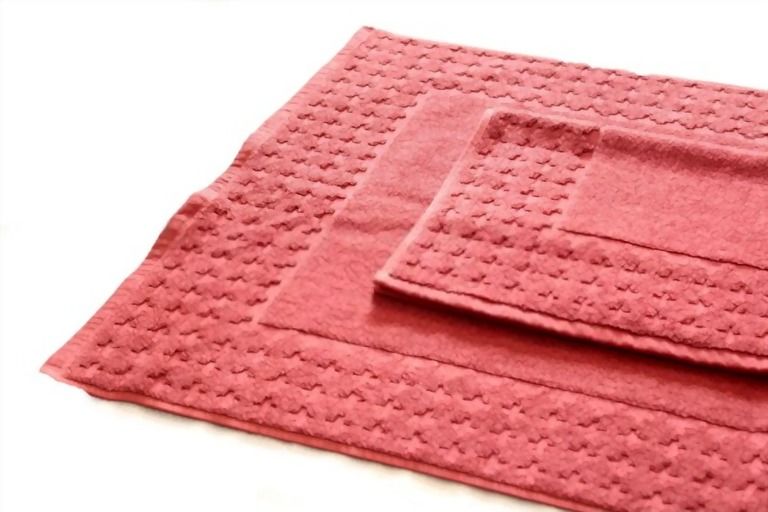 If you've stayed in high-end hotels or search for their room images on the internet, you'll notice that there is hardly no dirty bathmat.
Do the same thing with your bathroom!
If your bathmat is old, it's a good time to replace it. My recommendation is a slatted wooden mode because it looks stylish seriously, feels good underfoot, dries fast, and wipes cleanly. Not to say that the subtle looking of wood items gives a nice authenticity, texture, and warmth to your bathroom.
A trick to keep it last longer in such high humidity area is sealing with a coat of tung oil or oil-based polyurethane. This extra outer layer will protect the bathmat from mascara, toothpaste, or water splash efficiently.
Take Maximum Advantage Of Marble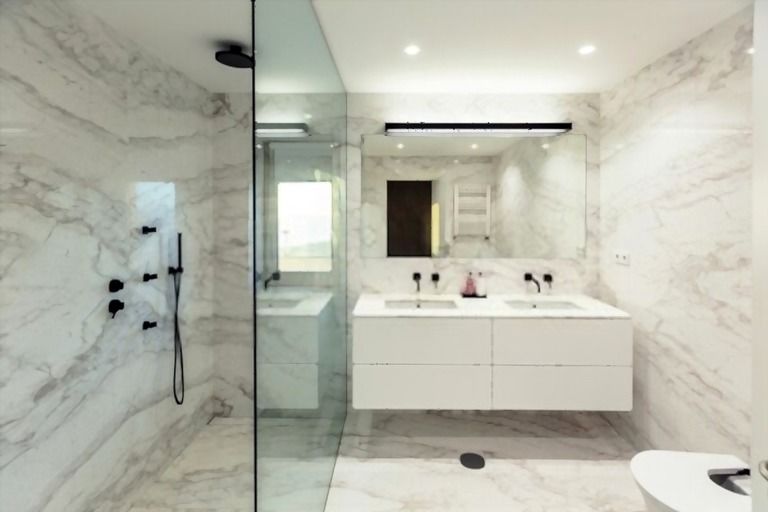 This soft stone is considered as one of the most popular and luxurious natural stones to apply to living spaces, especially the bathroom.
When it comes to the wow factor, nothing can't beat marble.
It is varied in sizes, easy to work with, and looks amazing after years of abuse. While having entire marble slabs in the bathroom is probably out of budget for some people you can try smaller marble tiles or marble accessories.
Think about adding marble bin, tumbler, toothbrush holder, or accessories tray to change your ordinary-looking bathroom into a more elegant and lavish.
Add Some Indoor Plants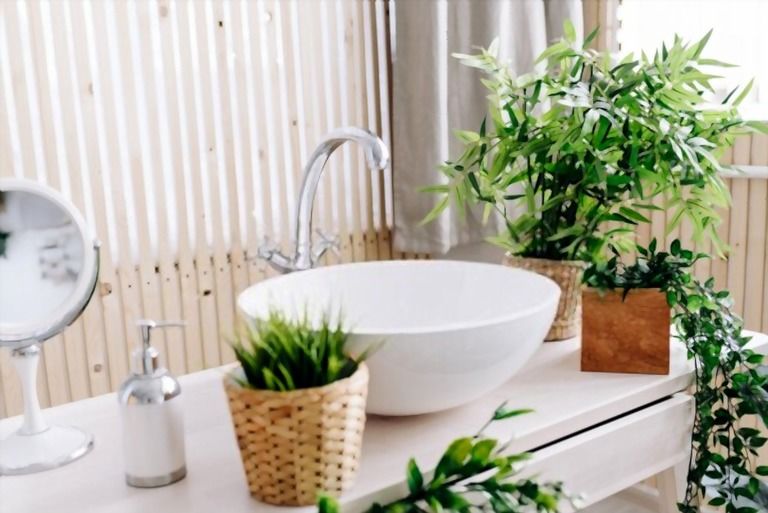 For whichever living spaces, indoor plants and flowers take a huge role in adding positive energy, vitality, and a sense of life.
With bathrooms, pay attention to choose those kinds of plants that love high humidity and low light condition, such as eucalyptus, philodendrons or luscious ferns. If you prefer flowers, try orchid, peace lily, and bromeliad.
Growing a wall of moss is another wonderful idea. Learn more here:
There are also many ways to place them, such as hanging in a bundle from the ceiling or trailing down from windowsills.
The simplest way is to put them on the floor.
Pay attention to the plant size to ensure they don't swallow all space in your bathroom.
Try Sheepskin Rugs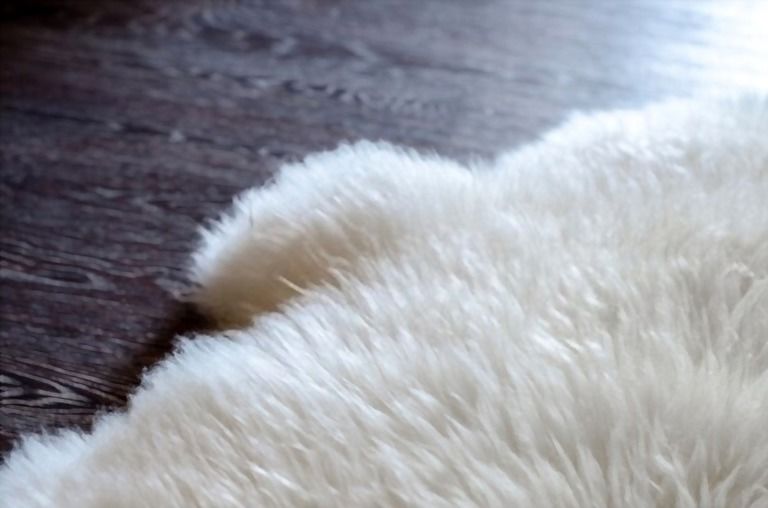 I assure you that this bathroom décor item will be a fantastic accent that brings up not just gorgeous looking but also soft and comfortable feeling underfoot.
In fact, sheepskin rugs (whether authentic or fake) are considered wonderful for use in the bathroom as long as that space is separated into wet and dry zones already. The best position to place this item is near the vanity, sink, or toilet.
As you'll have to stand in these spots regularly and for a long time, the dry, soft, furry, and comfy feeling of sheepskin rugs will enhance your experience.
In terms of functionality, it is able to keep more than 30% of its own weight in moisture before feeling wet.
Scent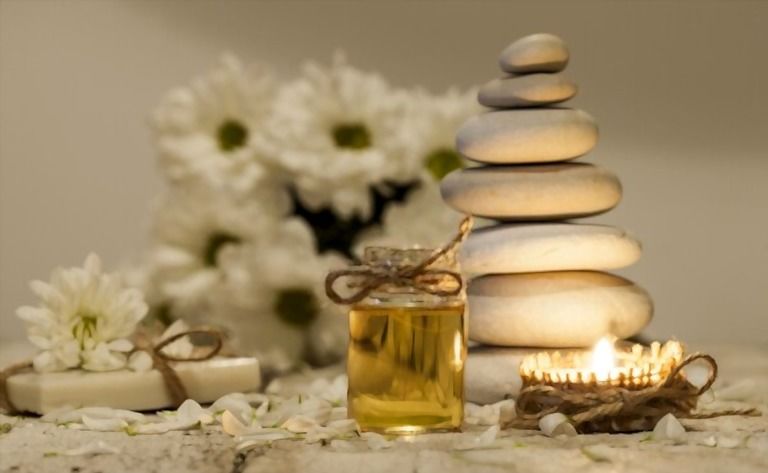 Aside from vision and tactile, scent is another effective element to make your bathroom feel like a 5-star hotel and moreover, it doesn't cramp up space.
Whether that is multi-layered shampoos, scented soaps, scented candles, or essential oils, they all work decently.
My favorite is placing a small essential oil diffuser on a shelf hung above the toilet. It gives me two main functions – eliminates the unpleasant smell after using the toilet and creating a relaxing mood while bathing.
The choice of oils is also worth-considering.
I would suggest using lavender, lemon, tea tree, and peppermint.
If you don't intend to invest in a diffuser machine, just DIY it by using a cup or bowl filled ½ with water. Then, add 10-20 drops of your favorite essential oils and put it in a shower caddy, directly under the showerhead or towards the shower back, as long as it's away from the water.
Lighting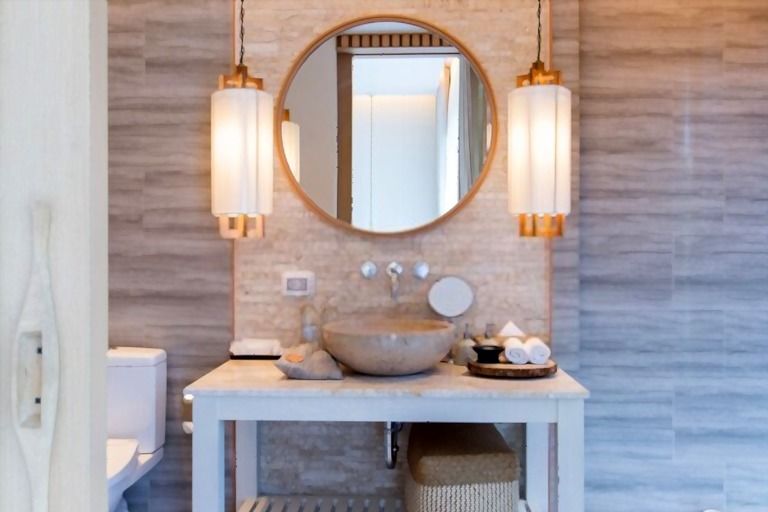 Last but not least is lighting.
Considering soft floor spotlights for warm, yellow flow to soothe your mind and stay calm after a hard day at work. Besides, install some recessed LED lights behind opaque bath panels or hidden in alcoves if you prefer low-lit, glowy ambiance.
Pay extra attention to the light mirrors in your bathroom as well.
Using hanging brass bulbs or rectangular wall lamps on either or both sides of the mirror is the best position to provide enough brightness to help you look better but not too harsh.
Conclusion
As it is different in sizes, decors, and constructions among bathrooms, I can't tell you what must have in yours. But the suggestions above are all easy to add to most space and the price is relatively budget-friendly.
I hope after reading this article, you'll get more interesting ideas to make a small bathroom look luxurious. Thanks for reading!