Do you own a boring bedroom? Why don't you turn this place into a more eye-catching and vibrant place by applying a Bohemian design? This interior decor style is characterized by the blend of many patterns, textures, and colors, and lighting for a warm and cozy bedroom.
What's The Bohemian Style?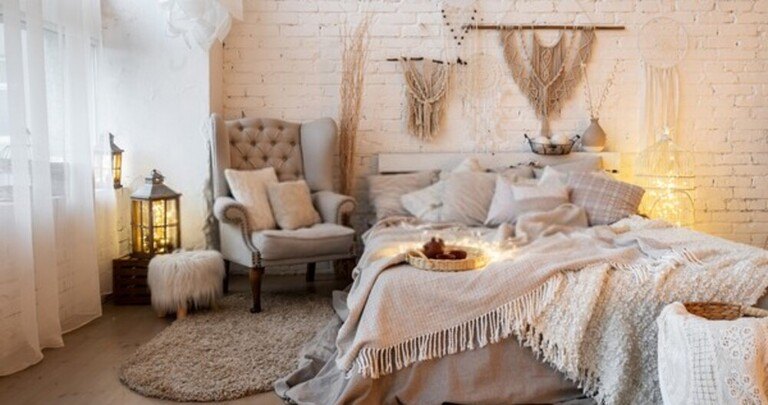 The Bohemian style doesn't have any fixed rule that is hard for you because you don't know what exactly to follow. However, this helps you decorate your bedroom with your own unique Bohemian style.
The key is to combine your personal taste and important Bohemian features (bright colors, natural materials, much lighting, mismatched patterns and textures) as long as you create a warm and cozy ambiance.
What Do You Need To Care For A Vibrant Bohemian Bedroom?
Natural Materials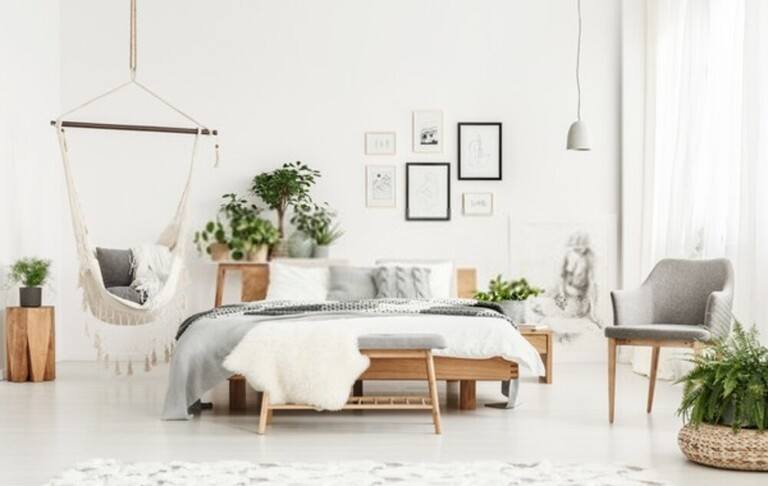 If possible, you should choose natural materials with earthy tones, which work best for Bohemian style. Specifically, you had better use furnishings that are made from wood, wicker, cotton, and stone. I provide you with some suggestions below:
Wooden instrument

A set of wooden chair and desk

A wicker hanging chair

Some cotton curtains

A wooden bed frame or a wooden bed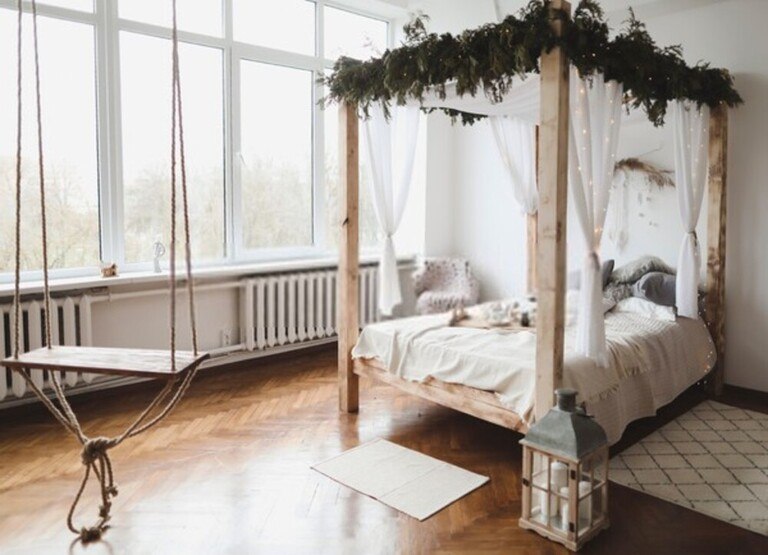 Actually, plants are also one of the natural materials that contribute to creating a Bohemian bedroom. If you don't amidst nature from your bedroom windows, you can bring the freshness of nature into your space by adding plants.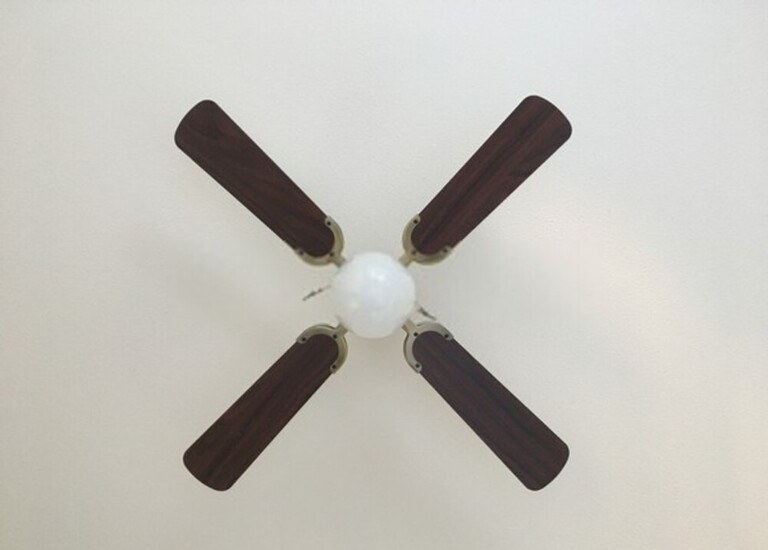 There are many options for house plants. In case you don't have much time to take care of them, you can consider the low-maintenance plants. Instead of putting your pots of plants on the desk and nightstands, you had better hang them from the ceiling or near the window for a visual appeal.
Why?
It creates a jungle-like space - what the Bohemian style aims to.
If you don't want to grow a real plant in your bedroom, you can use wallpaper with green and plant details, textures and patterns. It is similar to actual plants.
Lighting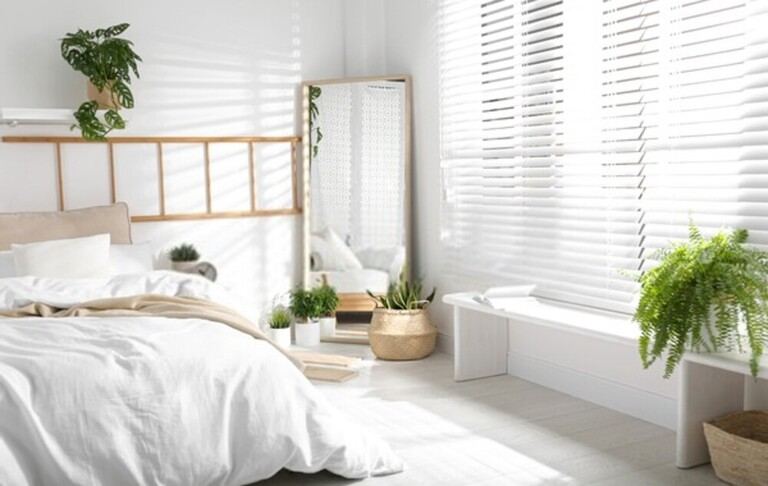 Lighting plays a vital role in creating a Bohemian bedroom, so try to add as much lighting as possible into your bedroom. This is from both natural light sources and electric lights. With the former, you don't have to open all of your bedroom windows, but make sure that your room is airy. Plus, your Bohemian bedroom needs lighting, not heat, so you should prevent the hot heat of afternoon lights and blazing sunlight by using sheer curtains. This way makes your room well-lit, but protects your private space.
Another way to apply your sheer curtain is using it as a bed canopy to add a whimsical look into your bedroom. Hanging light strings to this canopy can enhance your sheer curtains.
If you want to add Bohemian style into your classic bedroom, you should use colorful curtains.
At night, there is no natural light anymore, so you need to add electric lights into your bedroom. But, you need to set them up properly for the best result.
Hanging the lights around your bed creates a romantic, Bohemian and fun feel. Meanwhile, hanging lights from your ceiling and wall results in a soft-flowing feel without structuring.
Do you believe that adding metallic frames can improve lighting?
Combining metallic frames and mirrors in the right way can enhance the floral pattern in your bedroom.
Colors And Patterns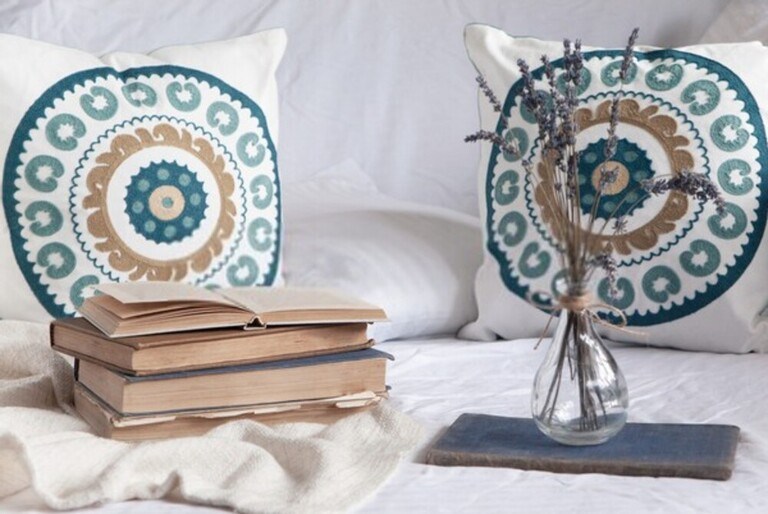 The simplest way to add Bohemian colors and patterns is using pillows, throws, and bed sheets with these details, like patterned rugs and colorful bed coverings with many textures and patterns. You can consider patchwork and ikat prints, which are popular in Boho Chic style because they look cohesive.
How to turn your bedroom into a Vibrant Bohemian room?
Simply add items and furnishings with textures, patterns, and colors and put them in proper positions. Also, you need to add lighting features and natural materials to create a cozy and warm ambiance.