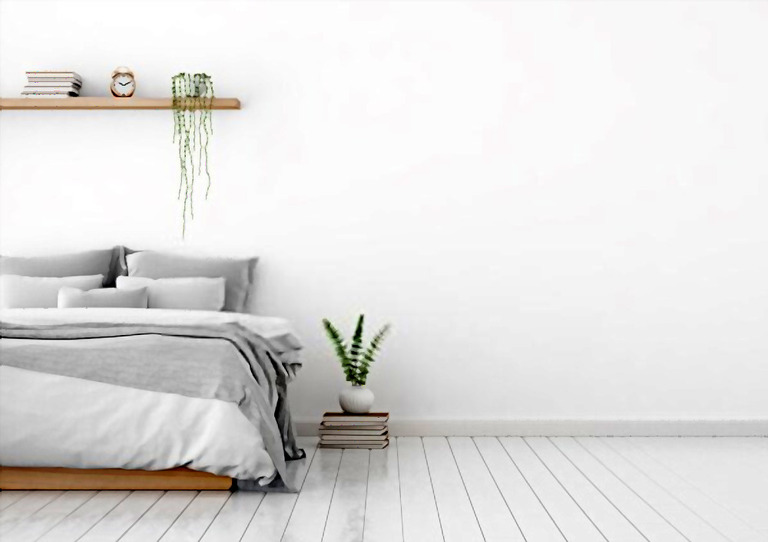 White is one of the most versatile neutral colors that can work with all accent colors. Having a bedroom with white walls is like owning a big fortune, especially when you're going to decorate it.
Even if you don't intend to use these white walls but painting it with another color instead, it is easier than re-painting on a non-white base.
Below are some great ideas on how to decorate a bedroom with white walls.
Make The Ceiling Or Floor The Focal Point
While all the four walls of your bedroom are white, painting its ceiling with a contrastive color or layering the floor with a patterned rug is one of the very first steps to decorate the space.
You can choose either of the ceiling or the floor to decorate.
In case you want to do both, try to not add too many patterns or colors because this will make your bedroom look confusing and even be hard to find suitable furniture.
Some simple formulas for the ceiling and floor/floor rugs that you can follow are:
Try different shades of one color for the ceiling and floor rug
Try a pair of contrasting colors
Different diverse colors in the same tone, like pastel pink and red as they're all in warm tones. Or, light green and dark blue.
If you plan to leave the ceiling white and only decorate the floor area, I suggest adding a huge rug beside or in front of your bed or around the reading corner.
Choose any pattern or color you like, except white to make it outstanding and become the focal point.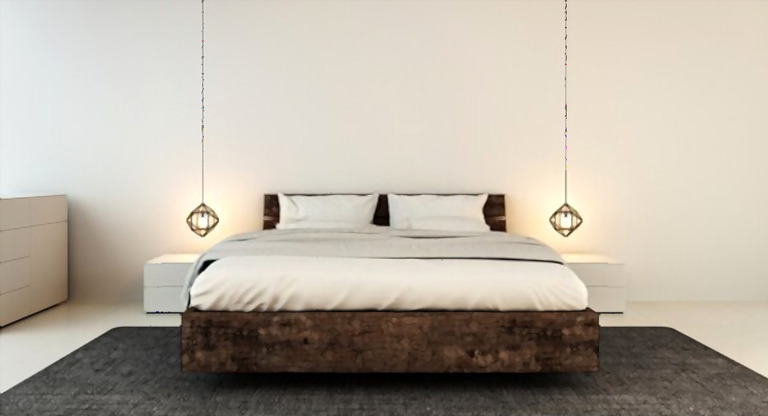 Another way is choosing new flooring color/pattern. This is a preference issue and it depends on your favorite interior décor style applied for the bedroom.
For example, if you love a cozy space, wood or rug-layered flooring is a great choice.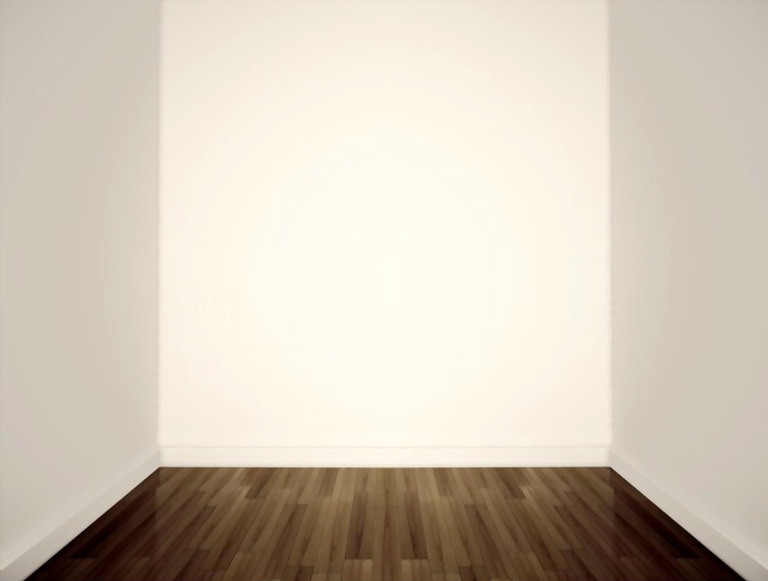 Make Your Bed The Focal Point
With this idea, there are numerous varieties for you to choose from because a bedding set includes lots of pieces, like pillows, blankets, duvet, and mattress cover.
If it's a canopy bed, the choices are expanded to its curtain and poles as well.
Take a look at different hotel rooms' decors, you will see a general point is that they usually choose the duvet and standard pillows or standard blanket and standard pillows in the same color. Like this: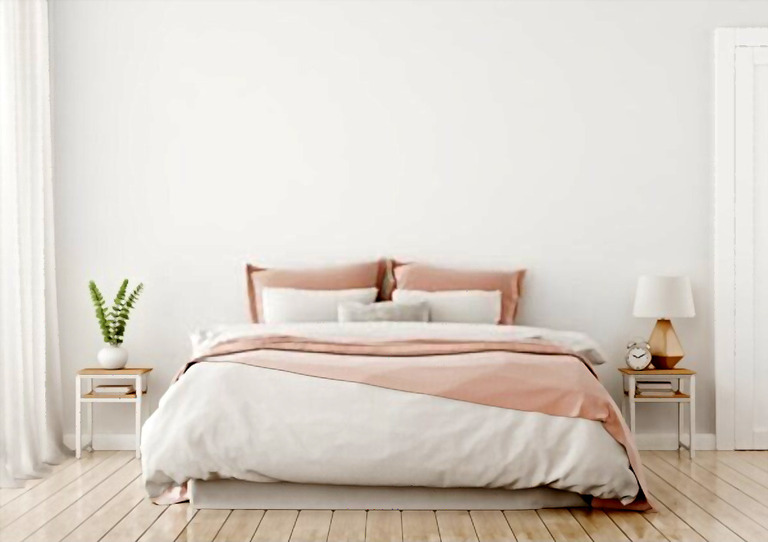 Or, mixing different shades of a color. In this sample, it is a blend of dark grey and light gray while other pieces of bedding are white.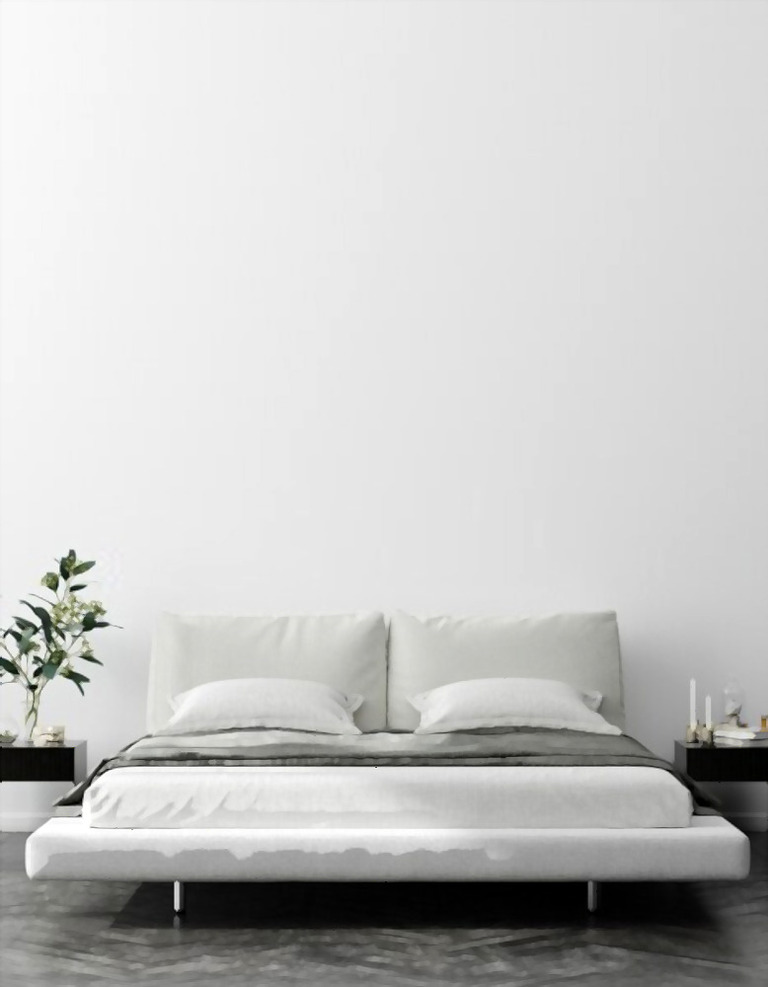 Another idea is to emphasize the bed frame only while the rest is one color. For example, this bedroom has a grey bed frame while the pillows, blankets, and duvets are white.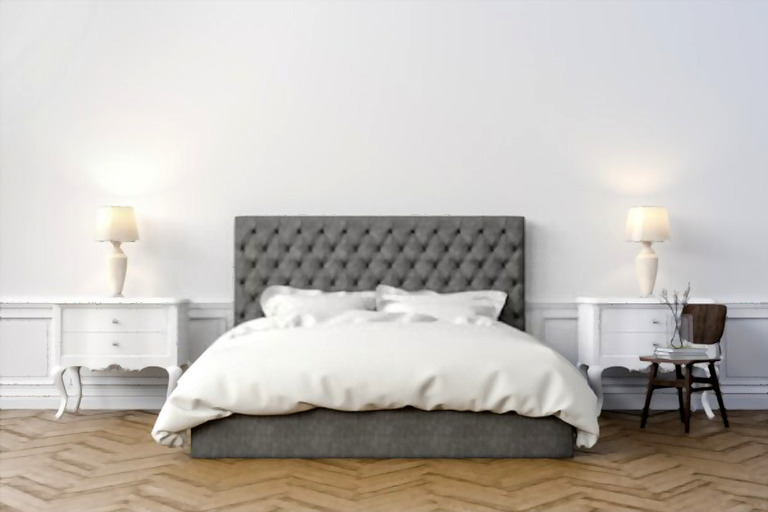 Choose A Consistent Color For Furniture
Another popular way to properly decorate a bedroom is by choosing furniture in the same color or in different shades of one color.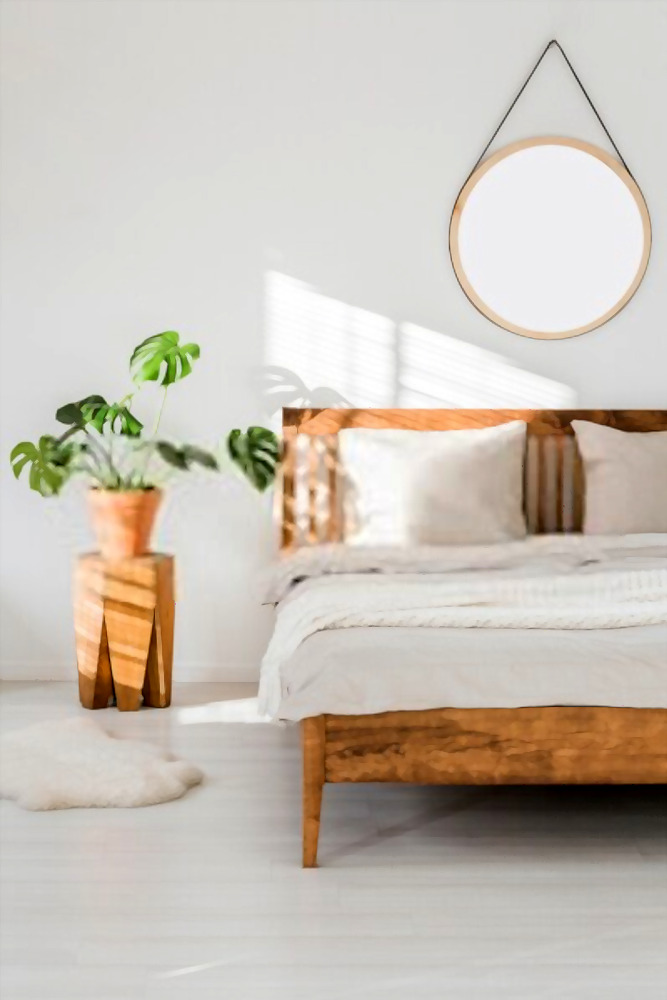 For example, choosing a consistent wood texture and brown color for the bed frame, side table, mirror frame, and light fixtures/covers. These pieces of furniture will create focal points for the room.
Instead of one, there will be two, three, or more highlights so another thing to keep in mind if you want to try this style is the layout.
Make sure it isn't too littered or too much.
Don't add many big highlights in the same areas, instead, try to blend different sizes. For example:
You can see that in the bed areas, aside from the big focal points which are the bed blanket and standard pillows, other additions are small and well-littered from the art frames and ornaments on the shells.
In the reading nook, they paint the whole wall in a similar color to the bed's blanket while furniture is kept in neutral tones.
Or, here: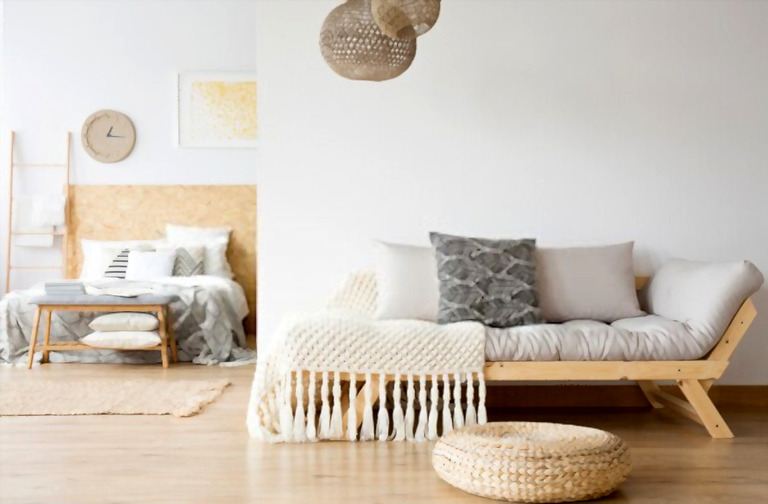 Add Nature
I mean plants!
This is considered one of the most versatile and affordable ornaments that can blend beautifully with all décor styles, from rustic, vintage, to minimal or modern.
Plants come in a wide range of sizes and shape to choose from, depending on your décor styles, budgets, room sizes, preferences, and amount of free time to take care of. Add big pots of plants if you want to make it the main focal point, like this bedroom layout: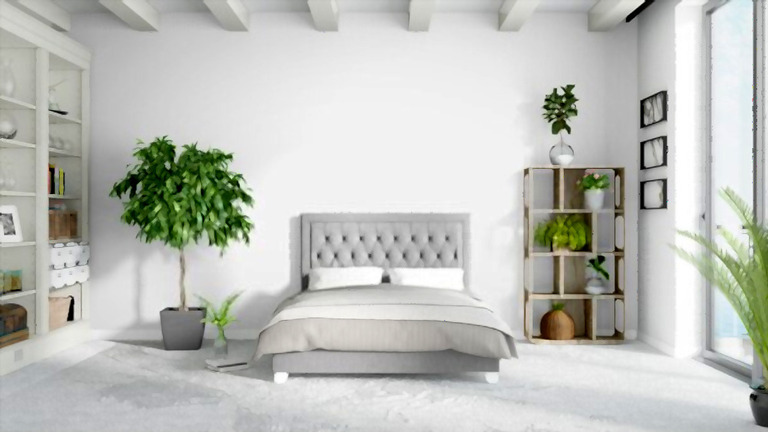 For people who just want to add a small, cute emphasis, try smaller-sized pots or vases: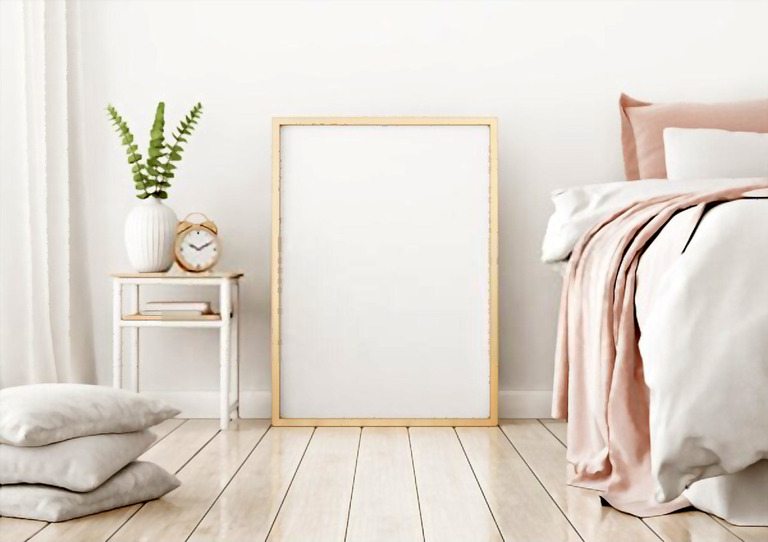 Add Patterns
Many people love adding patterns to their bedroom and this is a good idea, too. But follow this basic rule: adding patterns to the big furniture and keep the rest in plain colors and vice versa.
With less experience and understanding, trying too much and different patterns will give your bedroom side effects.
Here is a good example to follow: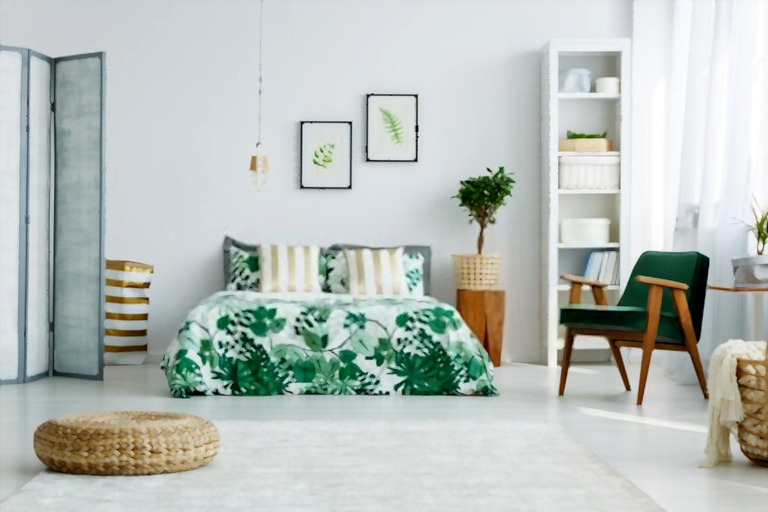 They use a green patterned blanket blending with a solid dark green armchair cushion, along with a small pot of plant, and two art pieces. Very well harmonious without feeling too much!
Or here: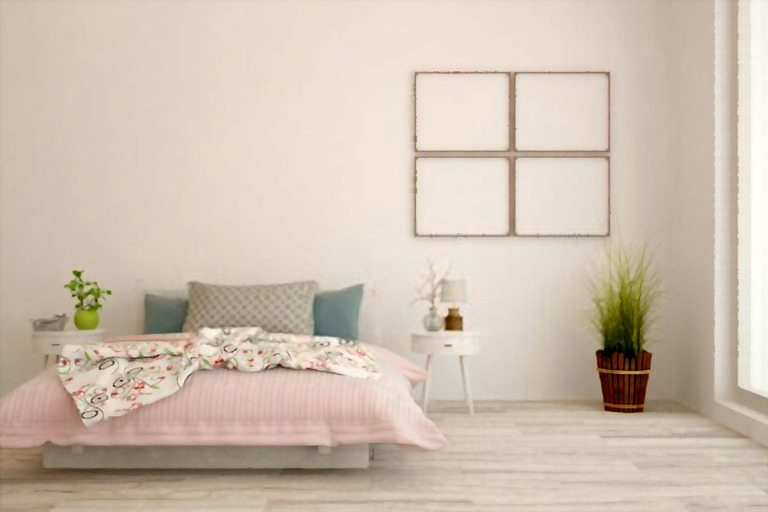 Conclusion
It's not hard to decorate a bedroom with white walls but with no knowledge and understanding, it is very prone to make this space confusing and an eyesore.