White decorating a fireplace mantel isn't too challenging, figuring out the desired concept that also matches the current overall interior design is quite time-taking, right?
There are too many options to easily pick out one good one.
Then, let our experts round up some creative fireplace mantel ideas to decorate for every occasion. Read on!
Kid Toys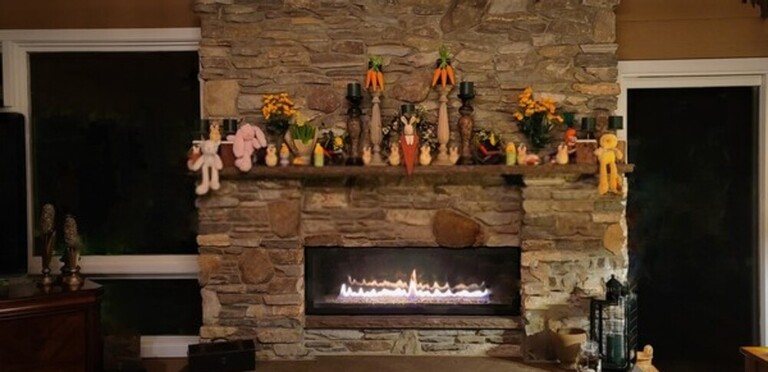 This idea is perfect for low-lying electric fireplaces so that kids can easily get their favorite toys or help you arrange them on the shelf.
This is a great way to encourage children to play more in your living room rather than sitting in their room and sticking their eyes to a tablet screen. The number and size of kid toys are varied depending on the shelf length.
Pay attention to their colors as well; make sure they match the available style.
This idea is also perfect for your kid's birthday party decoration. Just combining with a hanging "Happy Birthday" bandage and balloons.
Vintage Kitchenware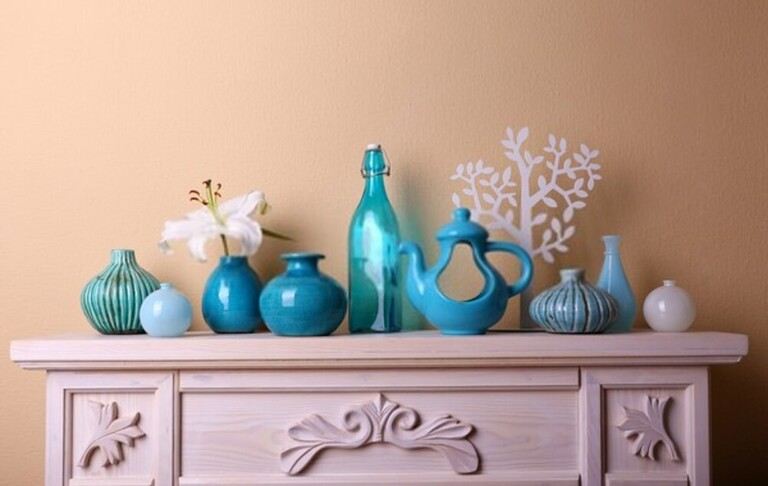 If you have a set of vintage kitchenware such as glass containers, teapots, cups, bowls, and plates, while not recycling them as a creative fireplace mantel ornament?
Combining them with some old vases and decoration items in same-same sizes is also a good idea. Are they not in any color scheme? Easy peasy! Just repaint them! Consider all the colors available in the room and figure out the main, secondary, and accent ones.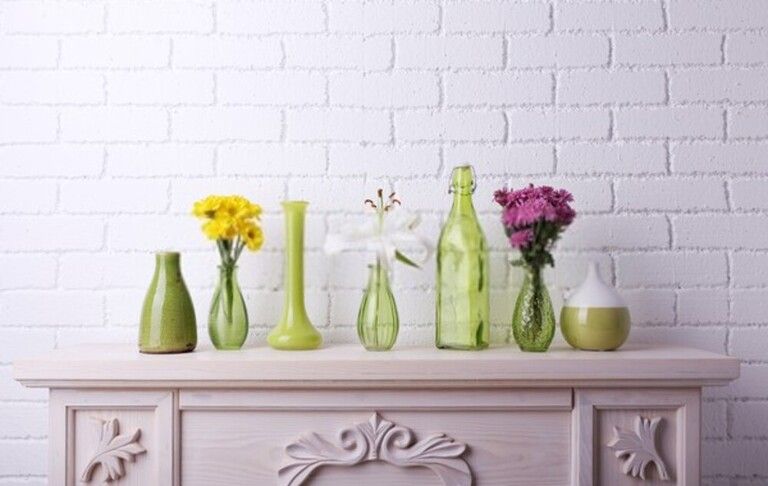 Paint the biggest items in the main color; the smaller ones in the secondary; and the smallest in the accent.
Avoid painting all of them in just one color because it is prone to look boring and awkward.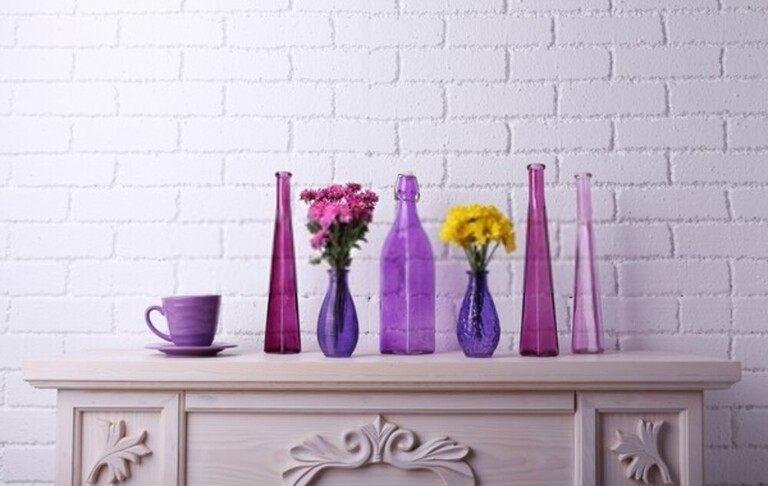 In conclusion, this idea is good for a timeless look of your fireplace mantel.
Plants
One of the most popular decorating ideas for fireplace mantels is plants.
There are various plant options for indoor use, depending on the lighting condition and humidity of your house. Besides, consider the maximum heft that your fireplace mantel can handle – or, its durability – to choose the right number and size of plants to add.
Mostly, potted plants for this area are from small to medium sizes.
Buy some stylized pots, DIY some on your own, or recycle from old items around your house, depending on your cleverness, preference, and budget.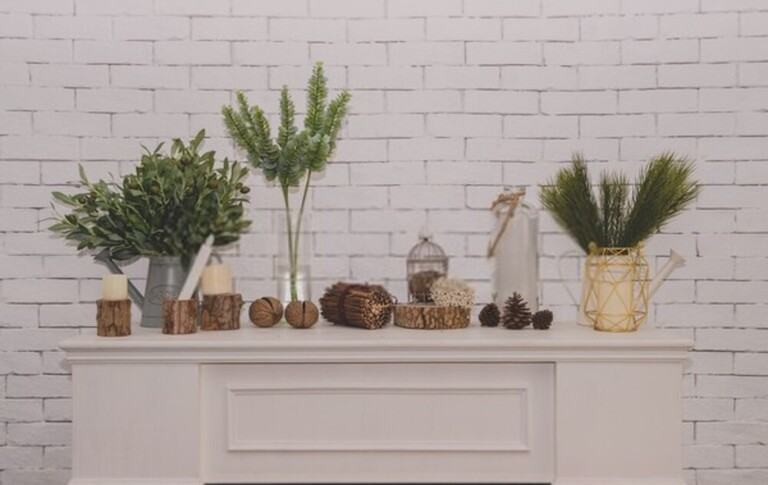 In this photo, the homeowner has creatively taken advantage of pine clogs and apparent glass containers. Some pine fruits are also added, which brings a great sense of Christmas eve.
Candles And Flowers
These two items bring a sense of coziness, loveliness, and romance to almost any living room décor style.
Build a shelf above your fireplace mantel, then add your favorite decoration items here.
If you choose to use some flower vases, make sure the vase colors and patterns match with the wall and the shelf. Here is a good example for our saying: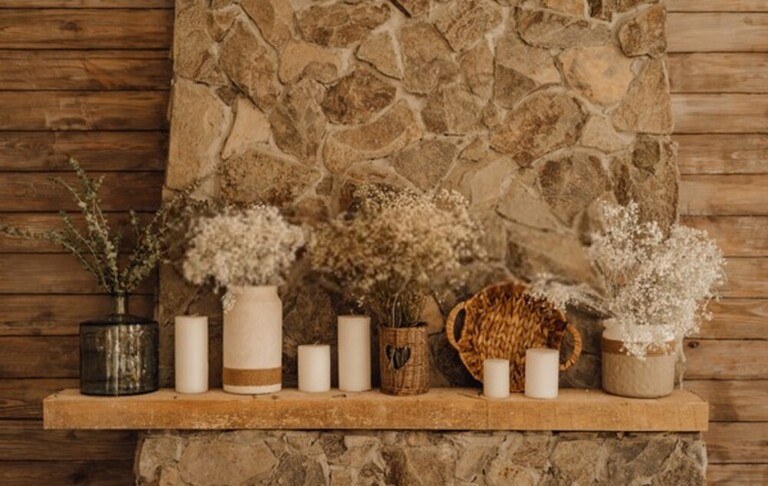 To match and complement the vintage bricked pillar, wood wall, and shelf, the homeowner adds white and earthy brown vases with white, dried flowers. The candles are chosen in different heights and sizes.
Besides, a green, apparent glass vase and glute woven basket are added as some interesting focal points.
Such a cozy look is nice for winter decoration or a girl's room.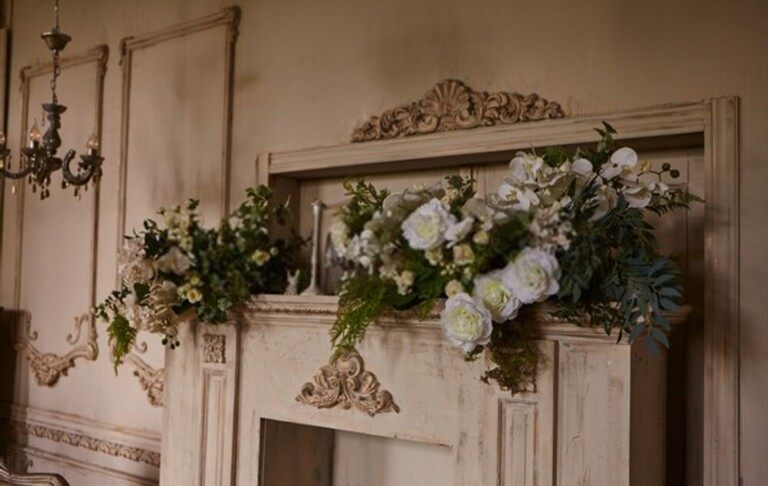 If you prefer to use artificial flowers, then why not? Put them in a big vase, several vases in different sizes, or just lay along the mantel line that's as if they are crawling down the fireplace.
Make sure the color of these flowers complements the entire home décor.
This idea is suitable for engagement or birthday party decoration.
Shiplap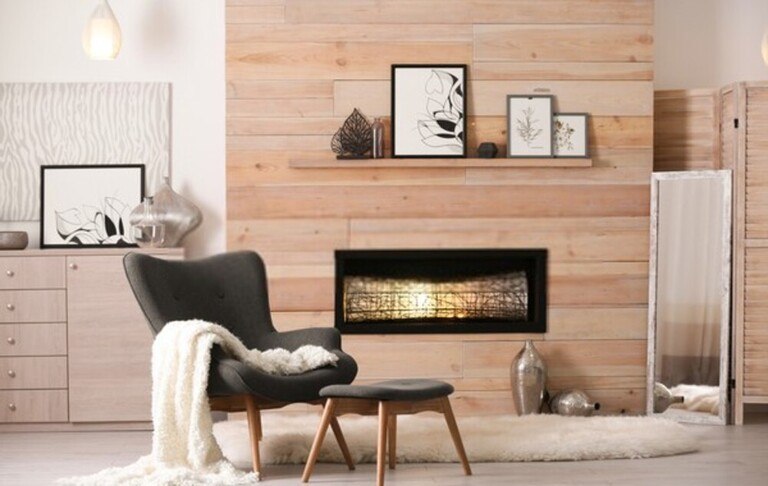 Shiplap, in interior décor, is a wooden wall siding board hung horizontally with a small gap between them in a manner.
While there are numerous shiplap options available on the market, you can DIY some to customize your home décor. They are very budget-friendly, but probably a dust magnet and you'll need to wipe them regularly.
Plus, shiplap is versatile enough to be used as a great housewarming gift, an ornament of a birthday party, or seasonal decoration.
When considering buying a shiplap, consider the desired size and shape.
A Mirror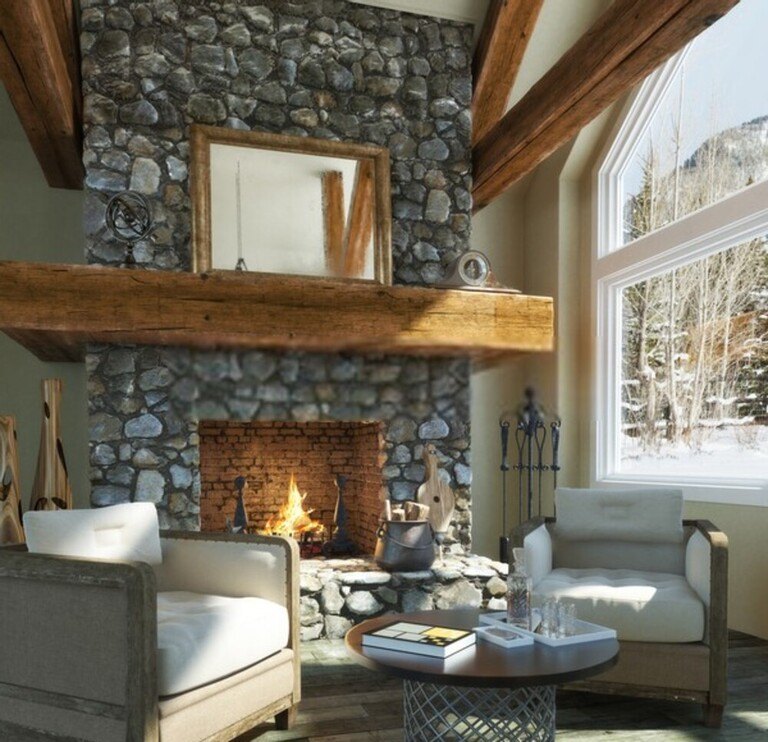 Mounting or hanging a mirror has always been a popular way to make a limited space seem to be larger.
It'll also brighten up the whole room by reflecting either sunlight during the day or light bulbs at night.
There are two main things you should consider when choosing a mirror for decorating your fireplace mantel:
Size
Frame material & color
The mirror size should be appropriate for the room; a too-small mirror won't deliver many effects while a too big one might give an overwhelming and imbalanced look.
A small mirror, in some cases, will become a nice ornament item if you wisely combine it with other stuff, such as a stylized candle holder, small potted plants, and clockwise.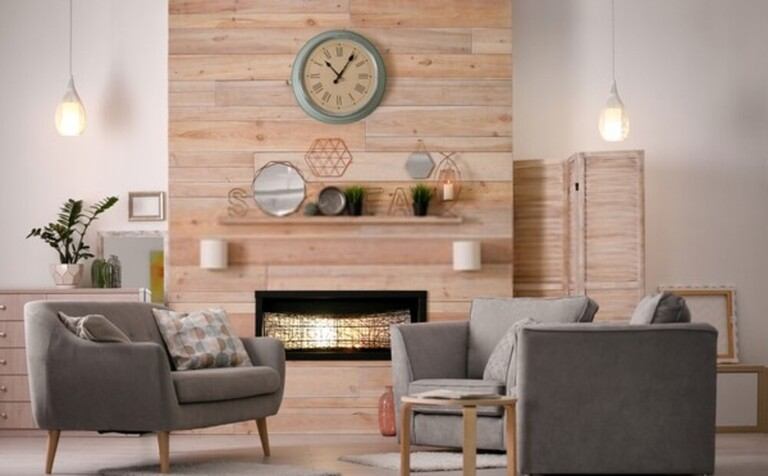 In this room design, the main focal point is the wall-hanging clock, according to its bigger size than others. The color combination is very pleasant and sophisticated, making the whole living room look warm and inviting.
The mirror frames are commonly made of wood, which is perfect for a classical or countryside-style room. Or, consider repainting it to match your decor.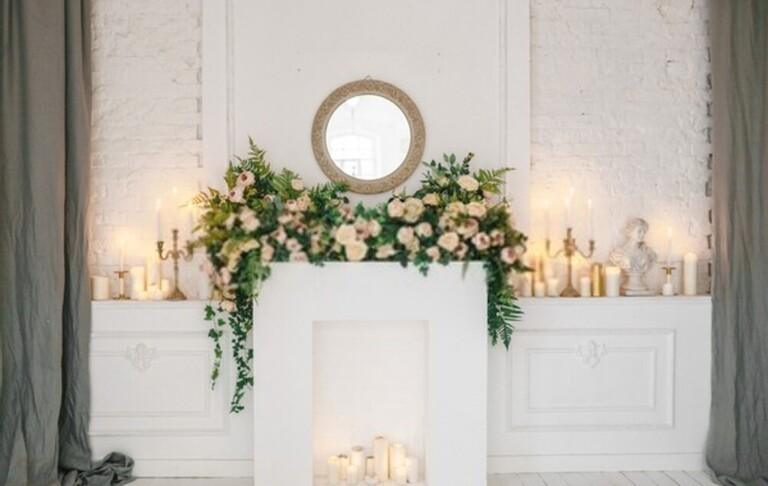 Some homeowners love to combine wall-mounted mirrors with flowers and candles, which look lovely and romantic for an engagement or girlfriend's birthday.
But take note that this decorating idea is only highly recommended for electric fireplaces or those that don't generate not much heat.
Conclusion
We hope that the previous creative fireplace mantel ideas to decorate for every occasion have given you some nice ideas to give this area in your house a new look. We love to hear from you and thanks for reading!