Want to decorate a blank wall in your house with paintings but don't know which ones to choose and how to arrange them for aesthetics? Let our experts give you a hand! Below are the four important steps on how to choose the perfect wall art for your space.
Find The Right Place To Hang Your Wall Art
Most modern wall arts are hung on a blank wall above the sofa or television.
These spots share one thing in common – they're the central location of space/house. If wall arts are hung there, it creates a nice focal while the wall art looks more elegant and sophisticated. Your guests can observe the wall art while chatting with you.
To find the exact place to hang your artwork, consider the wall height of the wall and the sofa height.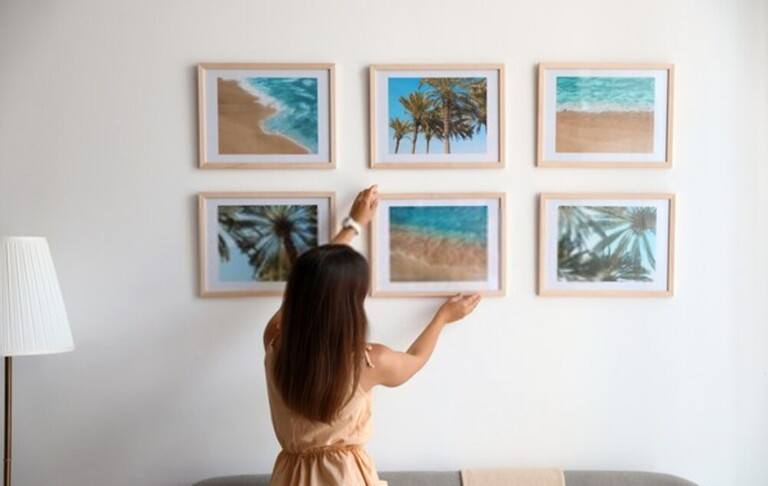 It should be 11" to 22" higher than a sofa as long as it is at the same eye level. This helps the viewer easily and naturally focus on the center of the art so, don't go anywhere higher or lower than that.
Since the average height of house walls is 9.8', the ideal distance from the flooring to the center of your wall art should be 4.9'.
How much space should be between pictures on a wall?
This factor depends on the size of each wall art and the layout that you choose.
The safest rule is to choose the same size for all of your wall arts and hang them evenly spaced on the wall. But if you want it to be more challenging, try a set of wall arts with various sizes and hang them in order, following either of these three rules:
Keep the same distance between the flooring and their center point
Hang all pieces of wall art at the same top height
Hang all of them at the same bottom height
The distance between pictures should be from 2" to 4".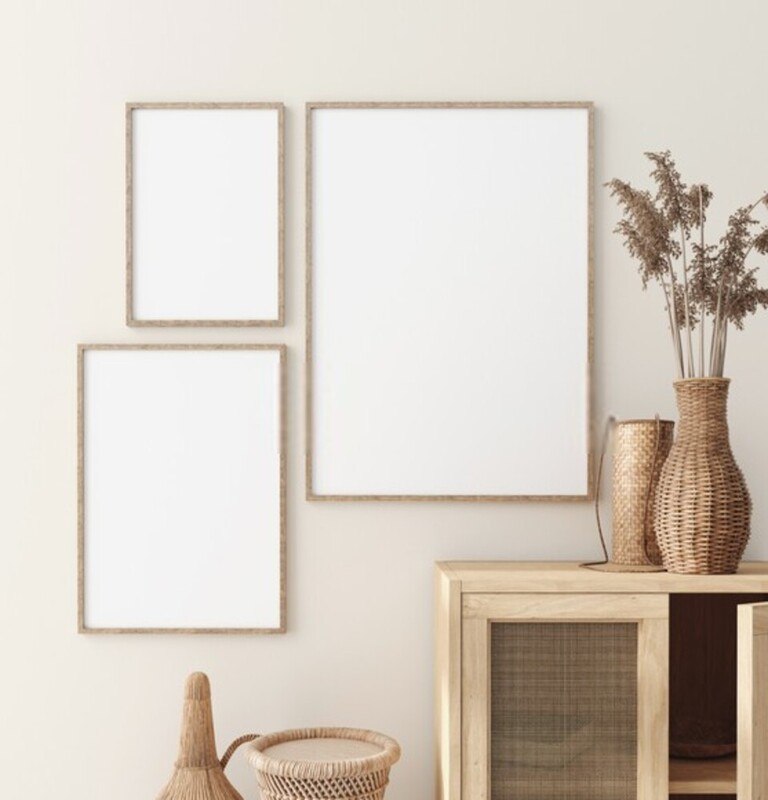 The most important when arranging various pieces of wall art is the order of their positions. Hanging them in no sorting rules will make the artwork illogical and meaningless.
Choose The Right Size Of Wall Art
With Large Walls
If the wall size is over 8', you should go for a series of wall art in different sizes and contents because they help balance the overall look.
But don't be too greedy by hanging too many pieces of artwork on a wall.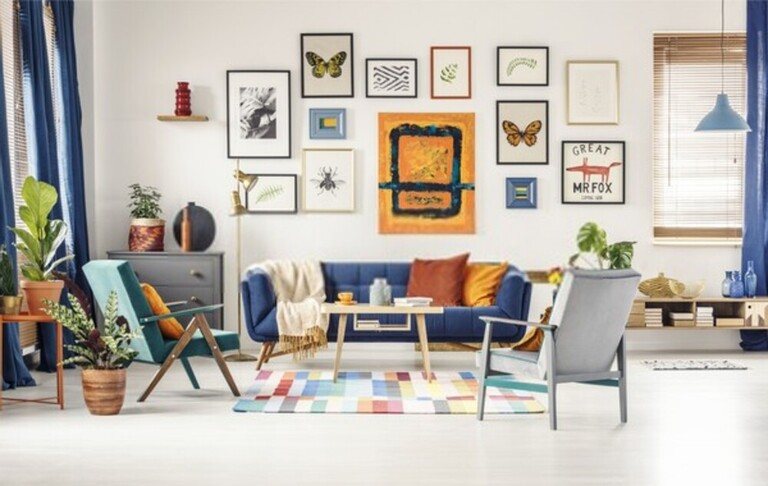 Always keep the width of your wall art piece accounting for 50% to 60% of the wall width. For example, if your wall is 11' wide, hanging a painting of 67" to 71" in width on it is perfect.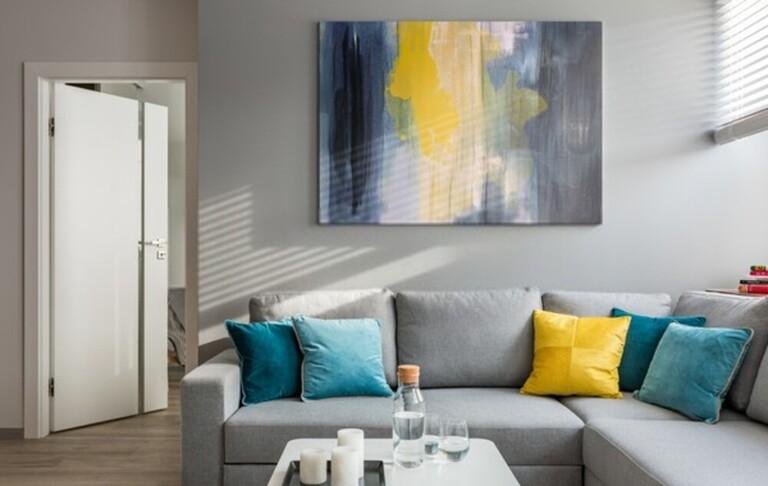 With Small Walls
For a smaller blank wall or a wall that you have already hung many ornaments there, don't go for too many paintings as that might make the whole area look stuffy and cluttered.
Pay attention to the painting size as well.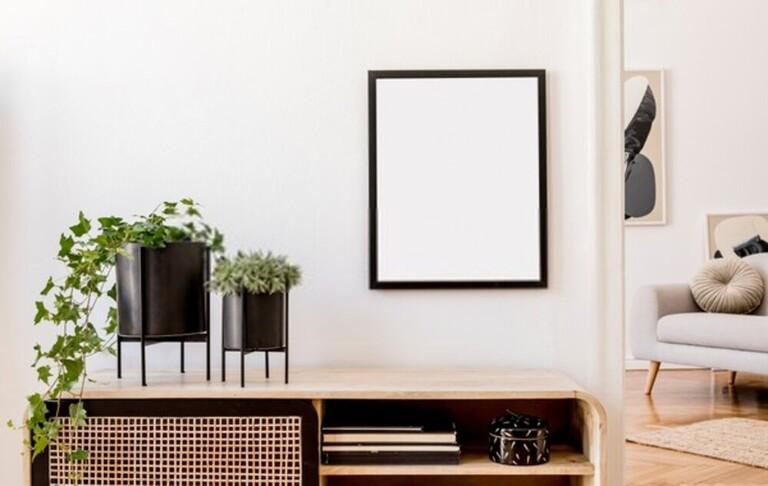 For example, for a wall of 5.5' wide or smaller, you should go for one 40" wide painting or two 20" wide paintings.
Colors And Light Direction
Rules For Choosing A Color Scheme
For paintings hung in the living room, you should opt for those with bright colors that also match the general style of the space.
The color of these paintings should be similar or complementary to the interior furniture in your living room, such as sofa, carpet, and throws.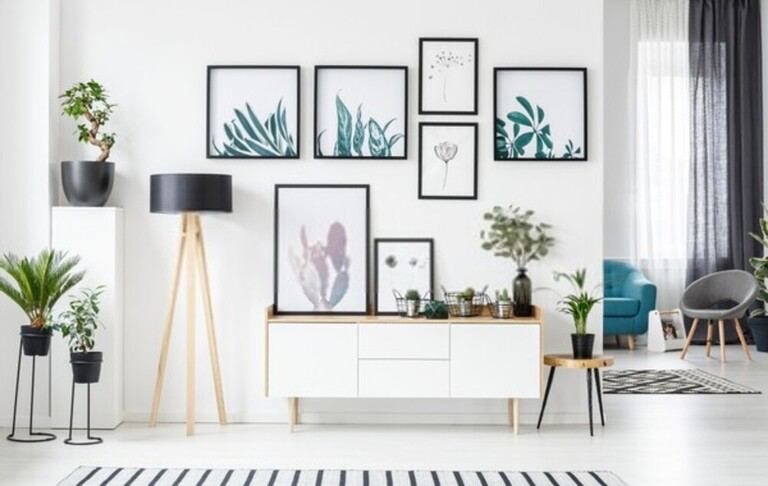 Decorating a space with three different colors often creates a good visual impression to the viewer. To get the maximum color effects, there are some principles:
Main color - account for 60% of interior space layouts, such as the walls, ceiling, and dividers.
Second color - accounts for 30% of the rest of the space, such as furniture
Accent color- account for the remaining 10% of the space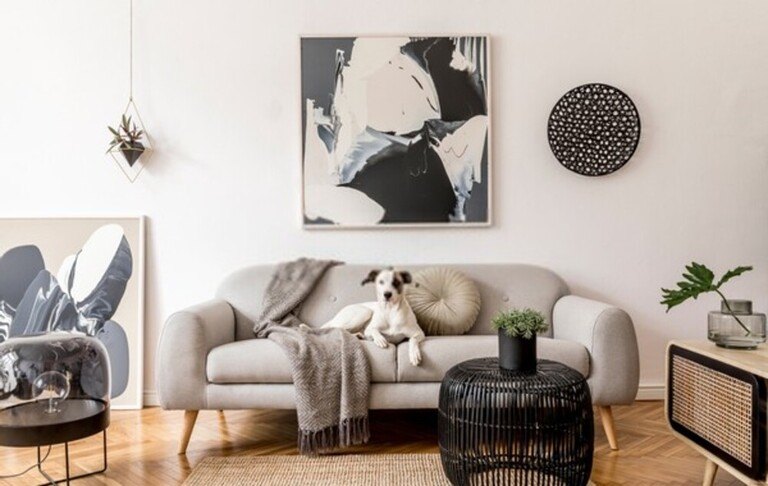 From that point, the colors of your wall art should be in group three – accent color.
Rules For Light Direction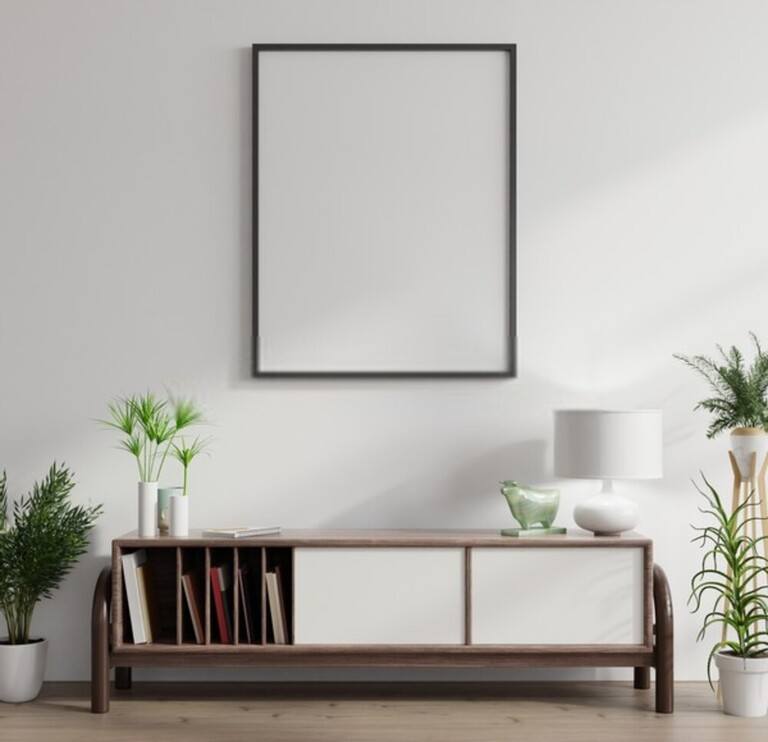 Light will greatly enhance the beauty of your wall art.
For canvas paintings, you should hang them in a place with plenty of light, or use artwork lights. Avoid direct sunlight shining on them since it will affect their durability.
Wall Art Content
It is necessary to define the decorative style that you want and choose the wall art that matches the current interior decoration.
Nature-themed paintings are the most versatile; they can be hung in any space and any decorative style without looking lost. It's also the safest choice! Choose those pieces of wall art that include famous landmarks in the world, the sea, flowers, plants, and trees.

Each style of the painting represents a different artistic aspect of the homeowner.
For example, an introvert homeowner commonly chooses abstract-styled wall art, still life paintings, and landmarks while an extrovert often goes for modern minimalist paintings, floral art, or travel-themed artwork.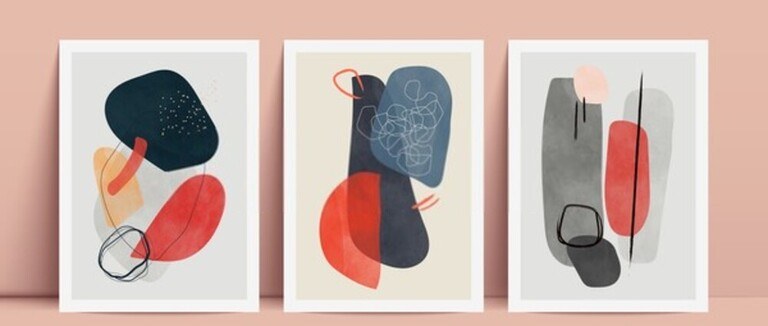 The wall art frame should be plain and thin (from 0.2" to 0.6") since simplicity always exudes luxury and is never out of style.
Conclusion
Last but not least, you should go for high-quality wall art, no matter the materials and sizes. Pay attention to the painting or ink quality to make sure they can last the longest. That's all for our complete guide on how to choose the perfect wall art for your space. Thanks for reading!