There are three decisive factors when considering which furniture to add to your living room that already has a TV and a fireplace, as well as how to arrange them:
Your budget
The décor style of your house/the desired style of your living room
Your taste and preference
Whether you're a newbie or experienced, here are some ideas and guides on how to arrange living room furniture with fireplace and TV:
Monochrome Living Rooms
Black and white are the most popular pairs of colors in monochrome interior home décor. It is because they're both neutral and versatile that can easily mix with other colors, especially vibrant ones.
Here is a hint of a black and white monochrome living room.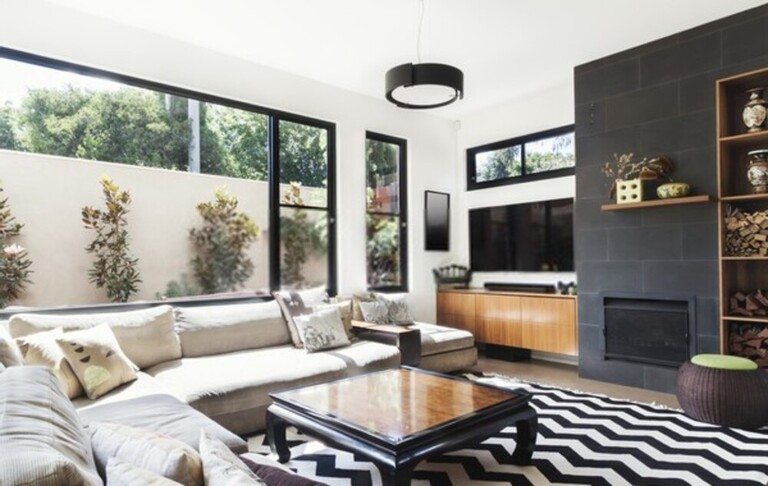 It follows the 60-30-10 rule nicely; using brown wood tone and bright green as the accent colors.
As there's a black wall in the room, the use of a set of white, L-shaped sofas creates a nice balance. The design of other appliances, such as carpet and ceiling chandelier, is also balanced between black and white colors.
We love the addition of a brown wood bookshelf and a single wall shelf on the black wall, as well as a tea table with a wood surface above the carpet and a wood TV stand.
Such brilliant color mix and furniture arrangement make the whole space look modern, fresh, and moderately cozy.
If you have some knowledge and experience in home décor, try mixing 4 colors for your monochrome living room, like this:

A mixture of white, black, grey, and brown wood is worth considering to make the space softer but still look modern and cozy.
Instead of using a striped carpet, the monochrome patterned throws in this example add dedicated accents to the whole living room.
Luxury Living Rooms
Leather, foam-padded furniture is a must-have item of any luxury-style living room. To warm your sense, add brown, yellow, red, or orange ornaments.
Mix some colors together, or different shades of one color, or one color but with various patterns, depending on your taste.
While a set of leather sofas is the best for luxury living rooms, a leather padded table would be a wonderful, more budget-friendly alternative choice. Besides, you'll have fewer maintenance tasks to do.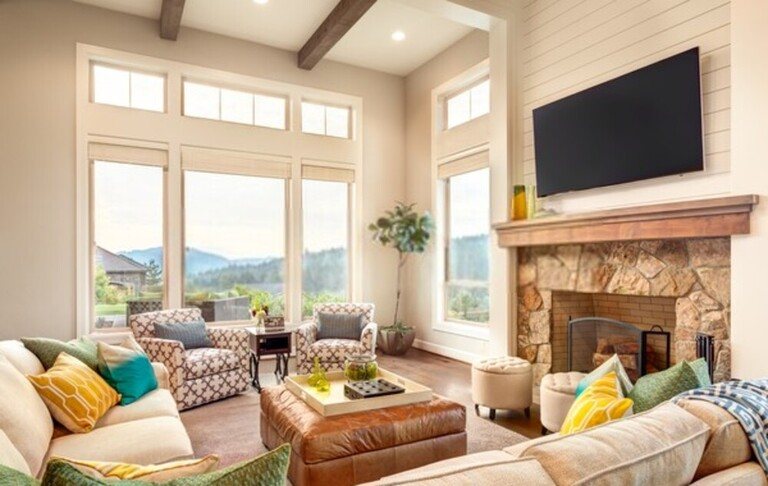 In this living room, the stone fireplace looks really sensational and impressive.
Adding potted plants or a small aquarium tank to space is a great way to make space look cozier and more lively.
For a sense of luxe and roaring, consult this living room décor.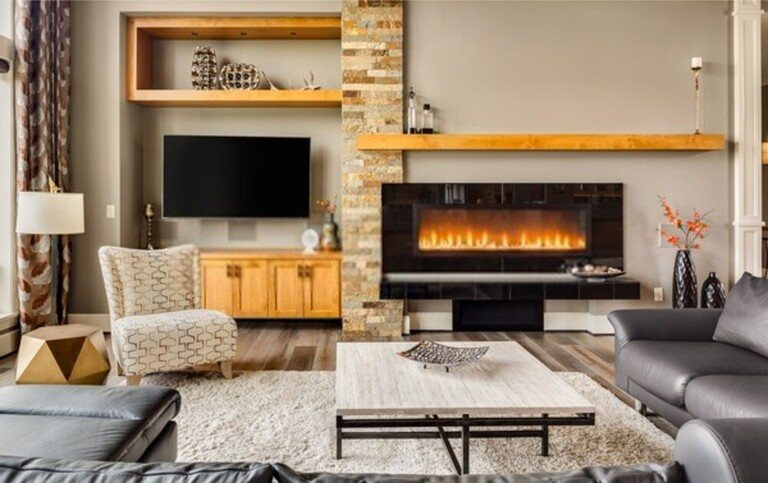 While the big furniture – such as sofas, carpet, table, and reading light stand – use single color (mainly in neutral tones), the armless sofa chair, stool, and curtains use monochrome patterns.
We also like the brick pillar as well as monochrome ornaments on the wall shelf.
Minimalist Living Rooms
Here is a fantastic idea of a modern, minimalist living room:
The designer chose a set of Japanese-style seat cushions and carpet as a functional accent for this space, bringing an instant sense of minimalism while providing a seating place.
Besides, there is an extended TV desk and two huge speakers, both of which are all in white color with some black details, bringing a simple and modern look.
The ornaments are picked purposely, mixing between black, white, cold grey, and beige, also the four colors used throughout the space, giving a harmony overlook.
You can choose between placing your TV and fireplace on the same wall or each in a separate wall, based on the room size, preference, and other factors.
We find that some homeowners eliminate seat cushions from their living room, just keep the seat carpet. For example: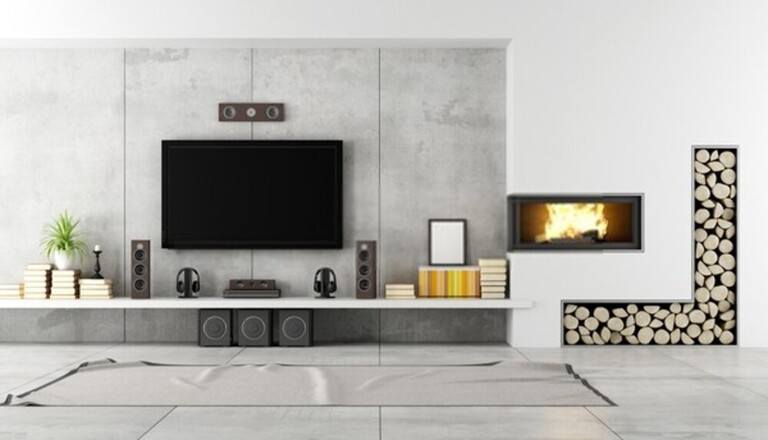 Modern Living Rooms
If you're new to home decoration, it's fine to combine three colors.
In the following example, there are black, white, and bright gray, therein, bright grey accounts for 60% of the space and black is 30%, and white is 10%. The fireplace is built to be open for an energetic feeling and bring a camping vibe to space.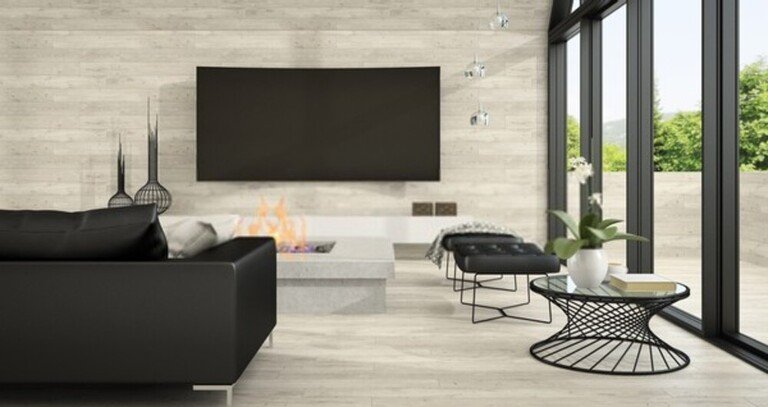 The number of furniture in this living room is also quite minimal – just a sofa, a table, two stools, a TV desk, and some ornaments (excluding the lighting, fireplace, and TV).
It would look a bit boring if the designer didn't add a lovely flower vase and a patterned blanket – small yet very sophisticated.
For those who are living in an apartment, here is an idea of modern living room décor with fireplace and TV, using white as the main color, which makes the room feel larger and airy.

However, it doesn't look boring or sporadic thanks to the potted plants and wall shelves. You can see that the sides of these shelves are grey, adding depth and a 3D look to space. Genius!
Conclusion
In a nutshell, there are two popular layouts of fireplace and TV in a living room – on the same wall or on two separate ones next to each other.
The sofa set (or the seating zone) and table accordingly are always positioned in front of them or in front of the TV while the fireplace is on one side. A TV stand/desk is another popular piece of furniture.
Depending on your taste as well as the style of your house, choose to add other ornaments or appliances, such as curtains, carpet, bookshelves, wall shelves, or a reading light stand.
This is the end of our guide on how to arrange living room furniture with a fireplace and TV. Thanks for reading!