Many homeowners don't take care of the bathroom look because this is a private place where it doesn't catch other people's attention. But, this area is an essential room in your house, especially, it's cheap and easy to add value to your bathrooms, so don't ignore it.
Throw Away Your Outdated Fixtures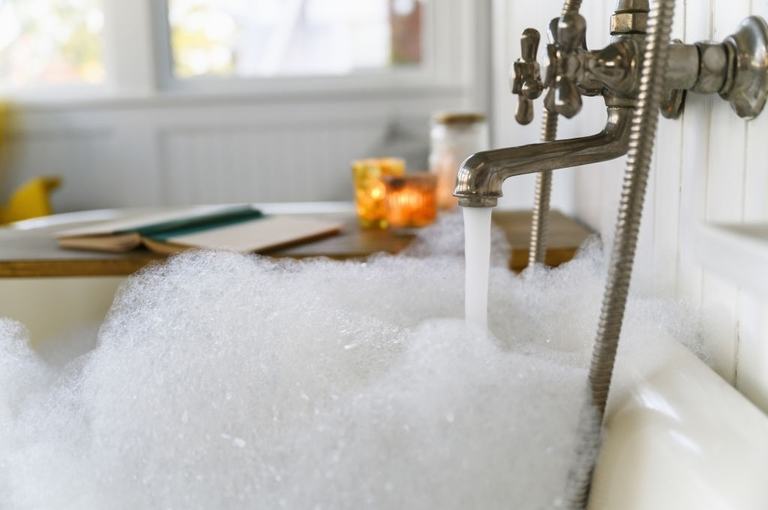 Before adding anything value into your bathrooms, you need to remove outdated fixtures to make room for new things. Check your whole bathroom and remove all broken, wear and tear, and outdated things, from out-of-date cosmetics to a faucet covered with rust.
Add New Fixtures To Your Bathroom
If you just want to update your bathroom's look instead of building a new one, make sure that what you buy matches your bathroom design.
Don't you have much knowledge about interior design? Here are some suggestions for you:
You had better choose stain and brushed nickel finishes, pairing well with most tiles.

Chrome finish is an excellent piece for a classic design.
Sinks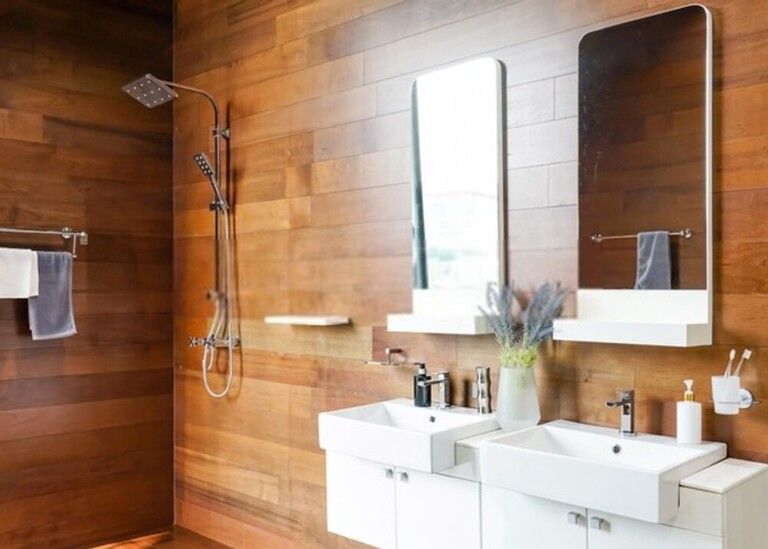 You just need to buy a sink for a single bathroom, which suits your preferences, bathroom size, and design.
However, twin sinks are a save-spacing solution for a shared bathroom. While applying this way, keep in mind this rule: 2 sinks require a minimum of 60 inches for comfort.
Vessel and under-mount bathroom sink style can take advantage of limited counter space.
Tub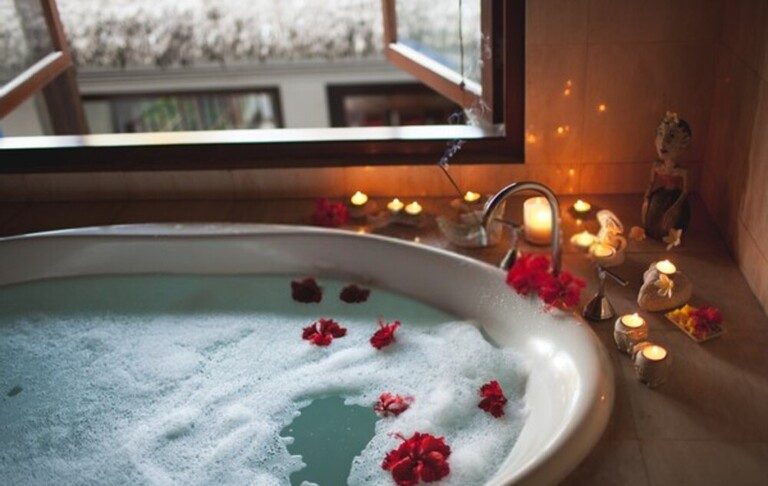 Like sinks, ensure that your new tub fits your bathroom size, design, and your preferences.
Don't you have a massive budget for a new tub?
It's okay. I can help you transform this place into a dreamy, relaxing destination with only a few minor changes. Try to put your favorite bath products and accessories around your tub, such as colorful bath salts, aromatic soap, and beautiful towels. You can bring natural elements into your space with plants and flower vessels. For me, I always have scented candles lighted in this area for relaxing moments.
Any bathroom doesn't necessarily have a tub, so you don't have to add a tiny tub that makes you soak in the bath uncomfortably into a small bathroom. Instead, let you remove your tiny and outdated tub to build a spacious shower that gives you more room to take a shower comfortably.
Shower Fixtures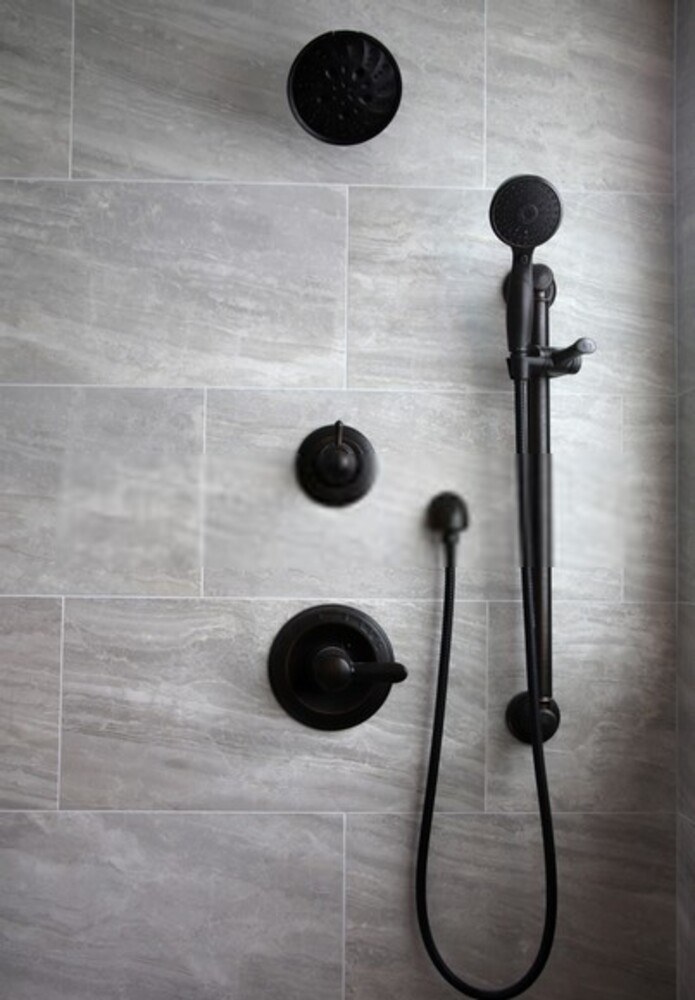 You yourself can easily and quickly replace a dated showerhead, but a shower's luxury features require a pro.
Why do you need to spend more money hiring a professional for luxury functions and features?
A multifunctional shower system and hand-and multi-head showerheads can bring your space a spa-like feel.
Toilet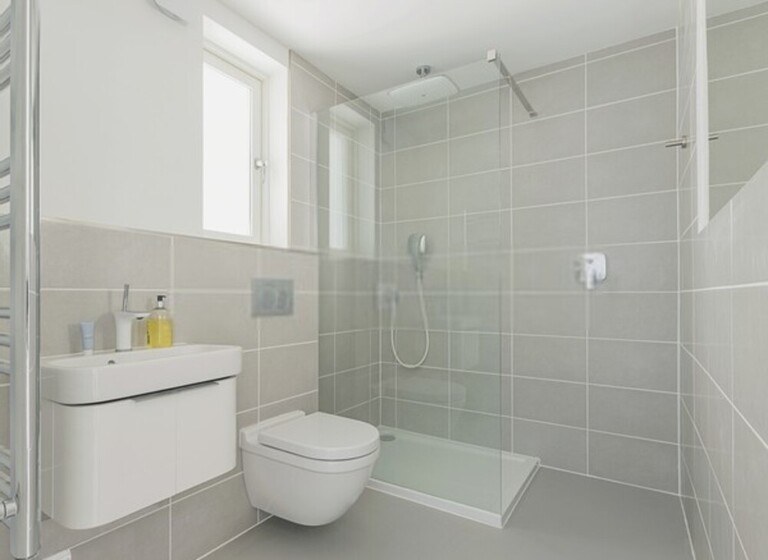 Let you update your whole old set if essential. If your toilet is still good, you just need to replace the dated elements, such as the seal and lid.
Depending on your bathroom style, you can choose a suitable toilet design, like a wall-hung style, for a modern look.
Mirror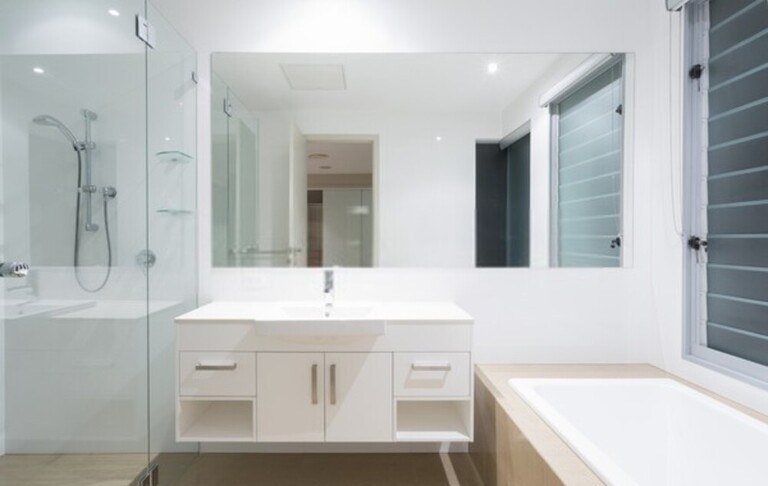 Any bathroom requires at least one mirror to check out your appearance, shave or apply makeup every day. When setting up a mirror in the proper position, this item can make your bathroom look more spacious, lighter, and brighter.
The ideal position is above your vanity or your sink to add depth to your space. Don't hang your mirror too high, or it will cut your reflection in the mirror. You had better choose a mirror as wide as possible to take advantage of its function in the lighting aspect. My full-size mirror in the width of the wall reflects much natural light effectively.
Integrate Custom Storage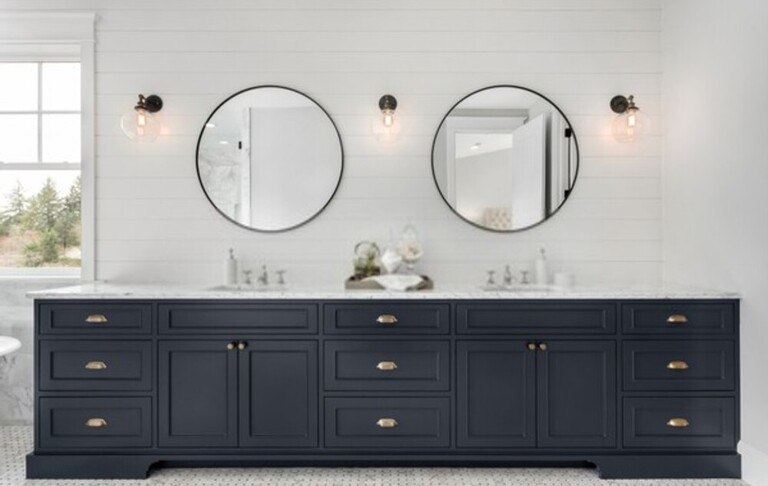 How much storage space (vanities and other cabinetries) you need is based on how many items (cosmetics and toiletries) you will store in your bathroom.
You should consider space-saving solutions for a tight space, such as built-in benches, shelves, and storage niches. If possible, let you go vertical with shallow shelves and upper cabinets.
Update Lighting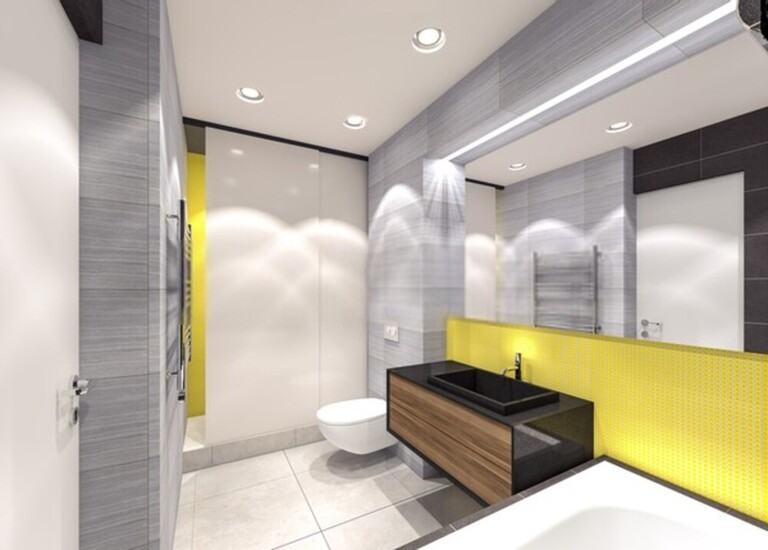 A small window and a large mirror can efficiently bring natural light into your space in the daytime, but you also need lighting at night. A stylish and functional lighting system adds more value to your bathroom than contractor-grade light fixtures.
Creating a layered lighting effect can emphasize different purposes. Overhead or task lighting at your vanity mirror, for example, allows you to see details on your face to shave or apply makeup. Meanwhile, investing in a control device helps you switch and dim the lighting level to enjoy relaxing moments when soaking yourself in the bath with warm light.
Update Colors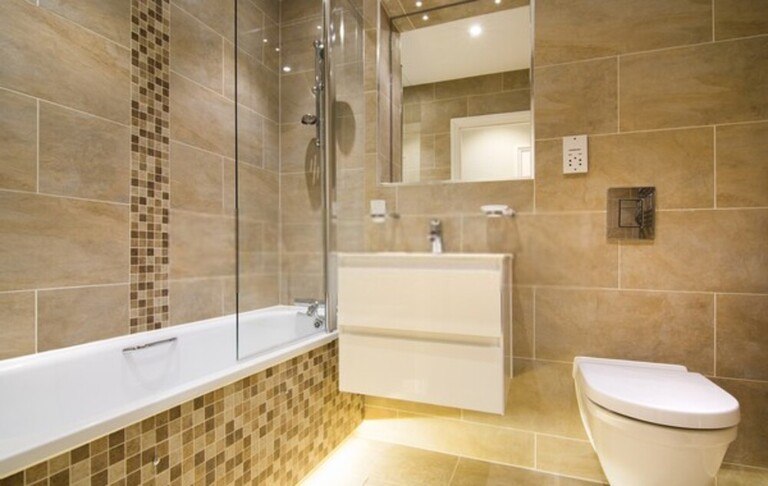 Although you have many color options to apply to your bathroom, I strongly recommend you choose light and neutral colors, which result in a clean and fresh look with an airy feel.
Install New Tiles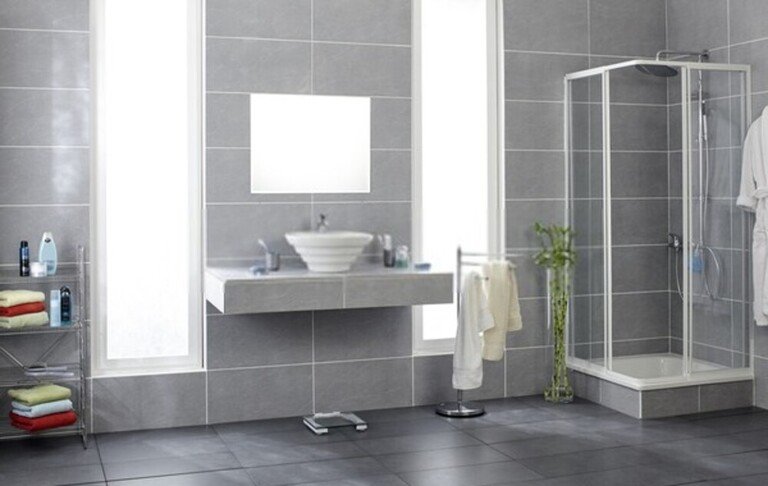 Installing new tiles requires a professional because this is one of the most considerable bathroom renovations. It's better to stick to the classic design, neutral colors, and simple patterns that you can live with for a long time to avoid replacing tiles soon.
Here are some solutions for a small room:
Large tiles make a small space look more spacious than its actual size.

Diagonal installation helps a narrow room wider.
Pro Tips
Do you believe that adding value to your bathroom costs nothing?
Here is a simple way:
Cleaning every nook and cranny refreshes your bathroom's overall look. Don't forget to scrub caked-on residue off your fixtures, cabinets, and out of grout lines.
Even if you are a big fan of white color, don't stick to this color for everything in your bathroom (white tiles, white vanity, white accessories). It makes your space so clinical.

For a tight budget, you should focus on broken and wear and tear elements in advance. You can think of the remaining later.

You don't have to tile from floor to ceiling for a traditional or retro bathroom because it can detract from the look. This way is pretty efficient for a contemporary bathroom. Let you make a decision based on your bathroom's style and architecture.
No matter how your budget is, you can add value to your bathrooms.
Don't you have a budget for this task?
It's okay. So, you simply clean your bathroom and every item in there thoroughly.
You have a tight budget for adding value to your bathroom, right?
You just need to decorate around your tub with colorful soaps, scented candles, and eye-catching towels.
Finally, you can replace your old fixtures with new ones if money doesn't matter.