This article is perfect for succulent lovers who are seeking some unique ways to decorate their home as well as bring nature indoors.
Our team has collected and picked the six most creatively stylish ways to decorate a house with succulents and are confident that the list will wow you. Read on!
Decorative Ladder
You'll need a wooden step ladder; buy a new or reuse one, depending on what you have. Or, use a short ladder and put it against a blank wall.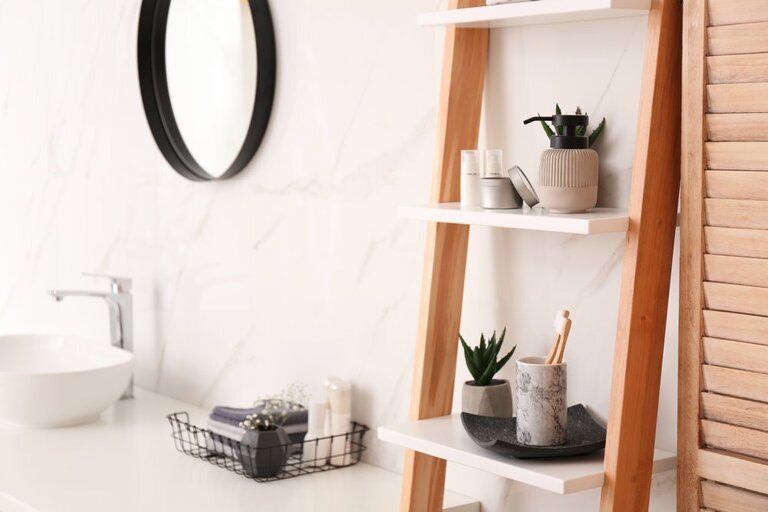 The next things to prepare are some small pots for succulents.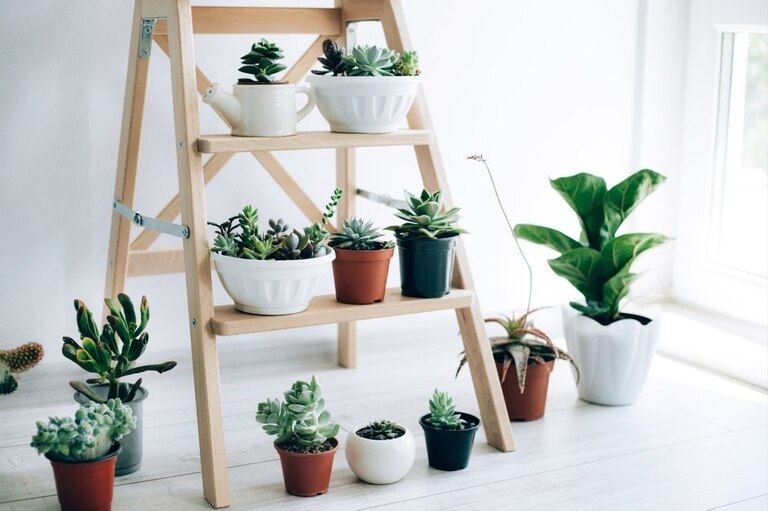 You can take advantage of unused teacups, teapots, cans, and bottles.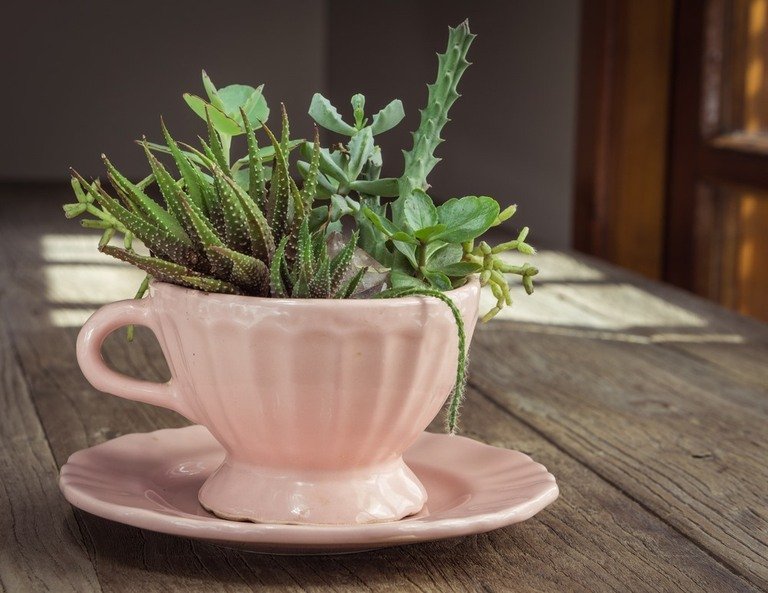 If these items don't create in a certain style when put together, painting or adding patterns on them could fix them. About the plant, we highly recommend combining different succulent varieties, such as:
Hens and chicks
Burros tail succulent plant
Echeveria Plants
Aloe
Agave Plants
Aeonium
Kalanchoe
Mini Garden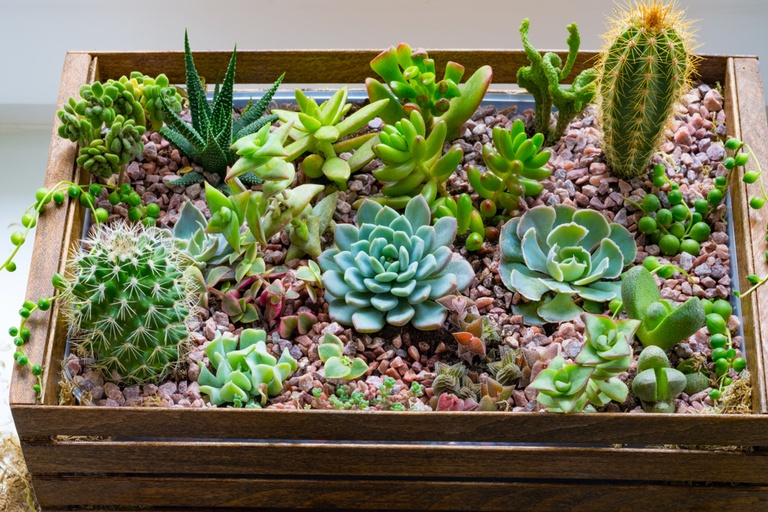 Anywhere around your house that there is sunlight, then this idea is very worth trying.
Mini gardens of succulents are compact and space-saving, and can be easily placed on a window sill, a dining table, or a TV shelf.
You can grow many succulent varieties in a dark wooden box for easy transporting and caring. Or, group them and grow in multiple smaller pots, like this: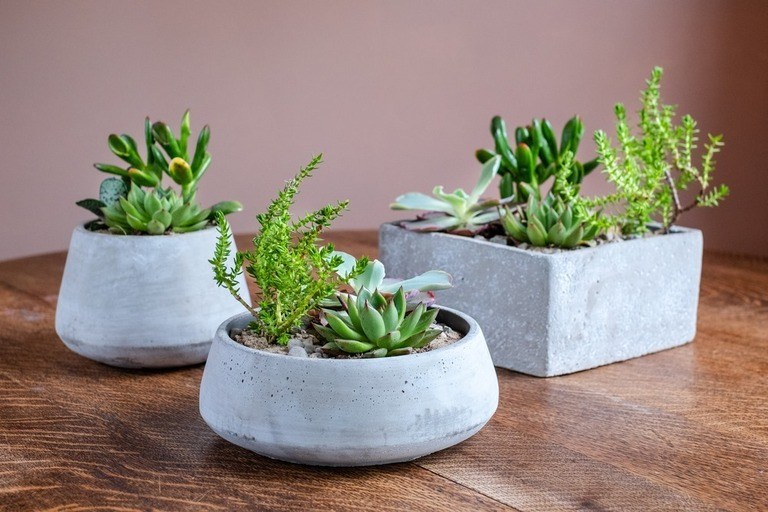 Hang Overhead
Since succulent pots are small and lightweight, hanging them overhead is a logical idea. It fills up the tedious blank area in your home ceiling while not cramping up the floor space.
But make sure about the height of these hung succulent pots to not bump your head at any chance. Aside from the ceiling, the window and balcony are two other ideal spots for hanging plants.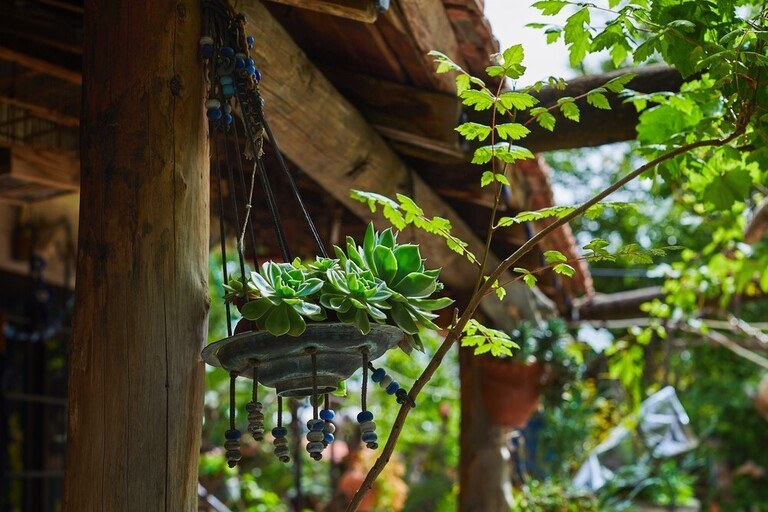 We pretty much love this creative combination that reuses an old plastic square hanger and hooks plus some small succulent pots.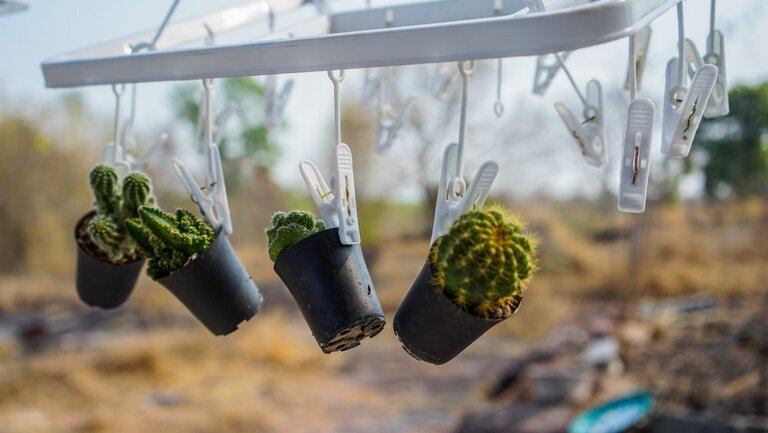 It looks basic but cute and funny. Importantly, this idea costs you no extra buck. If you intend to try it, note to hang them in a place where the wind isn't too strong.
Another idea is to recycle an old plastic bottle. Cut them in half and use the upper part. Heat up your kitchen knife and make two holes on the bottle where you'll inserting the chain through, like this: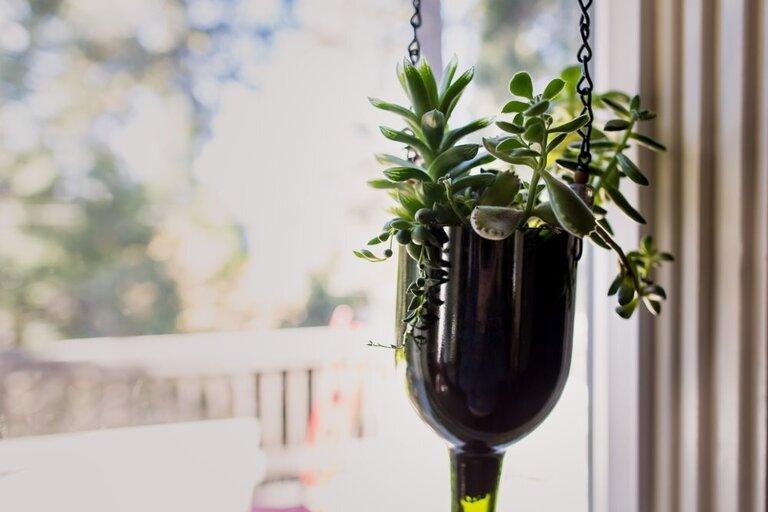 Now, screw the bottle cap, add soil and succulent, water the plant reasonably, and hang it up.
There are many other fantastic ideas, mainly changing the planter design and the wire material for different looks and styles, such as:
A combination of a glass bubble pot and rope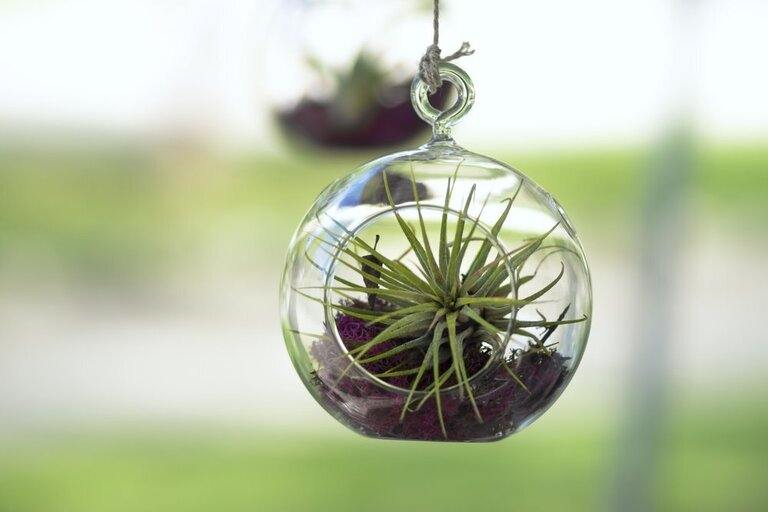 A handmade hanging pot and ropes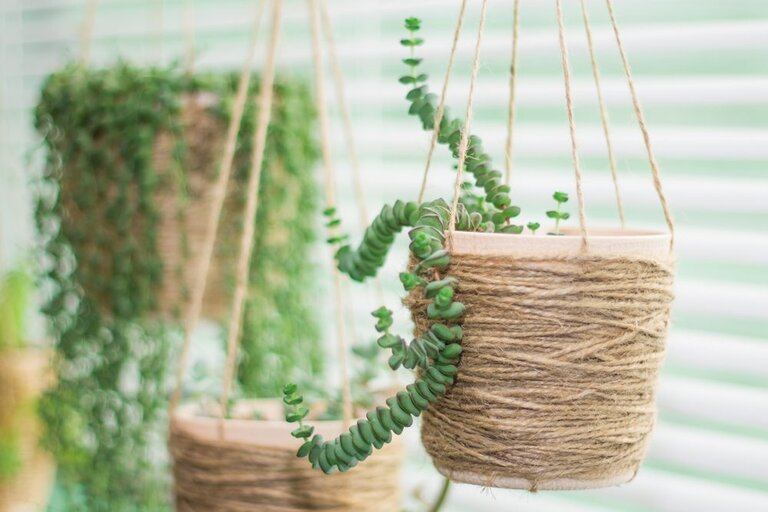 Grow Succulents In Glass Bottles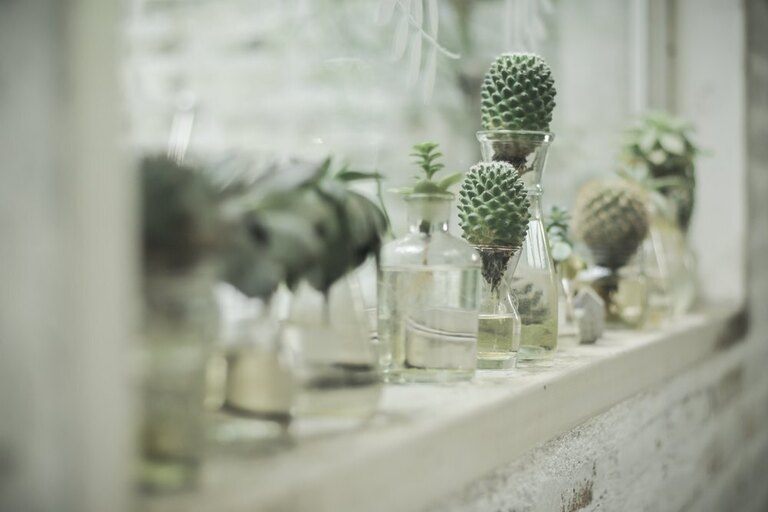 For those who haven't known yet, succulents can be grown in water.
Combine this growing style with crystal glassware, such as jars, bottles, vases, and containers, then arrange all of them along a window sill, they will bring a breathtaking look.
The glassware doesn't have to be white all the time. They can be any color that you have, as long as they harmonize together to create a certain style.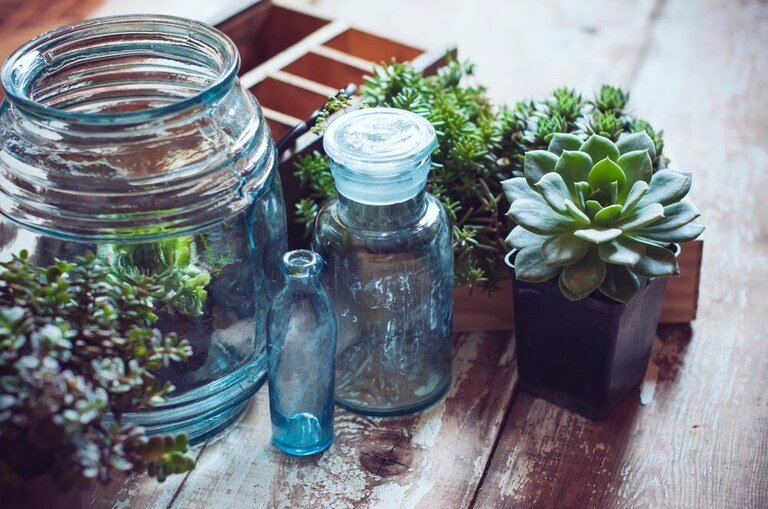 A big note when trying this idea is only let the end of your succulents just hover above the water; don't soak. The spot where you intend to place these succulent bottles should provide bright to medium lit.
It might take around 8-10 days for the plant to form new roots.
Vertical Garden
Succulents do not require being grown upwards because they're a gravity-defying plant. Therefore, it is possible to hang them vertically.
This is a nice idea for those homeowners who want something different, want to cover an old, tedious wall, or don't have much horizontal space. You can buy a vertical garden frame in the market where there are lots of options in sizes, materials, and shapes.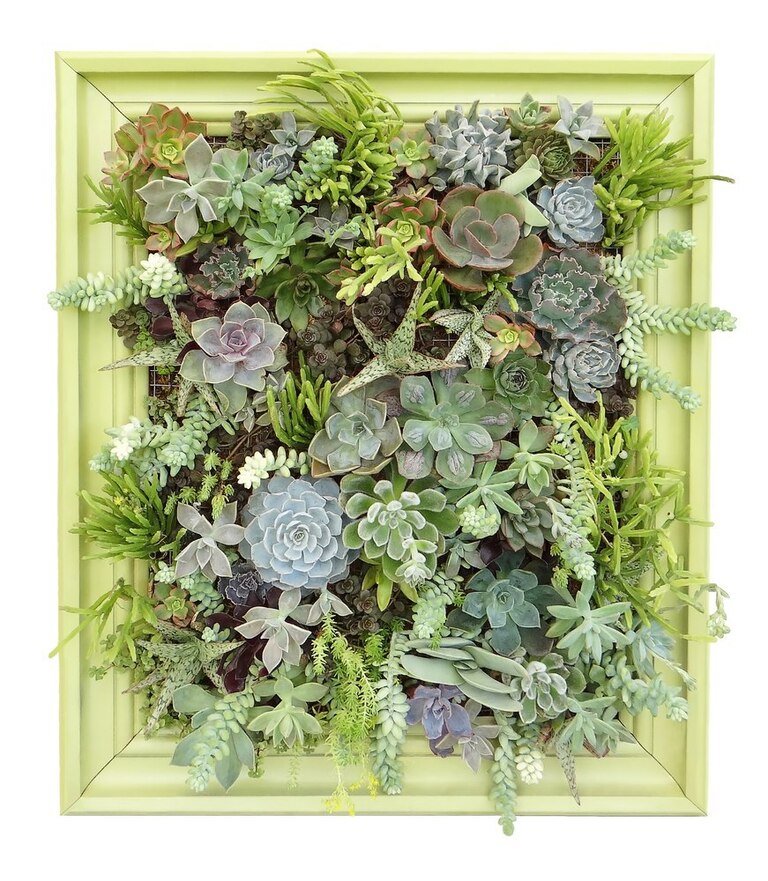 Or, simply DIY one using a 3-layer sandwich made of old fabric, plastic sheeting, and a frame.
The vertical garden frame could be made from an unused picture frame or from four plastic pipes and four 4-way metal joints.
You can hang this vertical garden using heavy-duty ropes or metal chains, or attach it to the wall.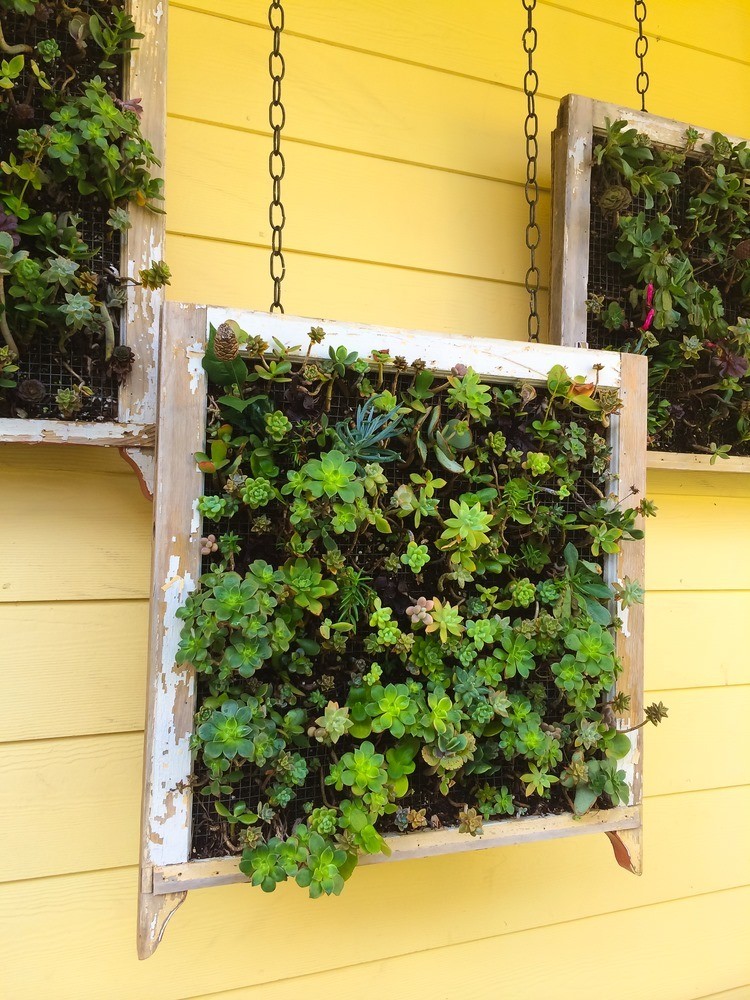 Glass Terrarium Bottles
These glass terrarium bottles bring a clean and cute look to your home. Plus, there is a wide range of sizes and shapes to fit any corner.
Below is a basic shape of glass terrarium bottles: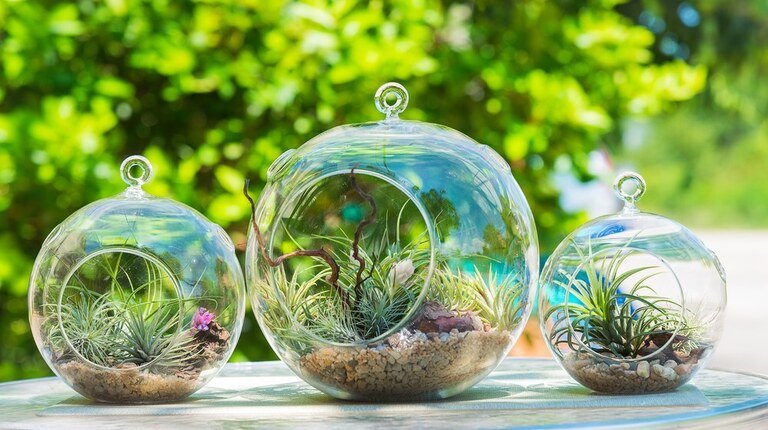 They are designed to be hung easily using a rope, plastic wire, or metal chain. Some other models look quite impressive.
Light bulb shape: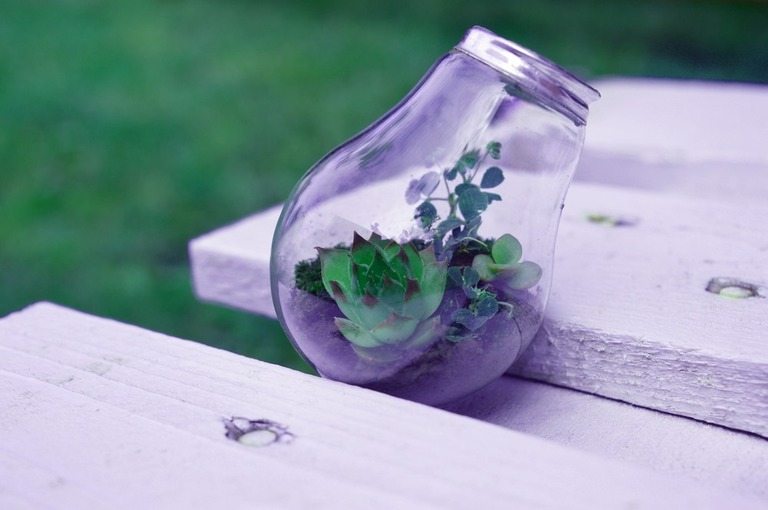 Egg shape: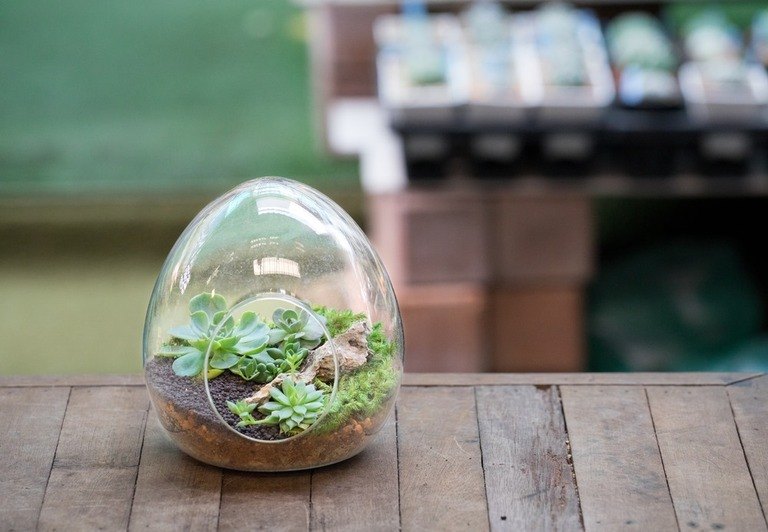 Different geometry shapes:

Conclusion
If you're a newbie, just start small with a few potted succulents. After earning some experience in caring for this plant, expand to a mini garden.
You can combine two or three of the above ideas for a custom look that matches your preference and space, such as hanging up different terrarium succulent bottles, attaching them to the wall to create a vertical garden, or simply placing them on a ladder.
Hopefully, the 6 creatively stylish ways to decorate house with succulents were helpful to you. Thanks for reading!